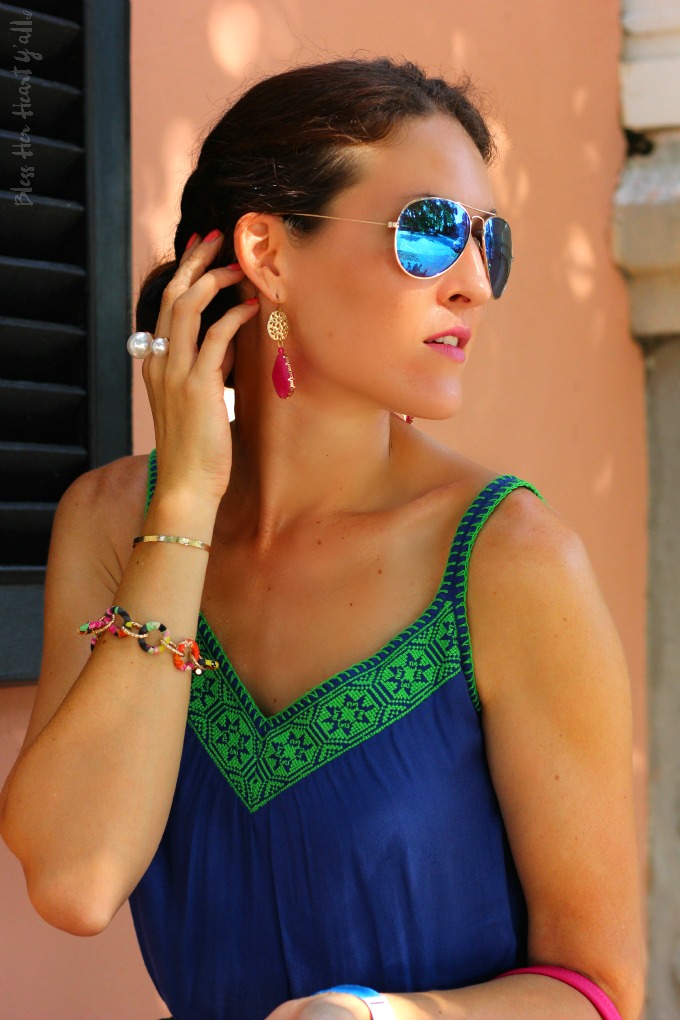 I just got back from Charleston, South Carolina yesterday from my first ever blogging conference, the 3rd annual Southern Blog Society conference.  Jessica from My Style Vita and Cathy from Poor Little It Girl did a fantastic job organizing the event.  I will have more about the weekend full of events soon on le blog.  But I just had to get this post and link-up up and published.  Ekkkk!  This little linen sundress was my fav outfit of the weekend and I think it was everyone else's too. I got stopped a few times (mostly from shoppers on King Street), women asking where they could pick this number up too (I also got asked if I was an ABC news reporter…..eh – no. nope. not even close. Ha! What?).
Because real life happens and real life is more important than my outfit post, I want to take a moment to say a few words that are not directed towards the outfit, so you can skip this paragraph if you want.  I can't talk about Charleston without mentioning the Emanuel AME Church tragedy.  With the recent events in Charleston there was a lot of media coverage, talk about funerals, comments about the confederate flag, racism, and hate, etc.
I love Charleston with all of my heart. It is my favorite city in the world.  After being there this past weekend, I love this city even more. Charleston is known for it's southern hospitality, it's heritage, it's charm.  I left Charleston this weekend with overwhelming emotion because of the sense of community, love, grace, and togetherness that the community has come together with.  Yes there was sadness, but there was also a lot of joy, a lot of support, and a lot of moving forward with progress.  It was an incredible and moving  experience to be surrounded in.
So now, on a lesser note, my fav outfit consisted of color.  Lots and lots of color.  Bright color (I mean….it's Charleston).  I loved the embroidered detailing on the dress and the belt.  I LOVED that it was linen (because it was hot as balls and stupid humid.  That's the ONLY way to describe the weather) so that it was breezy and any sweat glistening didn't last long.  I built my outfit my colors for my outfit from my Vera Bradley link bracelet (which is sadly no longer available) and went from there.  I love how bright and playful the cobalt, lime green, and magenta work together.
 Today I am linking up with the Bless YOUR Heart Link Up and with these lovelies too!
Full Disclosure: Pieces of this post were either gifted to me in exchange for this post or I was compensated by Vera Bradley for my time.  But trust me y'all, everything that I post about is all my own, including my thoughts, comments, quirks, and reviews.