This shop has been compensated by Inmar Intelligence and its advertiser. All opinions are mine alone. #TogetherwithRedDiamond
These gluten-free coffee cake muffins bring all the warm sweet feelings to your family's table throughout the holiday season. Soft, fluffy coffee cake is topped with a brown sugar crumble, and is baked in your oven until golden and tender. These muffins are perfectly paired with a hot cup of joe – like Red Diamond® Classic Blend Ground Coffee!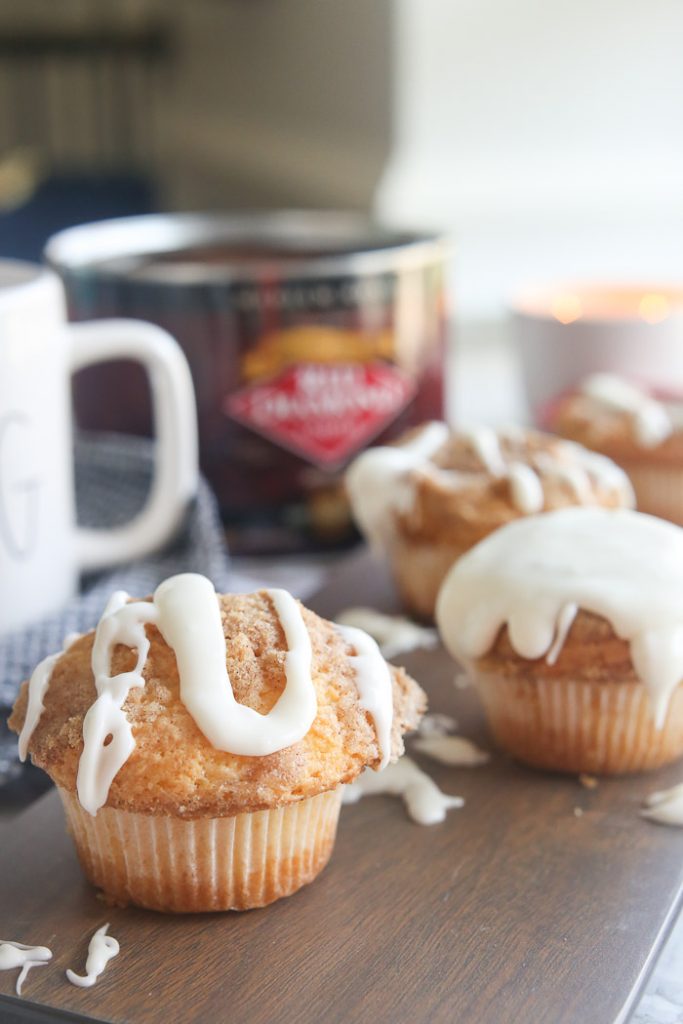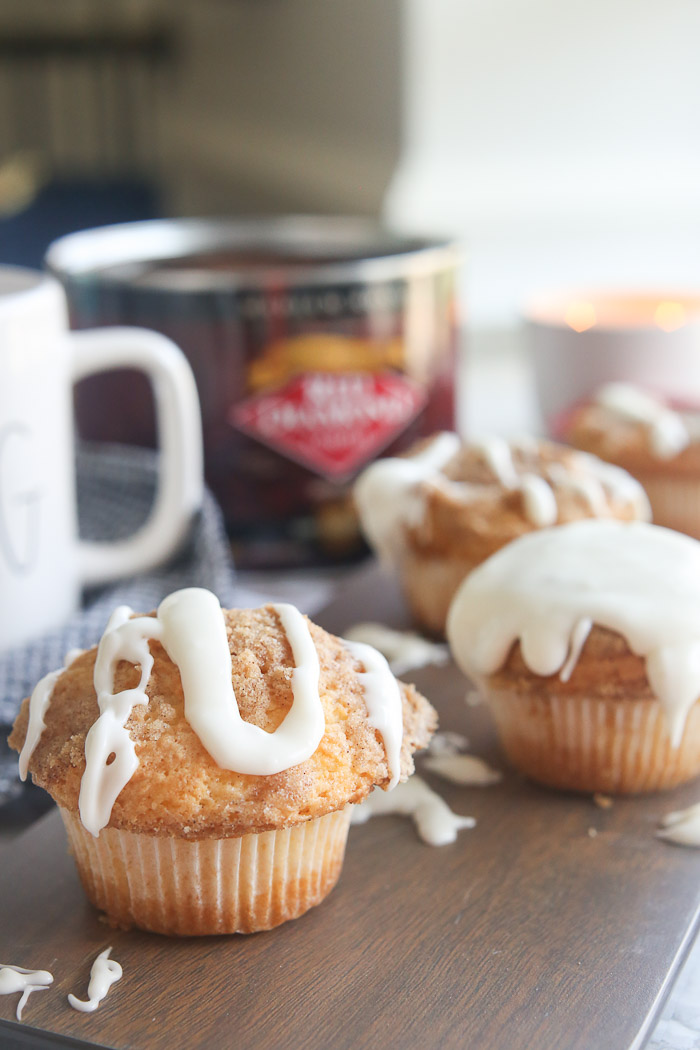 Best Coffee Cake Muffins
There is truly nothing better on a chilly holiday morning than curling up by a fire with a hot mug in one hand, and the aroma of something sweet baking in the oven.
That's why, this holiday season you need to have this recipe in your recipe arsenal.
Not only does this coffee cake recipe divide the coffee cake into individualized on-the-go portions for everyone to fight over, but it serves up these perfectly-portioned cakes in a soft and moist gluten-free form…. every….single…time!
Between the coffee cake muffins turning to golden treats in the oven and your Red Diamond Coffee brewing in your coffee pot, your family and guests will be delighted all morning long.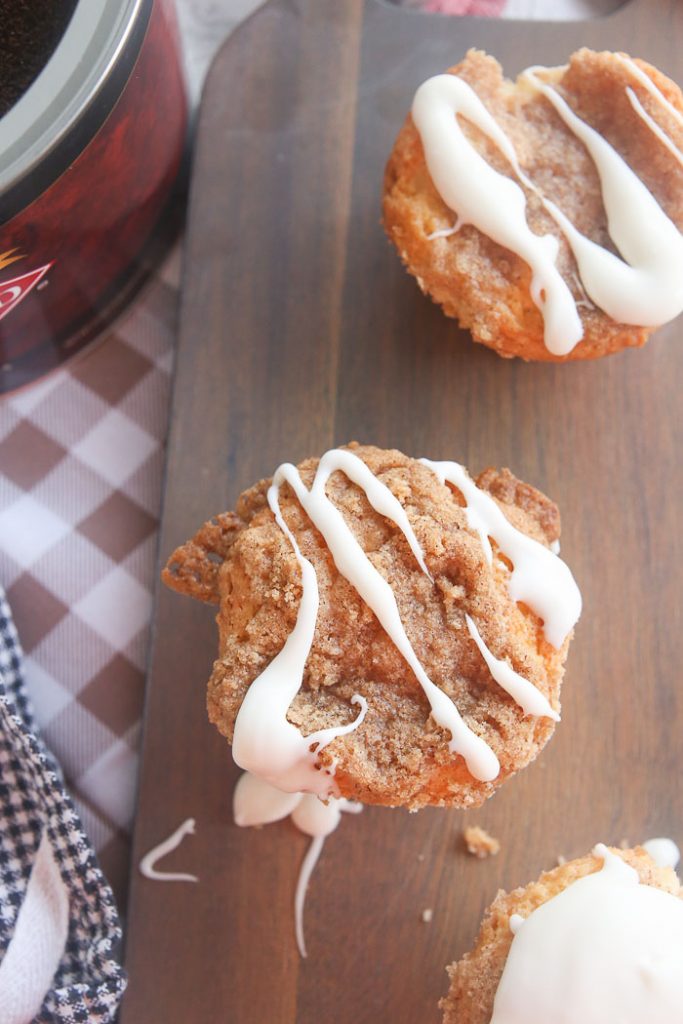 Ingredients:
Here is a list of ingredients that you will need to get started:
For the Coffee Cake:
1 1/2 cups sugar
1 cup white rice flour
½ cup brown rice flour
½ cup potato starch
¼ cup tapioca flour
3 teaspoons baking powder
2 teaspoons xanthan gum
3/4 teaspoon salt
3 large eggs
3/4 cup milk
3/4 cup butter, softened
2 Tablespoons almond extract
For the Cinnamon Crumble:
1 cup packed light brown sugar
½ cup sugar
1 Tablespoon ground cinnamon
½ cup butter, softened
½ cup brown rice flour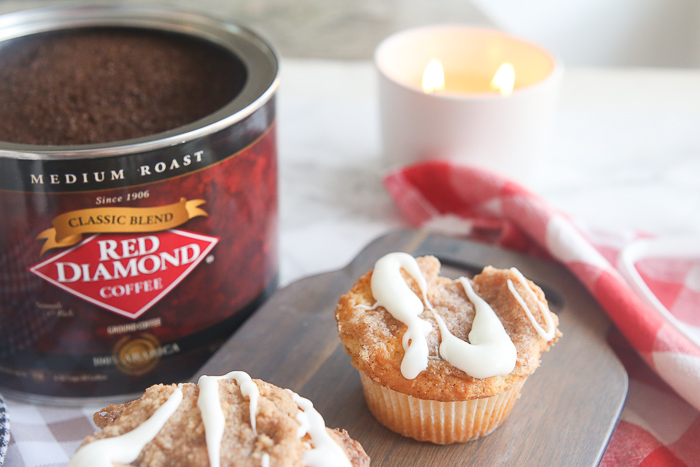 Make the Right Pot of Joe:
You will see proof in the photos, but my family enjoys Red Diamond Coffee's Classic Blend that we pick up at Publix. In fact, Red Diamond Classic Blend Ground Coffee 22 oz., is what you see in these images.
It is the perfect drink to bring families together for the holidays, and perfect's not easy!
Their coffee is still family-owned, five generations strong and roasted right here in the south. (Alabama to be exact!).
Besides the homegrown story behind each cup, the flavor in your coffee mug exudes fresh, natural, and sunny hints, the boost you need to wake you up.
Click the image below to shop for your favorite Red Diamond ground coffee products.
Directions:
Preheat your oven to 350*F and place cupcake liners in the bottom of a regular 12-count muffin tin. Set aside.
In a large mixing bowl, combine all of the dry coffee cake ingredients together and mix well. Add the eggs, milk, butter, and almond extract and stir until well combined and a smooth batter forms.
Pour the batter into the bottom of the liners, filling each to about 3/4 full, and bake on the middle rack for 10 minutes. While the batter is cooking, create the cinnamon crumble by combining all of the crumble ingredients, except the flour, together in a medium mixing bowl. Once combined, add the flour and stir until just combined.
Remove the baking coffee cake from your oven and place an even thin layer of the crumble overtop each of the muffins and place the muffin tin back in the oven for another 23-26 minutes, or until the edges and top of the muffins are a golden brown and a toothpick inserted into the center of each muffin is pulled out clean. Remove from heat and allow to cool for 10 minutes before placing on a cooling rack to cool further.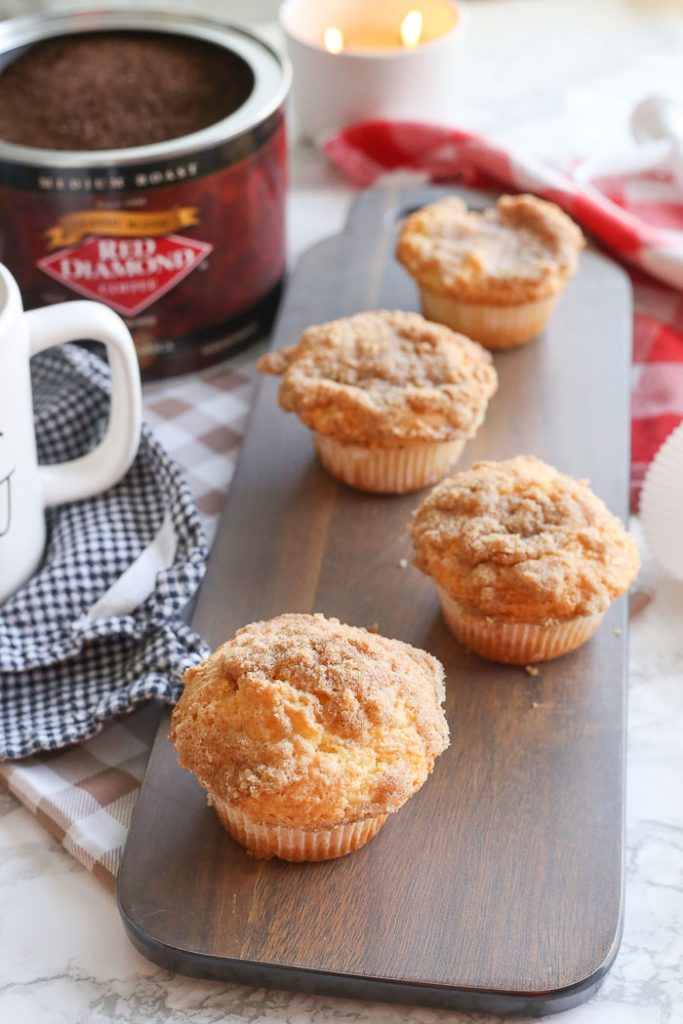 Recipe Tips:
Some family members like the sweet icing drizzle seen in some of these photos.
To add even more pizazz to these already incredible muffins, combine 1 1/2 cups powdered sugar with 5-7 Tablespoons milk of your choice and stir until well combined and smooth.
The more milk you add, the thinner and more drizzly your icing will be.
If you want more of a frosting than an icing, start with just 3-4 Tablespoons of milk with the 1 1/2 cups powdered sugar, stir, and add more milk if you need a thinner consistency.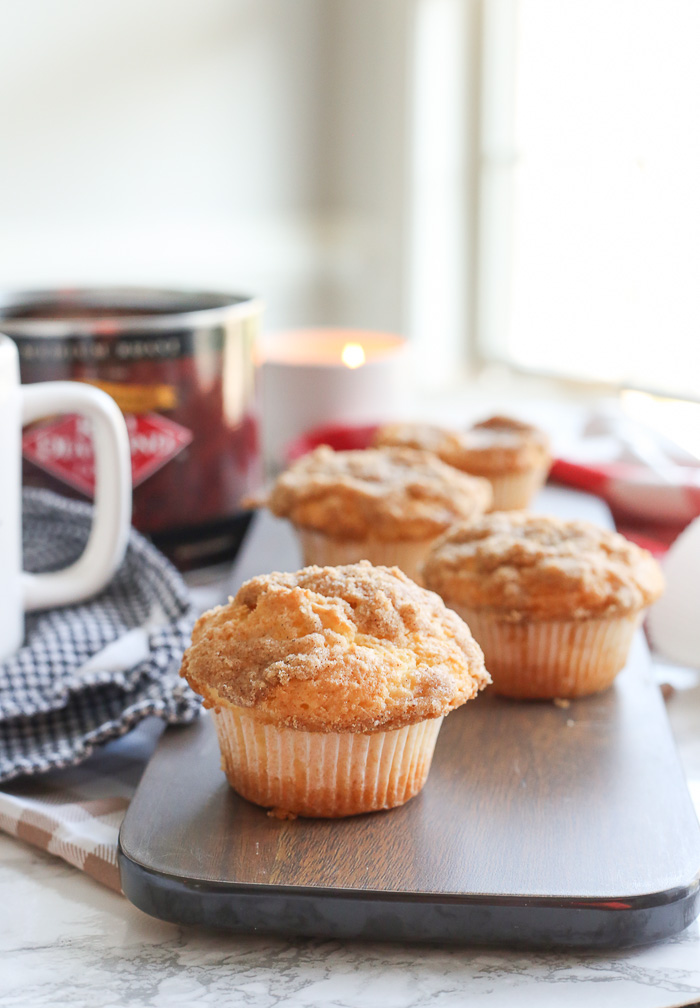 Recipe Pairings:
Besides a hot pot of joe? You likely won't need anything else, but if you do, check out my Air Fryer Bacon recipe for perfectly crisp bacon, without all the grease!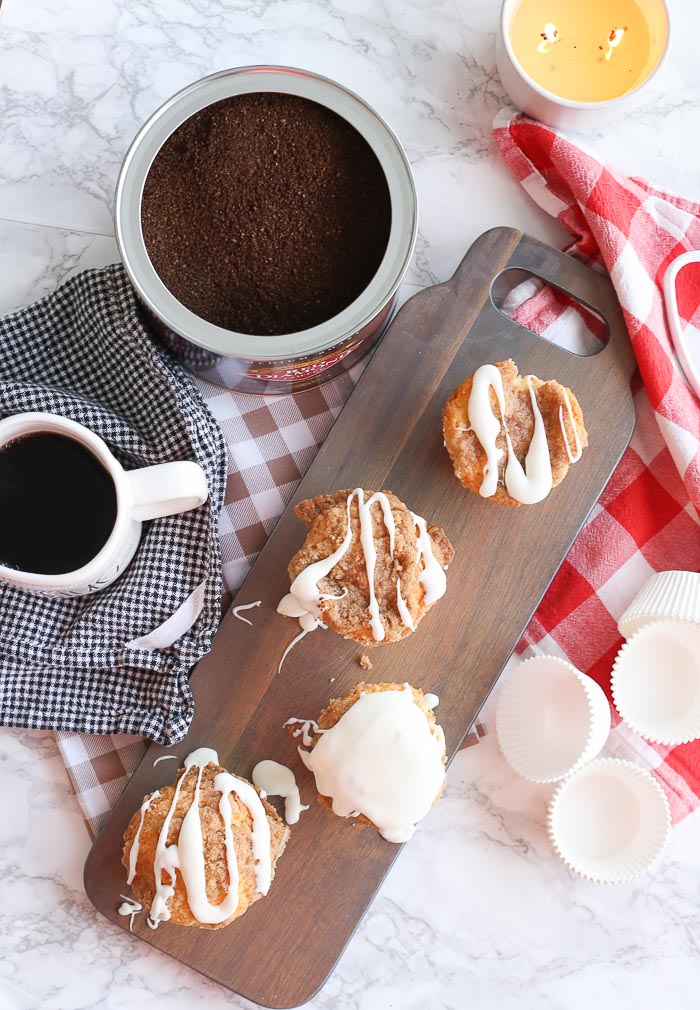 How To Store Leftovers:
Store any leftover gluten-free coffee cake muffins in an airtight, food-safe container at room temperature for up to 3-4 days.
These muffins work perfectly well, reheated in the microwave for 10-15 seconds on high power, all the while, on a microwave-safe plate or dish.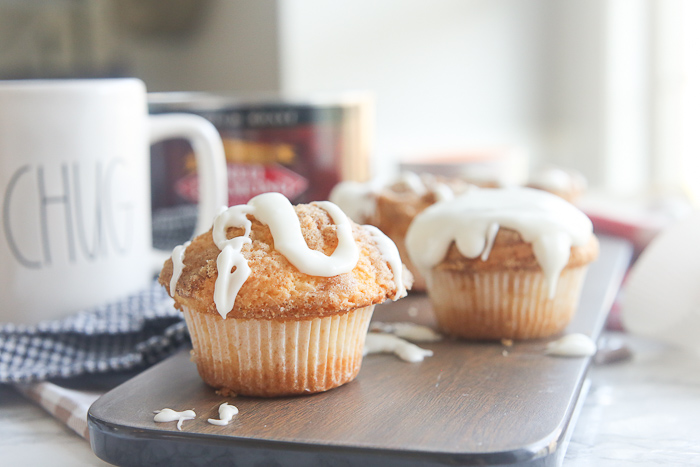 Recipe Summary:
If you make my Coffee Cake Muffins, let me know in the comments! Enjoy enjoy enjoy!
Also- be sure to follow me on Instagram and hashtag #BlessHerHeartYall or tag @BlessHerHeartYall – I love seeing and hearing the delicious things you make!
If you love this Gluten-Free Coffee Cake Muffin recipe, be sure to follow me on social media so you never miss a mouth-watering post: