I have a confession…I don't like seafood.  I wish I did, but I don't.  I have been trying different light white fishes in hopes of finding the secret ticket to loving the underwater food source.  I have found an amazing pecan encrusted trout, and then this amazing blackened flounder that is completely on the cheap.
This recipe is adapted from a blog that I recently came across, called Free Range Katy.  Katy buys the same flounder filets from Costco that I have in my freezer (I also buy their wild caught salmon filets…love me my Costco!) and uses a similar blackening mix (I adapted my blackening spice mix from her as well!) for her weekly flounder meal for her family.  And this is now a weekly staple in our house.  Tasty and on-the-cheap is the perfect weeknight meal combination if ya ask me.  And on top of all those perks, it takes less than 10 minutes to make.  Major score!
Amazing Blackened Flounder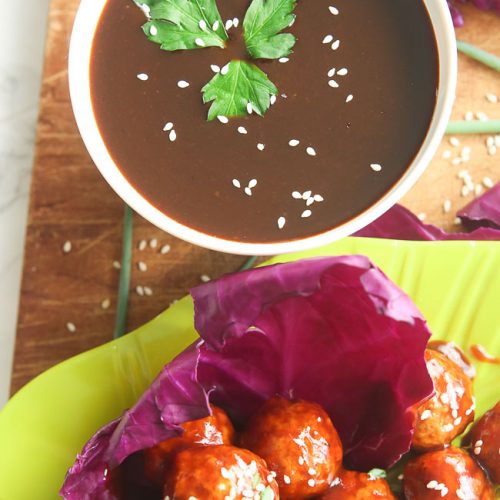 How to Make Hoisin Sauce
Ingredients
8 Tablespoons gluten-free Soy Sauce
5 Tablespoons peanut butter
3 Tablespoons fresh honey
1/4 cup chopped green onion
1/2 tablespoon red pepper flakes
4 teaspoons rice vinegar
1 teaspoon garlic powder
3 teaspoons sesame oil
1-2 Tablespoons gluten-free Chili paste, depending on how spicy you want it
Instructions
Bring all the ingredients to a boil over medium heat. once boiling, bring to med-low heat and let simmer for 3-5 minutes, until sauce slightly thickens, stirring occasionally.
Let cool to room temperature, use immediately, and leftovers are good to store in the refrigerator in an airtight container.
* I buy wild caught flounder fillets in a 3 pound bag at Costco for $9.99.  Each fillet is around 2-3 ounces, so that means that each fillets is very easily under a dollar.  I am sure there are other places to find high quality fish at reasonable prices.  Shop accordingly y'all!