After all the wonderful feedback from my Spicy Chicken Taco Lettuce Wraps, I decided it was time to up the ante and gab about how to make these Fresh Flank Steak Tacos.
So why do we eat our steak tacos this way you may be asking yourself. And I would tell ya that it's because grilled flank steak with homemade guacamole and pico de gallo, with a little bit of crumbled cotija cheese sprinkled on top is light, it's fresh, it's healthy, it's quick, (you can add in a bit of spice if you'd like) and they taste AHH-mazing y'all.
We let the steak sit and marinate in lime juice and cracked pepper for around an hour before quickly kissing the thin steak on the grill. Please stop drooling.
We quickly sautéed veggies like summer squash, bell peppers, and onions, to add to an already expanding waistline of guac, pico de gallo, salsas and hot sauce.
I usually roll mine up in lettuce wraps for a lighter alternative to your everyday taco and for a little extra crispity crunch in the summertime, while Hubby warms up some fresh corn tortillas on the stove top. Either option is a gluten-free one, so foodies with allergies can make either/or.  Just make both.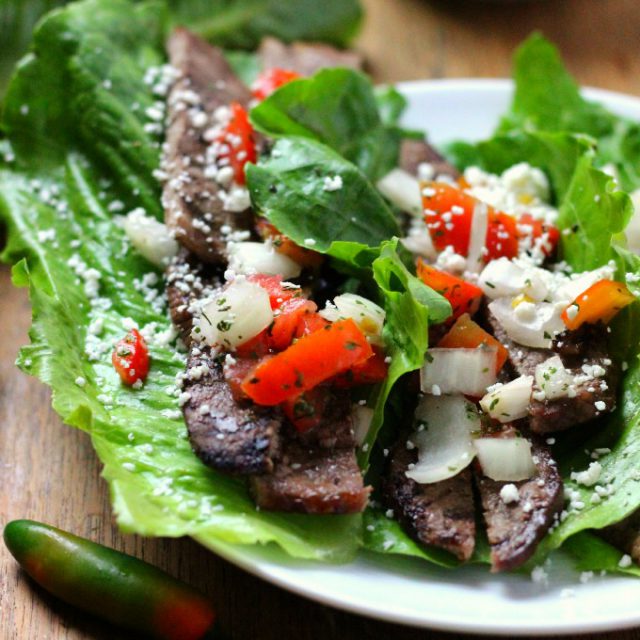 Grilled Flank Steak Tacos
Ingredients
1 pound flank steak
4 cups chopped veggies (we use bell peppers, yellow onion, tomatoes, serrano peppers, etc.)
juice of 1 lime
pepper to taste
1 TBSP coconut oil
Instructions
Heat your grill over medium-high heat.
While the grill is heating, heat the coconut oil in a large skillet over medium-high heat. Once heated, add in the veggies and sauté until the vegetables become barely tender and increase in color, approx. 3-4 minutes. Take off the heat and set aside.
Sear the steak on the grill on each side, being careful not to overcook the thin steak. Remove from heat and let set for 5 minutes to soak in juices. Cut into thin strips.
Place the strips into your lettuce wraps or corn tortillas. Add your fav pico de gallo, guacamole, salsa, or hot sauce. Enjoy it messy!
For this particular meal, we reached out and put a 1.35lbs. thin-sliced steak in our shopping cart for $8.90, which was more than enough for 2-3 people. Did I forget to mention that this recipe is a cheapy and perfect for a spicy date night when you don't feel like spending all your benjamins?!? Hmmmm?