This gluten-free bulgogi BBQ beef is a fast and easy 10 minute dish that is quickly cooked in a wok after being marinaded in a simple sweet and savory sauce and mixed with fresh seasonal vegetables.  The garlic, brown sugar, and chili pair well with the sesame and green onion flavors for one delicious meal!
 The way to a man's heart can be through food….sometimes.  I made these Gluten-Free Bulgogi Beef Tacos for Hubby for Valentine's Day (we stay in and make a mess in the kitchen by cooking our hearts out with new intricate recipes) and he was immediately (and so was I) in love with this recipe.  I completely made this recipe up, combining some of my favorite ingredients and adding some fresh veggies that I was craving (anyone else ever crave cucumbers?).
I love using whatever seasonal veggies that I have on hand for this gluten-free bulgogi beef recipe.  Bell peppers, carrots, cucumbers, snap peas, just to name a few!  They are all easily and quickly sauteed in the remaining wok liquids after the meat has been cooked, taking an extra 1-2 minutes of cooking time and adds a healthy tender crunch to the dish.  It's totally worth this step y'all!
*this post was updated on 02/28/16 with some new pictures.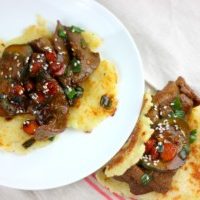 Gluten-Free Bulgogi (Korean BBQ Beef) Tacos
Ingredients
1 pound steak, sliced thinly
1/3 cup gluten-free soy sauce*
1 bunch green onions, chopped and separated white / green ends
4 cloves garlic, minced
2 Tablespoons brown sugar
2 Tablespoons sesame oil
1 tablespoon sesame seeds
1 1/2 teaspoons fresh grated ginger
2 teaspoons korean chili paste
Instructions
Place the meat in a large bowl with the soy sauce, brown sugar, oil, onion whites, ginger, garlic, and chili paste. Mix to coat the steak and let marinade for 1 hour.
Heat a wok or large non-stick skillet to high heat and transfer 1/3 of the marinaded meat into the pan and spread thinly. Allow meat to sear before flipping meat to other side for continued searing (tongs are very helpful at this stage!).
After the meat is cooked and has browned and caramelized (about 5-6 minutes), repeat with the remaining marinated meat.
Once all the meat has been cooked, throw in the green part of the green onions, the sesame seeds, and cracked pepper, and combine. Serve over warm tortillas and top with cucumber and carrot salsa!
Notes
For the cucumber and carrot salsa, I thinly slice up 1/2 a cucumber and 4-5 baby carrots. Once the meat has been cooked in the wok, I quickly toss these two ingredients in and let cook for 60-90 seconds (or longer if you want less of a crisp texture). It's that easy!
*Here is my favorite gluten-free soy sauce at the moment.
**For the yummiest gluten-free tapioca flour tortillas, check out this recipe.