Happy Memorial Day y'all!  What a fun holiday weekend so far! Hubby and I have been enjoying days of lounging, boating, and catcthing up on sleep.  A much needed long weekend.
With a weekend of fun times, comes quick and easy meals so you don't have to take time away from all the fun.  That's why these spicy taco lettuce wraps were a part of our weekend plans.  If your looking for a simple and hubby-approved meal in just minutes, look no further.
I'm keeping this post short and sweet as the Hubs and I are getting ready to get our butts back out on the boat.
Fresh ingredients will make all the difference in the world with these tacos y'all.  And making your own taco seasoning is a winner too.  It's tastier, it's more budget-friendly, it's all familiar ingredients that are most likely all ready in your pantry!
Gluten-Free Spicy Taco Lettuce Wraps: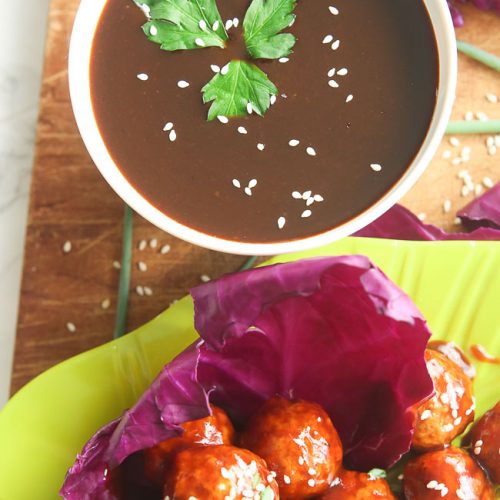 How to Make Hoisin Sauce
Ingredients
8 Tablespoons gluten-free Soy Sauce
5 Tablespoons peanut butter
3 Tablespoons fresh honey
1/4 cup chopped green onion
1/2 tablespoon red pepper flakes
4 teaspoons rice vinegar
1 teaspoon garlic powder
3 teaspoons sesame oil
1-2 Tablespoons gluten-free Chili paste, depending on how spicy you want it
Instructions
Bring all the ingredients to a boil over medium heat. once boiling, bring to med-low heat and let simmer for 3-5 minutes, until sauce slightly thickens, stirring occasionally.
Let cool to room temperature, use immediately, and leftovers are good to store in the refrigerator in an airtight container.
We like to use romaine lettuce leaves for our lettuce wraps.  They are large enough for all the fixin's and they wouldn't break and fall apart like some other lettuces.
Don't forget to link up with The Soiree linky party and then join me in partying with these lovelies!