Heck yes!  Don't ya just love those recipes that are incredibly simple, quick to make, and above all, healthy?!?
Well, I'll answer that one…heck yes!
Well, now we are in luck.  This Skinny Chicken Taco Zucchini Boat recipe is very easy to make, takes only 30 minutes to put together and is low-carb/gluten-free/take-out-the-tortillas-and-add-in-tender-veggies healthy alternative to chicken tacos.
So now there is a way to eat and enjoy your tacos and not worry about this bikini season that is upon us.  Whoop whoop! Yum yum!  I mean…heck yes y'all!
And if you are looking for a yummy healthy Italian version check out Perry's Plate's Paleo Stuffed Zucchini!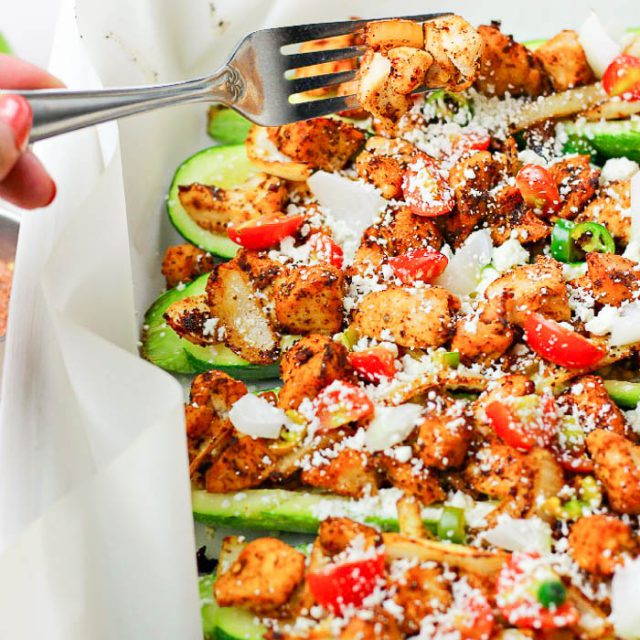 Skinny Gluten-Free Spicy Chicken Taco Zucchini Boats
Ingredients
4 chicken breasts, cubed
3 medium zucchinis, halved hotdog-style and the seeds scooped out
1 TBSP coconut oil
1/2 sweet onion, chopped
3 tsp Gluten-Free Taco Seasoning *
1/2 cup grape tomatoes, diced
1 serrano pepper, chopped, or jalapeño
Cotija cheese for garnish
juice of 1/2 a lime
Instructions
Heat your oven to 400*F. Line a casserole dish or baking 9 x 13 pan with parchment paper and set aside.
In a large skillet over medium heat, cook the chicken until golden brown and cooked thoroughly. The last 2 minutes of cooking the chicken, place 2/3 of the onion and the taco seasoning in the skillet to make the onion pieces tender.
Place the zucchini boats in the lined pan and place the chicken and onion mix into the scooped out area of the boats. Bake for 15-20 minutes, or until the zucchinis start to become tender.
Top with the rest of the onion, the tomatoes, pepper, and the cheese. Place back in the oven for 1-2 minutes, or until the cheese starts to melt.
Squeeze lime juice over the boats and enjoy them messy.
*heck yes, here is the best gluten-free taco seasoning there is.  It takes ya 2 minutes to put together and most likely, you already have all the spices in your kitchen!