This shop has been compensated by Collective Bias, Inc. and its advertiser. All opinions are mine alone. #PickyAboutProduce #CollectiveBias
Baja Avocado Pasta Sauce is a creamy spicy green sauce made of avocado and greek yogurt coats fresh corn kernels, tomatoes, and bell peppers and sprinkled with cilantro and Mexican crumbled cheese. This fresh summer sauce has light creamy baja tex-mex flavors and the fun pasta adds texture, no matter which noodle you add. This is one of the easiest and healthiest pasta sauces you will ever make! Thank you to Food City for supporting this recipe and making the fresh produce happen!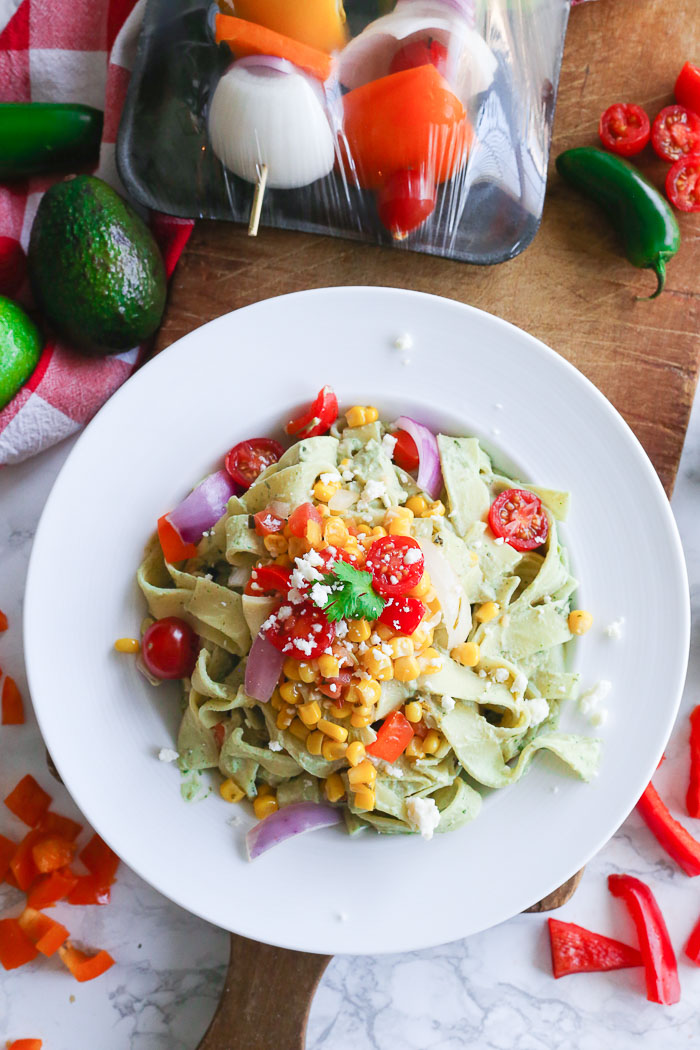 Sometimes I just have a craving for something and can't get it out of my head until that craving is in my hands and the dish is in my stomach. This past weekend it was my Baja Avocado Pasta and all the fresh vegetables that go along with it.
It's light, fresh, with a tex-mex flare. Oh, and it's incredibly easy to make and it doesn't last long, so be prepared to make a lot and for everyone to bring their big appetites.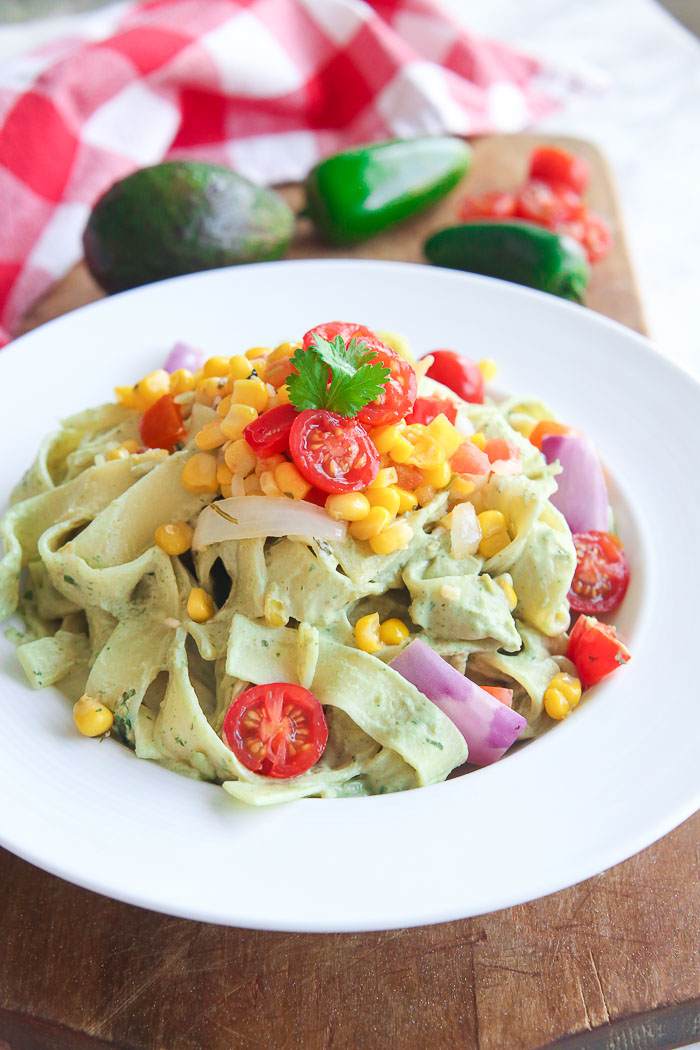 Describe the Baja Avocado Pasta Sauce:
The first time I made this avocado-based baja sauce, I was a little weirded out by the oddly-toned green color. The sauce is made up of a few simple ingredients like fresh avocados, cilantro, Greek yogurt, lime juice, and ground cumin.
After my first bite, the green sauce was no longer an issue.
….Well there was an issue I guess. I needed to have made a whole lot more. For the past 5 years I have been hoarding this baja avocado sauce recipe but I feel like it's time to share the wealth.
Bring on the delicious green sauce!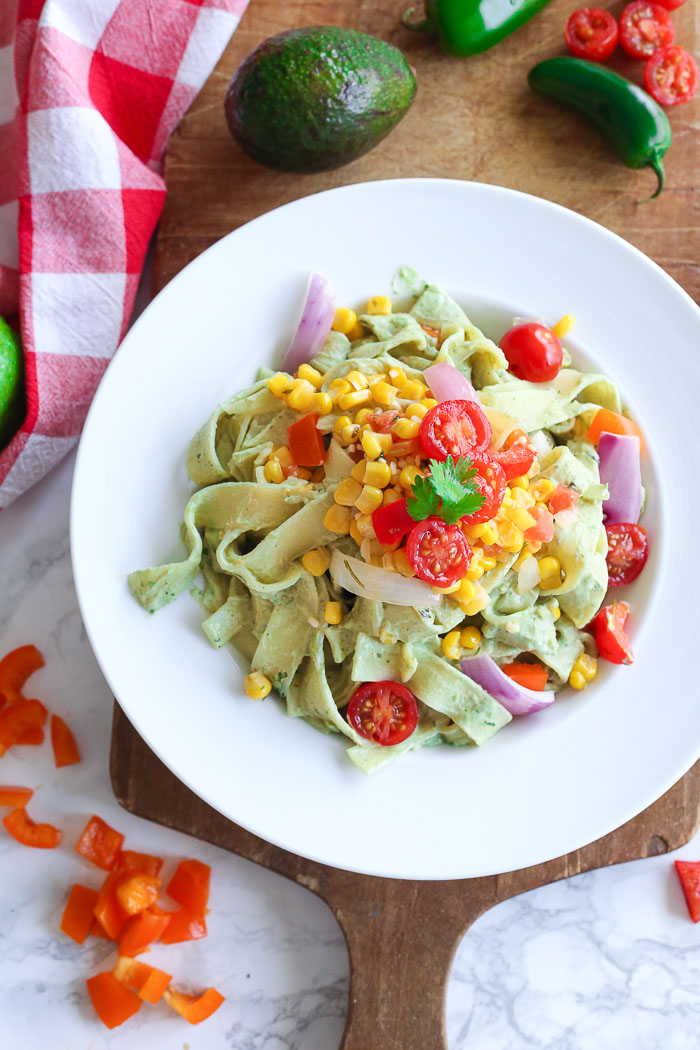 Ingredients for Baja Avocado Pasta Sauce:
one 12 oz. package of gluten-free noodles
2 ripe avocados, peeled and pits removed
1/4 cup fresh cilantro, plus a little more for a garnish
1 jalapeno, deseeded if ya like less spice
1 cup Greek yogurt
2/3 cup milk, we used skim milk
1 1/2 TBSP lime juice
2 tsp cumin
salt and pepper to taste
4 cloves garlic, minced
1 cup corn kernels
3/4 cup tomato, diced
1 medium bell pepper, deseeded and diced
1 TBSP coconut oil
cotija cheese for garnish, or other type of cheese crumbles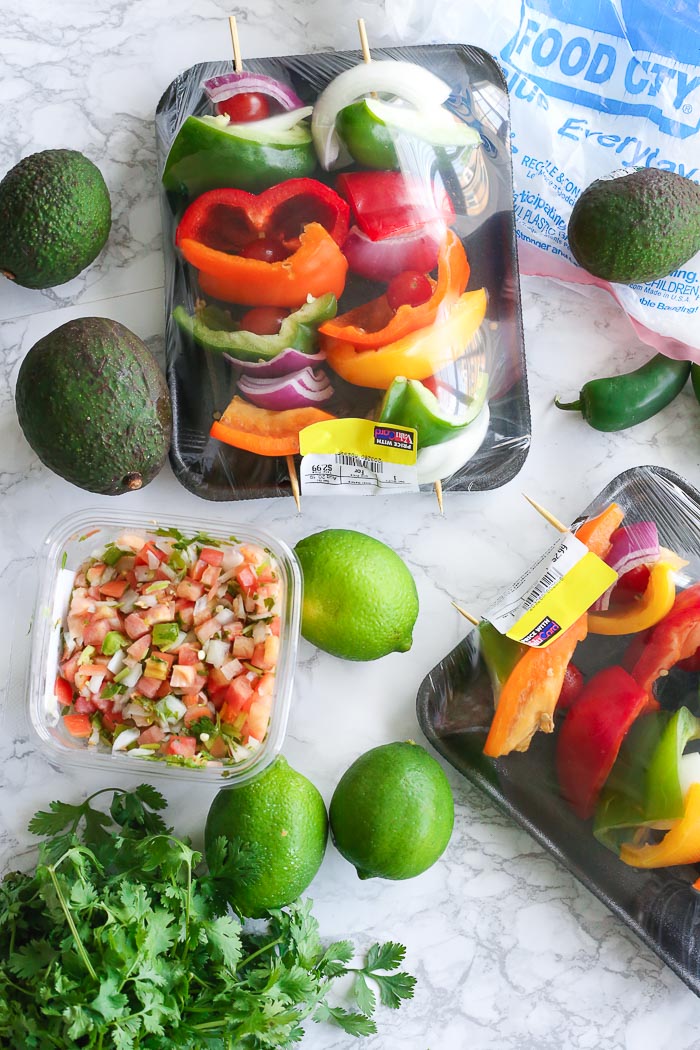 How to make Baja Avocado Pasta Sauce?
Cook noodles. Cook the noodles according to package instructions.
Make the avocado pasta sauce. While the noodles are cooking, combine the avocados, cilantro, and jalapeno in a food processor until smooth.
Combine and mix. In a large bowl combine the Greek yogurt, milk, lime juice, cumin, and salt and pepper. Fold in the avocado mixture and stir to combine until smooth.
Saute the vegetables. In a large skillet heat the coconut oil over medium heat. Add in the garlic, tomatoes, corn, and chiles and allow to saute for 1-2 minutes, or until the veggies start to soften.
Combine Ingredients. Once the pasta has been cooked and drained, combine the vegetables and avocado baja sauce with the noodles. Serve immediately. Enjoy!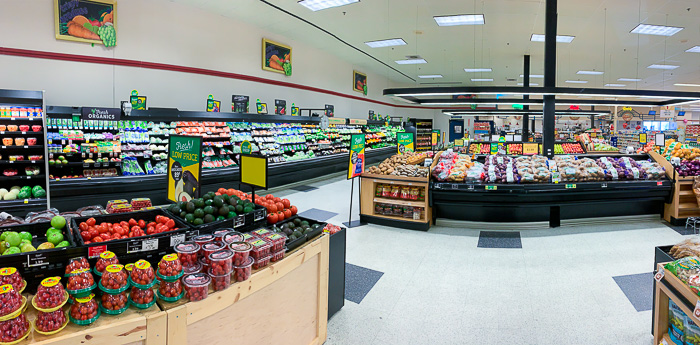 Why fresh produce makes all the difference:
This pasta recipe is all about the use of fresh vegetables. Canned or frozen vegetables (besides canned corn- for convenience here) will not create the same flavors. The fresh vegetables produce more dramatic flavors, all of which you can taste in every bite. So please please please use as many fresh vegetables for this recipe as you can. Be picky here, trust me, it will be worth it. Use fresh veggies and buy them from a reputable supplier. I bought my produce for this baja avocado pasta sauce recipe from Food City and here's why:
Food City is extremely picky about their produce, something I really appreciate, especially for this recipe. They have an excellent selection and variety of exceptionally fresh produce, including local and organics, that are competitively priced.
Their produce comes from the international marketplace and from the farm right up the road. They take a lot of pride in the relationship they have with the farmers. They understand the passion farmers pour into their produce, and the same passion is carried into Food City's produce department.
Food City's ShortCuts Meal Solutions are designed to save you time, making eating healthier, easier and more convenient. Save time and eat better with ShortCuts fresh prepared meal solutions. Their ShortCuts vegetable kabobs had the majority of the vegetables I needed for this recipe right at hand. It could not be any more convenient.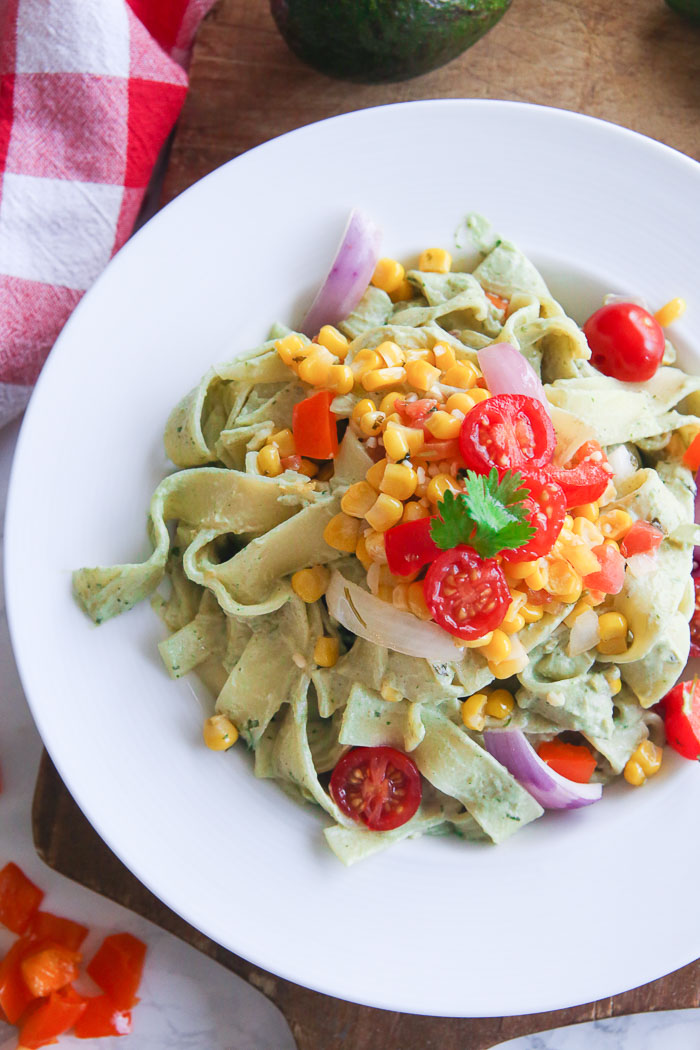 How to make this Baja Avocado Pasta Sauce even easier:
Try Food City's ShortCuts Vegetables. I picked up Food City's ShortCuts vegetable skewers. I just took the cut vegetables off the skewers and added them to the skillet to saute with my coconut oil and corn kernels. Food City made this dish incredibly easy for me to pull off in just minutes!
Saute ahead of time. You can saute the veggies ahead of time so that all you need to do to get this dinner recipe started is take out your food processor and blend while boiling up your favorite pot of noodles.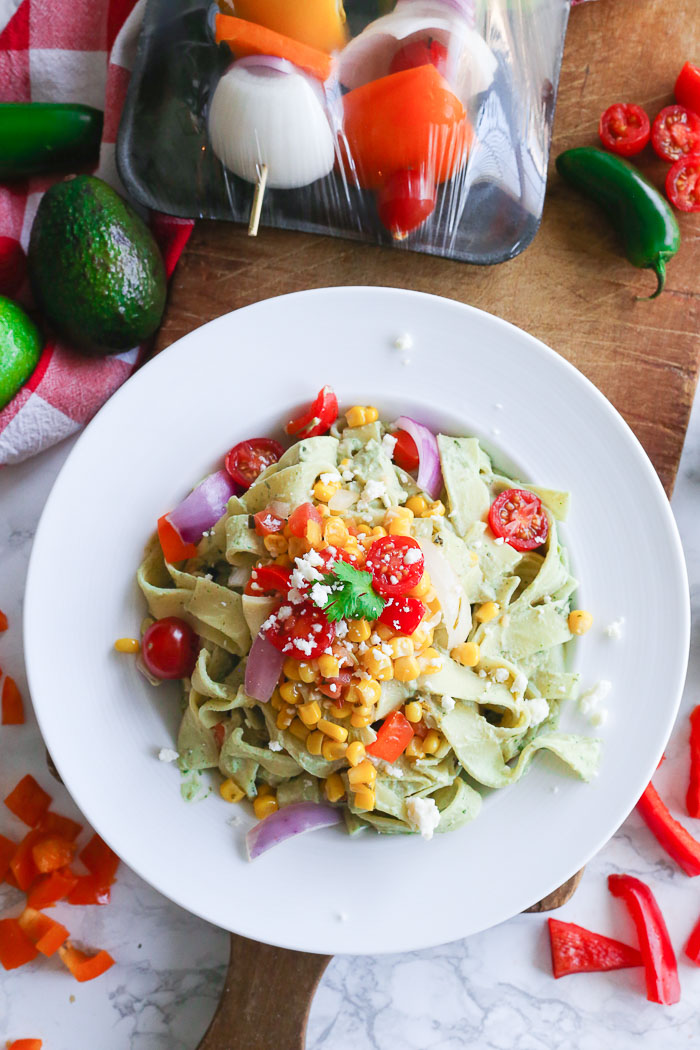 Want more avocado sauce recipes?
If you like this baja avocado recipe you will definitely want to check out my Healthy Cilantro Avocado Cream Sauce Chicken recipe and the Garlic Avocado Pasta.