Instant Pot Basmati Rice is the easiest and quickest way to make this aromatic rice in your kitchen! This easy foolproof basmati rice comes out of the pressure cooker perfectly fluffy every time for a quick side dish to any meal!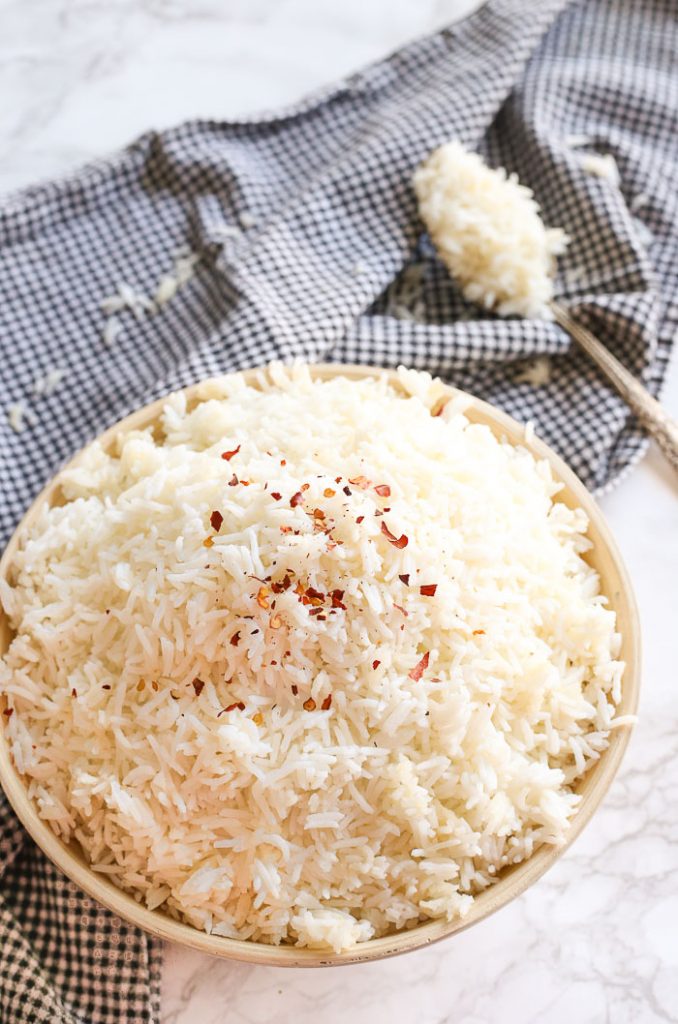 Best Instant Pot Basmati Rice:
This Basmati Rice recipe uses an Instant Pot or any other pressure cooker you may have in just mere minutes to create foolproof, perfect-every time basmati rice.
The simple fragrant white rice comes out hot and fluffy. It's just perfect!
No more burnt, mushy, or hard clumpy rice!
What to pair with basmati rice:
Fluffy basmati rice goes well with pretty much everything. Dishes like One-Pan Baked Gluten-Free General Tso's Chicken and One-Pan Baked Gluten-Free Sticky Honey Garlic Chicken are always served with Instant Pot Basmati Rice.
Popular recipes like Blackened Chicken, Asian Honey Chicken, and Champagne Mushroom Chicken Skillet are great choices because the basmati rice tends to soak up many of the awesome flavors radiating from these main dishes!
Recipes that smother the basmati rice in their delicious savory sauces are another hot pick. Try Slow Cooker Gluten-Free Chicken Marsala, One-Pot Garlic Mushroom Chicken Skillet, and the Instant Pot Pork Chops with Gravy!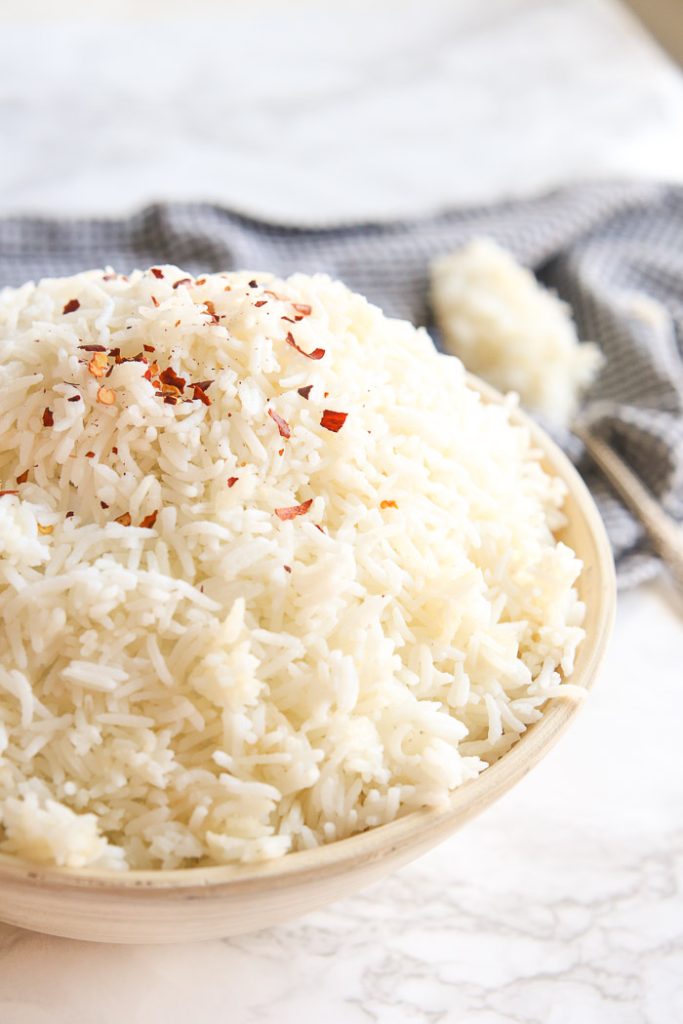 Pressure Cooker Basmati Rice Ingredients:
Basmati rice, rinsed
water
+/- butter
cooking spray
How to make Instant Pot Basmati Rice:
Rinse your basmati rice in the sink under cool water with a strainer. Cover the bottom of your Instant Pot with cooking spray or use a olive oil mister.
Place the rinsed rice in the bottom of the pressure cooker, then add then water and optional butter, then stir and place the lid on the Instant Pot, making sure the pressure cooker is sealed and not set to "vent".
Turn on the pressure cooker and set it to "rice" setting with 4 minutes of cook time. Once the timer is up, allow the Instant Pot to naturally release for 10 minutes.
After the 10 minutes of natural release, manually release any of pressure still left in the cooker. Remove the lid, fluff the rice with a spoon, and serve!
This post may contain affiliate links to items I use in my recipes. Please read my disclosure.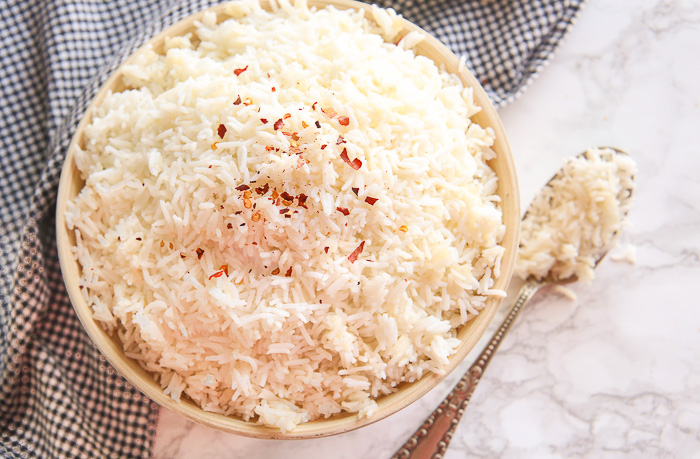 What tools to use for basmati rice?
You will need a pressure cooker and some basmati rice! Obvi, as the title insinuates, this dish uses an Instant Pot but you can always use a different brand of pressure cooker to create the same masterpiece of rice perfection.
I highly recommend two pressure cookers that I use in my own kitchen.
The first is the 6 Quart Instant Pot.
The other pressure cooker is my beloved Pampered Chef Quick Cooker.
No matter which pressure cooker is on your kitchen counter, follow these foolproof steps to perfectly cooked basmati rice!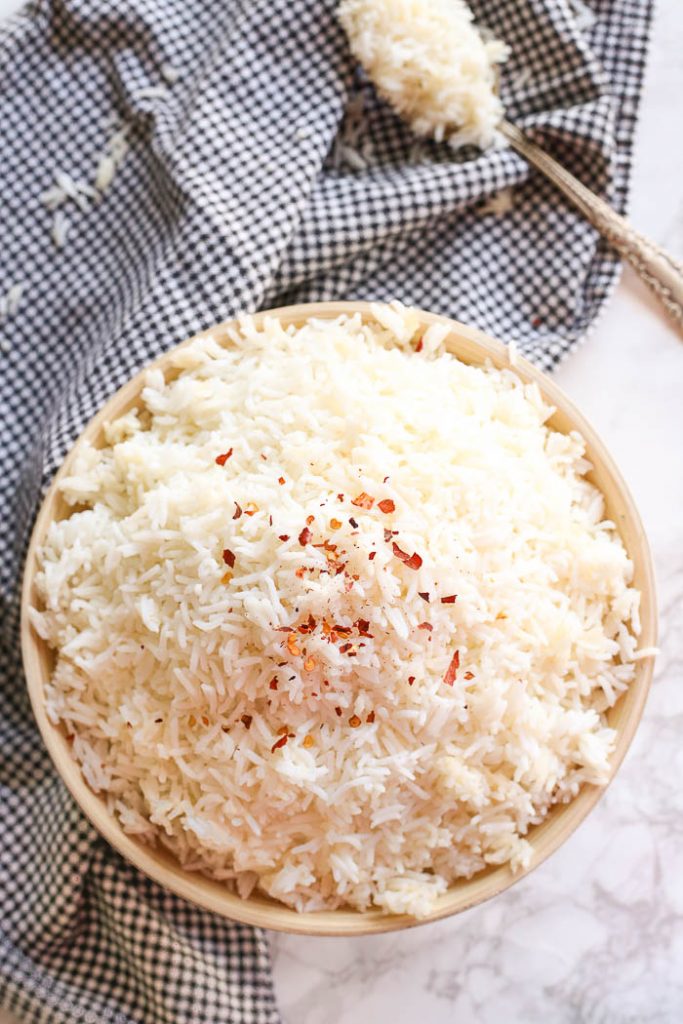 Instant Pot Basmati Rice Tips:
There is a difference between plain "white rice" and "basmati rice". Basmati rice has a somewhat longer in length than a rice like jasmine or sticky rice. The texture is a little less of a sticky texture than traditional white rice too, and is known for being aromatic, fragrant, and light!
Use that 1:1 ratio. That's right! Use a 1 cup basmati rice, to 1 cup water ratio for this recipe to keep it at that perfect consistency!
If you want to cook more rice, double or even triple the basmati rice amount using the 1:1 rice to water ratio, use the same cooking time and settings, just remember to use the same amount of rice as you are using of water!
Sprinkle your Instant Pot Basmati Rice with your favorite herbs. In the case of white rice, our go-to herb is always a healthy dose of green onion!
Cook the rice as soon as you rinse the water over the rice. If you let the rice sit in water, the rice will absorb the water which will throw off the rice:water ratio.
Making rice in the Instant Pot is super easy! There's absolutely no stirring or watching the pot needed – throw those old stove-top rules out the window.
Use a fine strainer to rinse the rice with. I have a fine strainer that I bought at the Dollar Store when I was in college 13 years ago and it still does the trick! The reason why we rinse the rice is to wash away any residual starch left on those processed pieces of grain. Just do it! Your rice will turn out perfect if you rinse!
Measure the rice in a dry measuring cup, place it in the fine strainer, and rinse it well, spending at least 30 seconds rinsing the rice.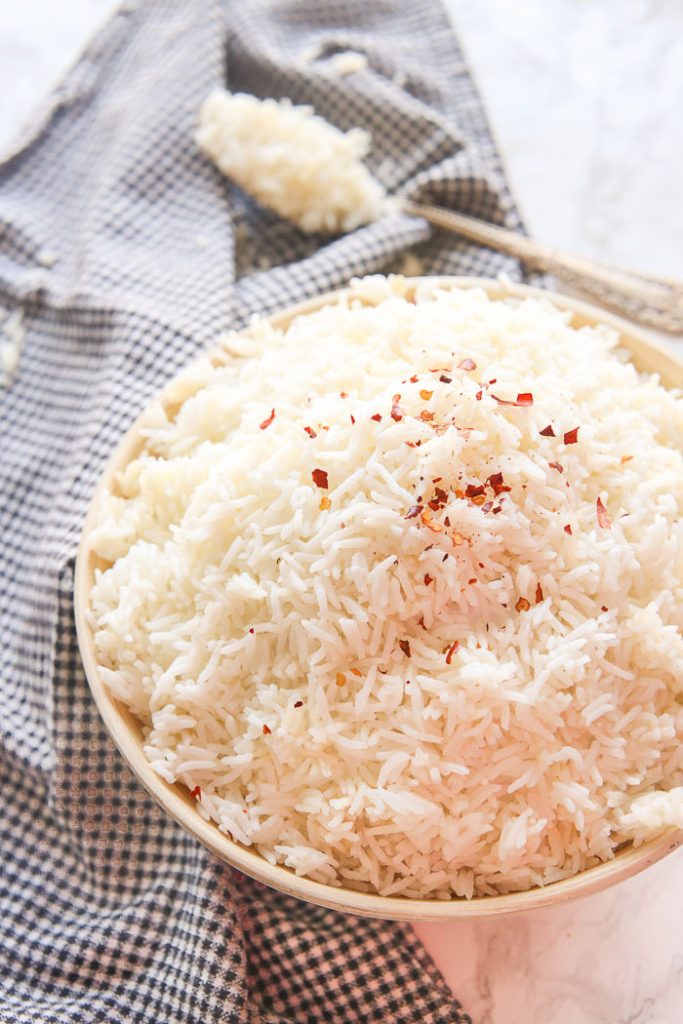 How to store leftover basmati rice:
Store leftover basmati rice in an airtight container in the refrigerator for up to 3-4 days.
Reheating is easy! just place the stored leftover rice in the microwave for 30-90 seconds depending on the amount that you are reheating at one time.
Store uncooked white rice in a sealed container in a dry and dark place.
Want more easy rice recipes?
Well here ya go!