This gluten-free pigs in a blanket recipe wraps sausages or hotdogs in gooey cheddar cheeses and a doughy and perfectly crisp golden brown outer crust made from an easy combination of gluten free flours.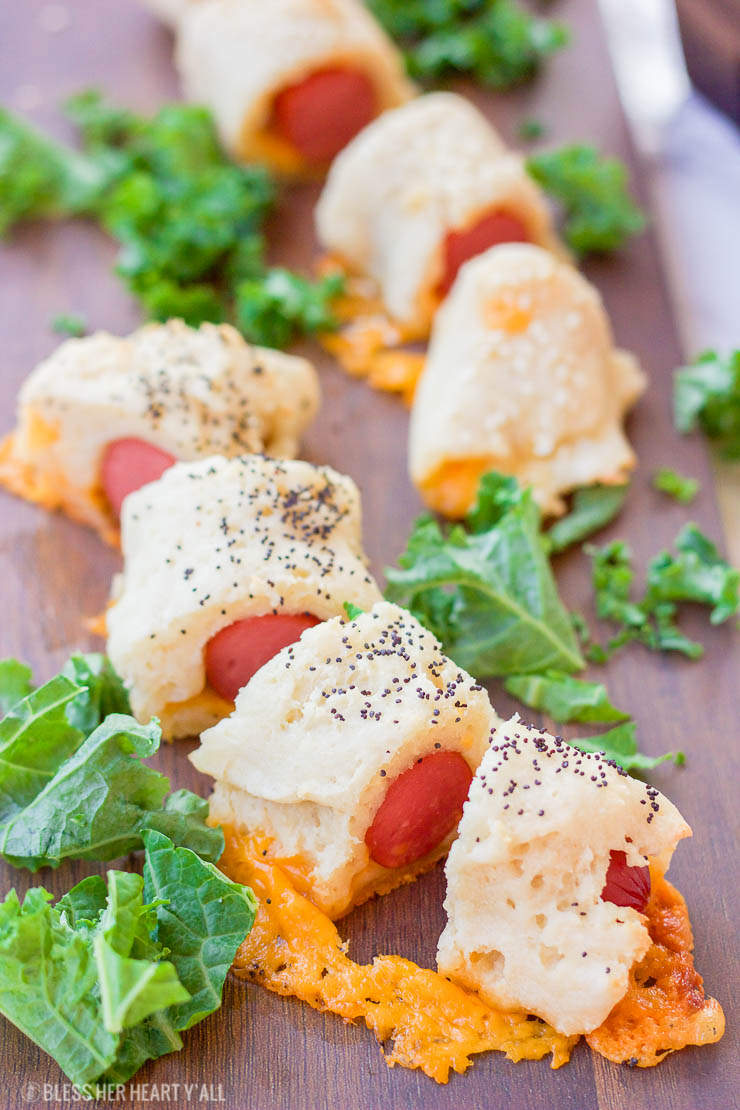 The Best Gluten Free Pigs in a Blanket:
So who doesn't like pigs in a blanket?
Yeah, that's right, no one ever.
As a gluten-free foodie, I was beginning to long for these little weenies in their perfect little doughy blankets.
The last three attempts at making these little buggers turned into epic fails.  The blankets were disgustingly dry and crumbly, no flavor, but alas gluten-free.
Then I finally made it…I made gluten-free pigs in a blanket.  And if this recipe is wrong, I don't want to be right.
The easiest part was making a mess.
The hardest part was cleaning up the mess.
But in all seriousness, it's only as messy as you make it, and it's super simple and not very time consuming to pull together.
You just need enough time for the dough to rise and a few minutes to roll up your piggies into those blankets!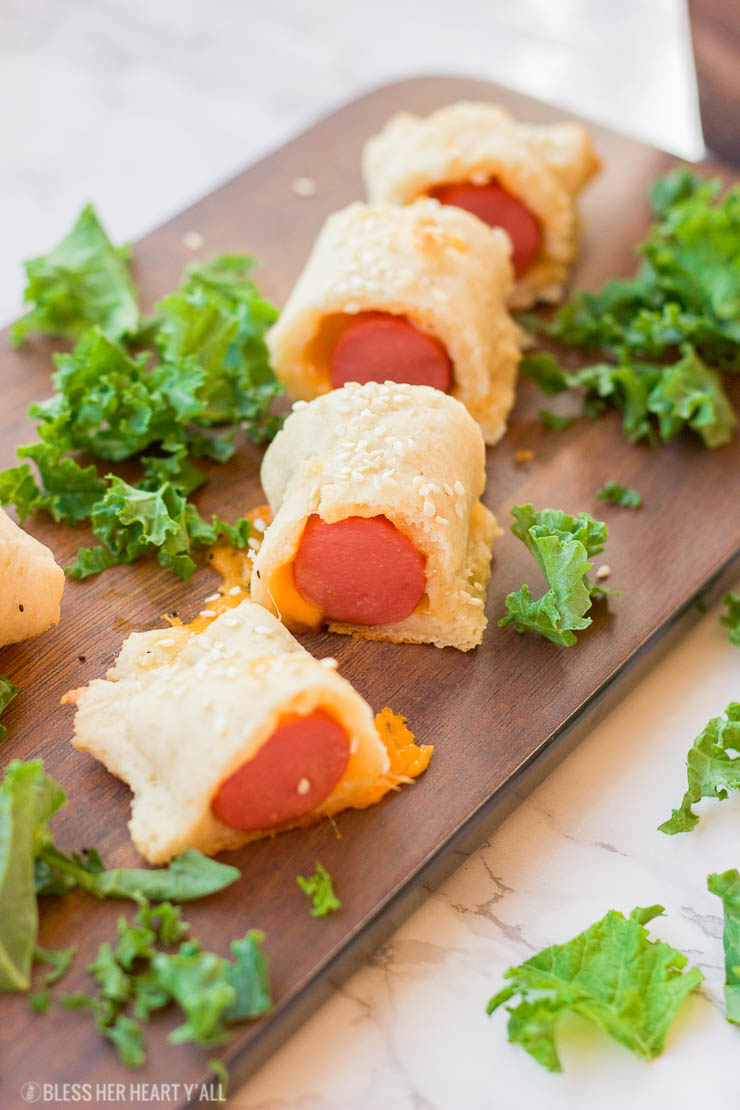 Gluten-Free Pigs In A Blanket Ingredients:
Tapioca flour
almond flour
olive oil, + extra for drizzling on dough
sugar
dry active yeast
xanthan gum
salt
warm water
All Natural Turkey Dogs, sliced into thirds; or hot dogs or sausages
15 inch one- slices of cheese (I like to use sharp cheddar, american, or pepper jack cheese)
As far as ingredients go, I like to use these all-natural turkey dogs as my weenies and this almond flour, and this tapioca flour for the dough.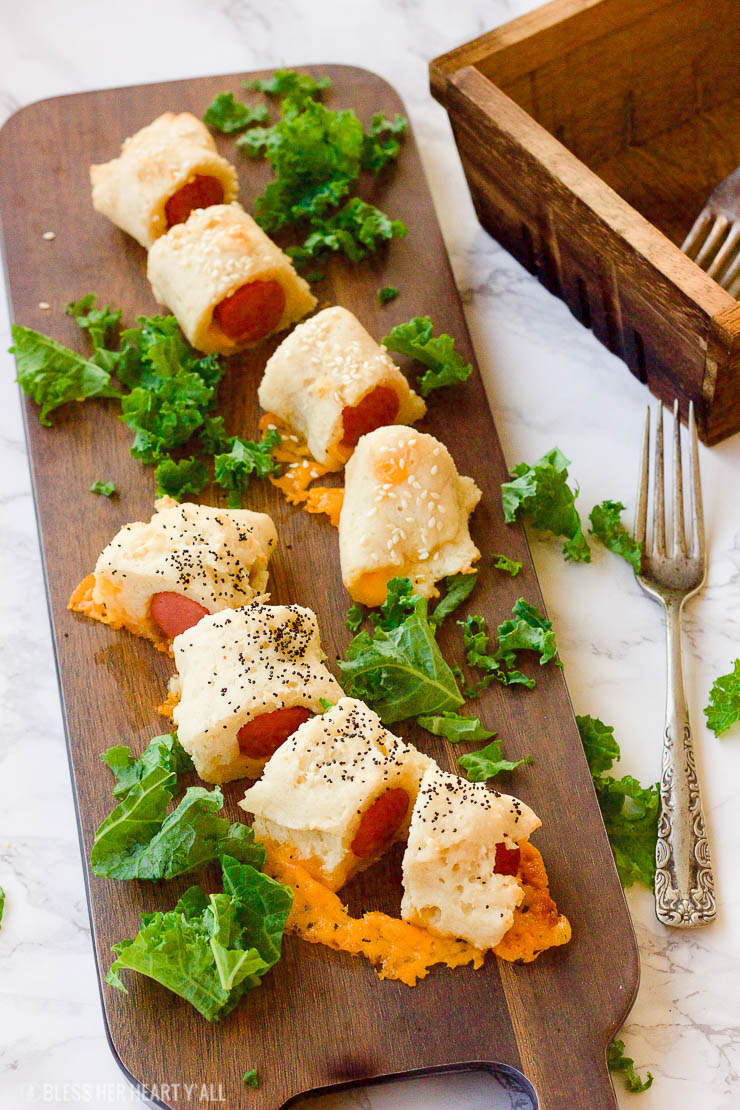 Pigs in a Blanket Directions:
Preheat the oven to 400*F. Line a baking sheet with parchment paper. 

In a large mixing bowl, combine and mix the flour, salt, xanthan gum, yeast, and sugar.

Add the oil and water and mix on low until dough is well combined. If it is still sticky, try adding more flour (1 TBSP at a time). Mold dough into a ball, drizzle all sides with olive oil, cover bowl with plastic wrap, and let rise for 1 hour in a warm spot.

Divide the dough into 3 equal parts. With well floured dough, roll each section into rectangles, about 1/4-1/8 thick. With a knife, cut the rolled out dough into 5 strips (each strip should be about 2-3 inches wide, approx. 6 inches long).

Place one weenie and piece of cheese and roll it up in the dough slice. Place each piggy onto the baking sheet, giving each pig enough room to breathe (1 inch spacing).

Bake for 10-12 minutes or until the dough is starting to turn golden brown along the edges.  Remove from heat and allow to cool for 3-5 minutes before serving while still warm.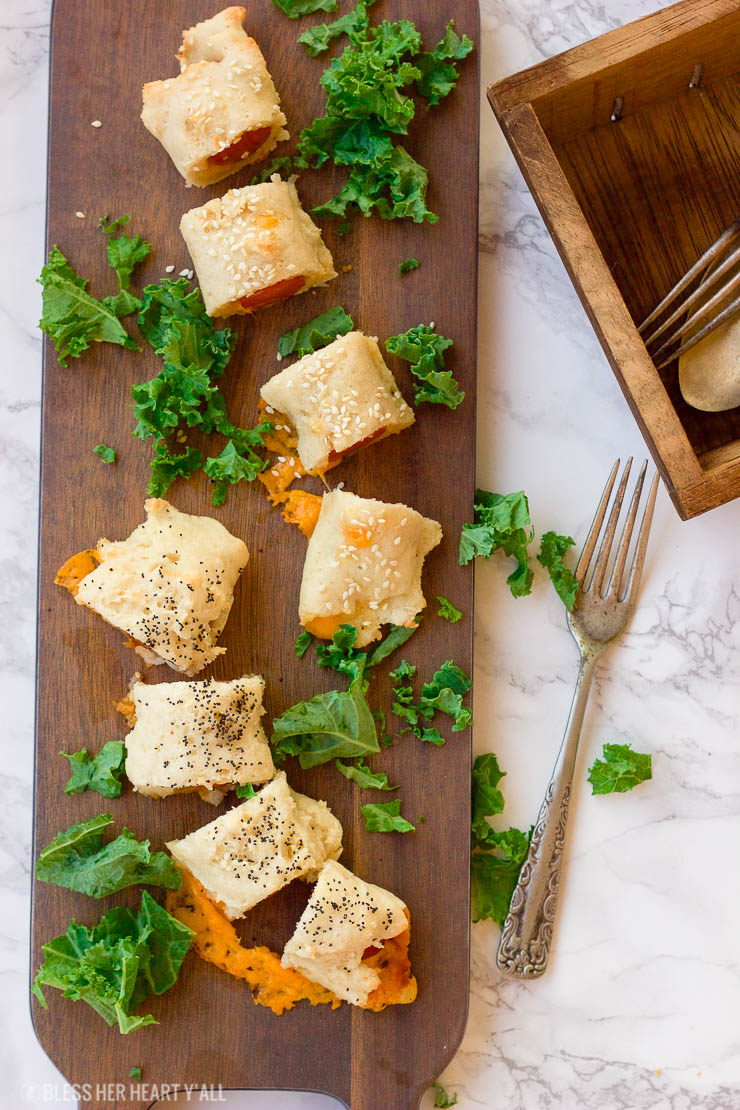 Pigs in a Blanket Garnishes:
There are so many options for pretty little garnishes for these gluten-free pigs in a blanket! 
We like to sprinkle black or white sesame seeds, crushed red pepper flakes, a pinch of beautiful cracked pepper or course garlic salt, or a beautiful green chopped parsley or slices of green onions.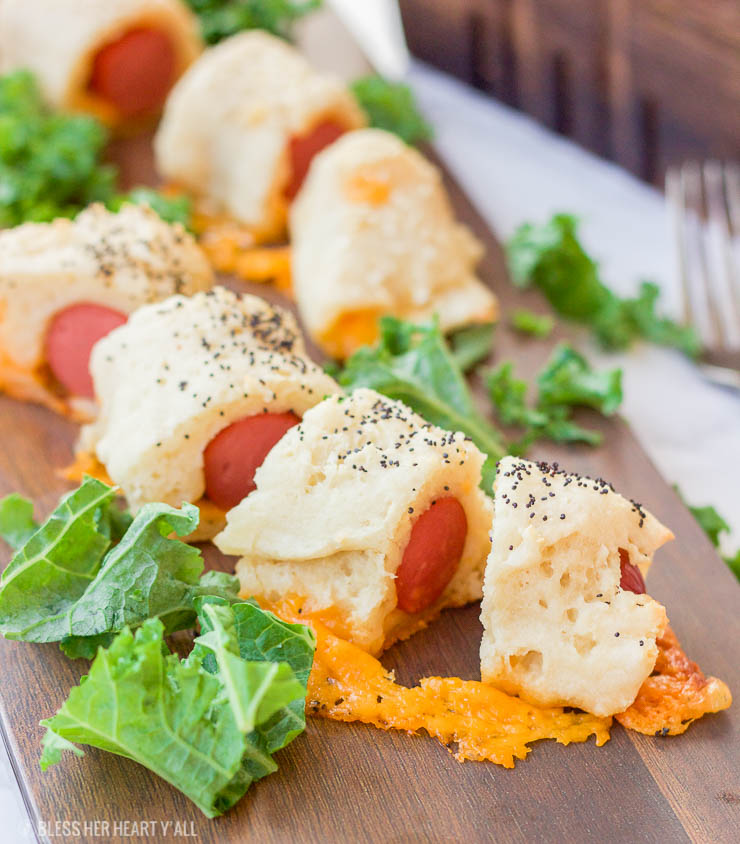 Pigs In A Blanket Pairings:
We love to partner our piggies in blankets with Spicy Cucumber Salad, Air Fryer Asparagus, Easy Blue Cheese Green Beans, Parmesan Quinoa, Chipotle-Lime Radish Salad, or perfect Air Fryer Potatoes!!!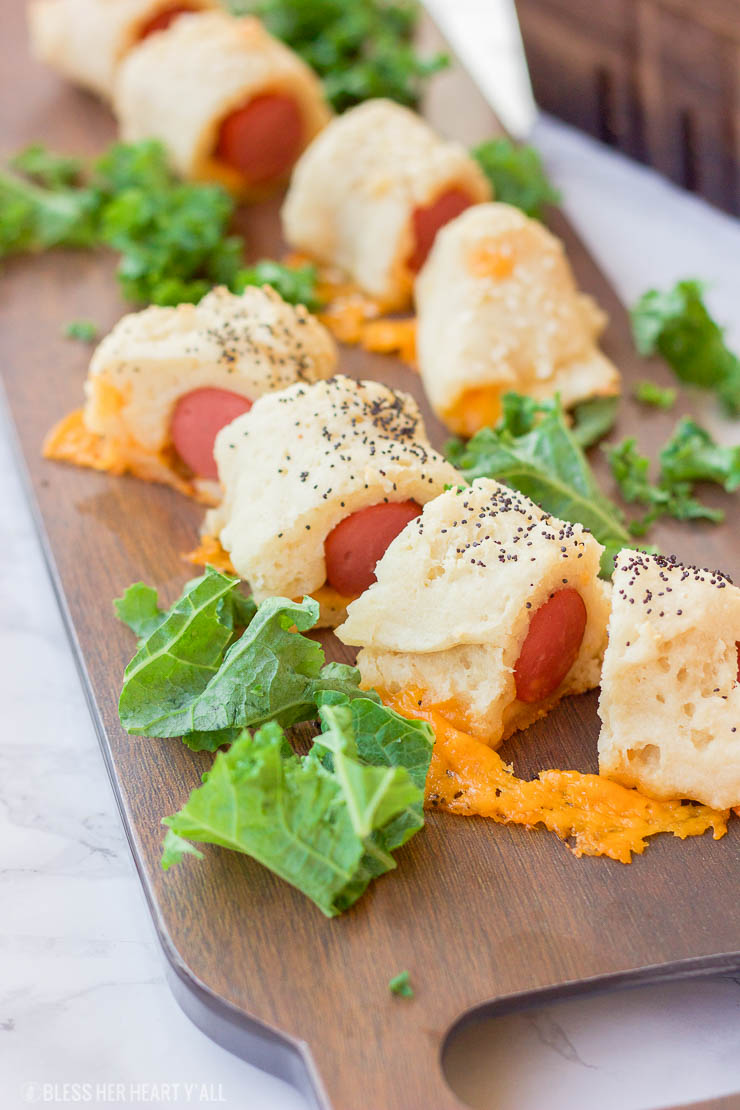 These bad boys take a hot minute (see what I did there?) to cool down.
So, watch it!  
How to store and reheat leftover pigs in a blanket:
And if you have leftovers (we only had a few 'survivors' after this meal!), you can refrigerate them overnight in an air-tight container and reheat the next day.  
They turned out great after being reheated too!
If you make my Gluten Free Pigs in a Blanket recipe, let me know in the comments! Enjoy enjoy enjoy!
Also- be sure to follow me on instagram and hashtag #BlessHerHeartYall or tag @BlessHerHeartYall – I love seeing and hearing the delicious things you make!
If you love this Gluten-Free Pigs in a Blanket recipe, be sure to follow me on social media so you never miss a mouth-watering post:
This post was first published on April 3, 2015 and last updated on May 6 2020.