This skinny greek yogurt broccoli salad is a simple veggie dish that combines fresh broccoli florets, dried cranberries, thick-cut bacon crumbles, and a sweet creamy dressing made with greek yogurt!  It's the perfect healthy side dish for any winter meal!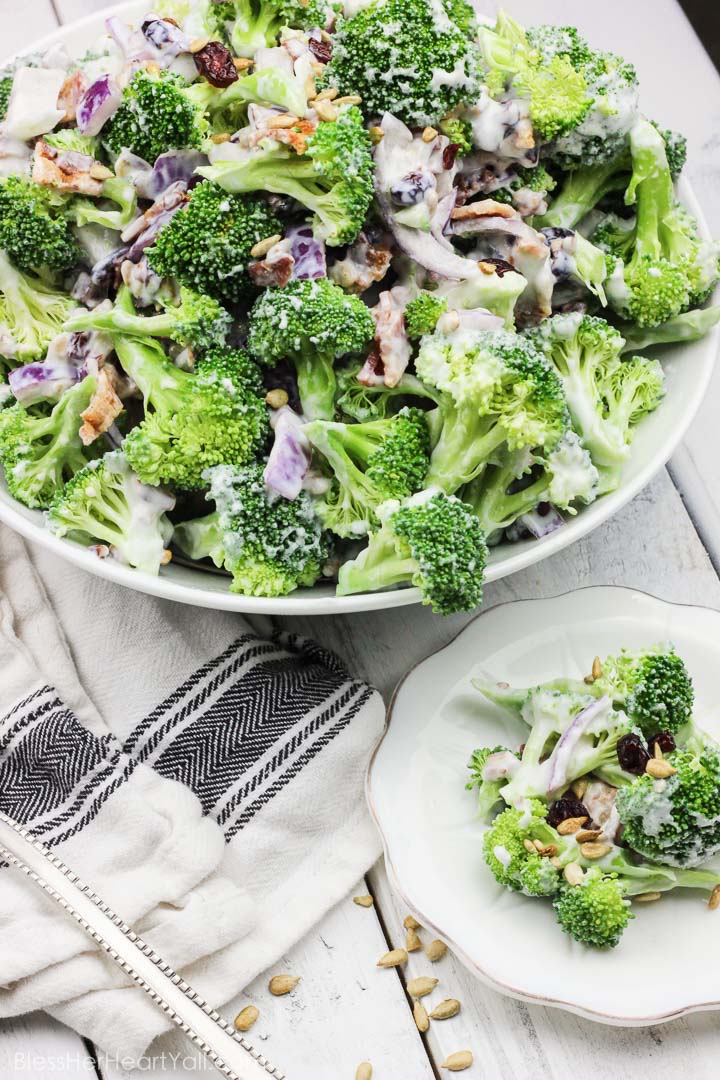 Happy New Year!  I thought I would jump start some New Year's resolutions with a skinny vegetable salad today that tastes delicious and not so skinny at all (I won't mention the lasagna, pizza, and garlic bread that I stocked up on and carb-loaded with last night on New Year's Eve!  Now it's definitely time to focus on healthy foods!).
And speaking of healthy, skinny, delicious, and broccoli-ish… have you tried my healthy fall broccoli salad yet?  Let's get on this yummy broccoli salad train y'all!  You're missing out!
I combined fresh broccoli florets with red onion slices, applewood smoked bacon crumbles, sunflower seeds and chopped walnuts, dried cranberries, and the tastiest greek yogurt dressing.  And before you decide that this recipe sounds too healthy to be that drool-worthy, let me change your mind…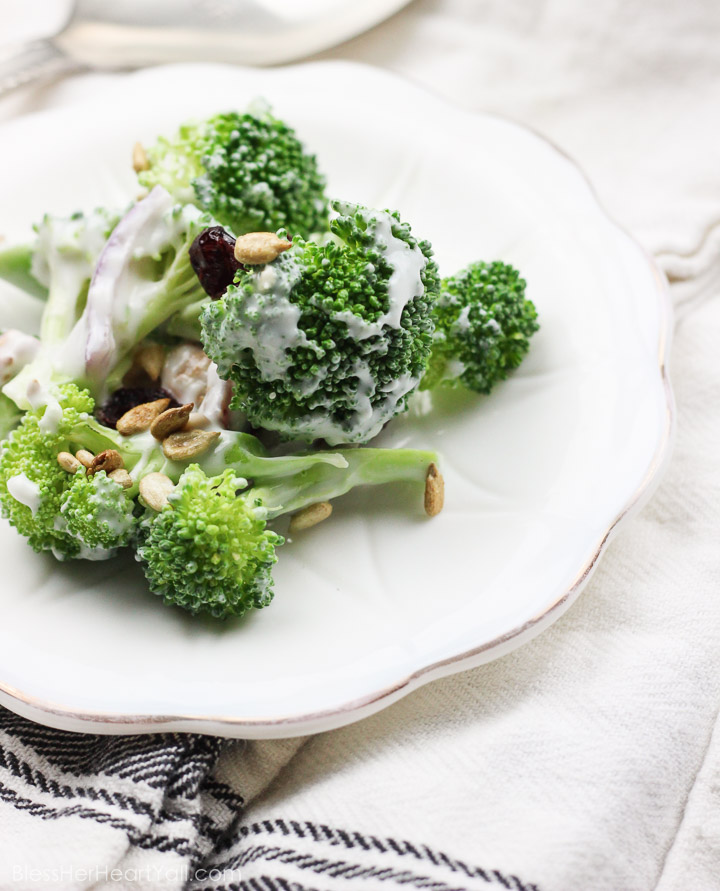 In a small mixing bowl, I combine greek yogurt, a small amount of raw sugars, and a splash of vinegar.  The dressing turns out to be a very creamy, light, sweet and refreshing sauce that goes perfectly with the other ingredients.  And did I mention how quick (oh hey there 5 minutes!) and easy (oh hey there super easy!) this recipe is.  I tell ya, this one's a keeper!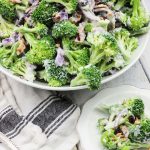 Skinny Greek Yogurt Broccoli Salad
Ingredients
3

small heads of broccoli

cut into bite-sized florets

1

medium red onion

chopped

1/2

cup

of walnuts or sunflower seeds

or both!

1/2

cup

dried cranberries

1/2

cup

bacon

crumbled

3/4

cup

plain greek yogurt

3

TBSP

raw sugar

1 1/2

tsp

white wine vinegar
Instructions
In a small mixing bowl, combine the greek yogurt, sugar, and vinegar together thoroughly. Set aside.

In a larger bowl, add in the broccoli, onion, nuts or seeds, cranberries, and bacon.

Drizzle the dressing over top the salad and toss until evenly coated. Enjoy!
Recipe Notes
Any leftovers should be kept chilled in the refrigerator.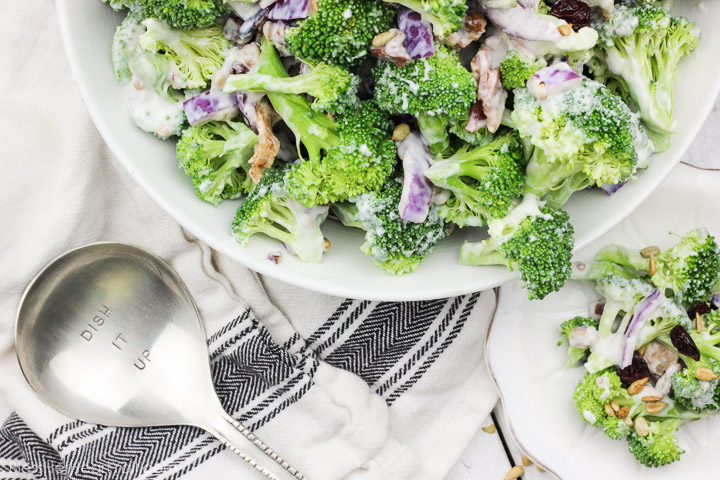 I can't wait to show you the rest of the month's healthy/skinny/lightened-up recipes to help keep those New Year resolutions in check!  If you have any requests for healthy dishes this month, message me at [email protected] and I'll see what yumminess I can come up with.  I've got another greek yogurt favorite coming up for Monday.  And then there's my Healthy Fall Broccoli Salad too.  Yeah can't forget about that winner.  That way you can use the same greek yogurt from this recipe and not waste any extras (or fridge space!).  I've got your back!  🙂