I decided one day recently to try something new.  You know those taco seasoning packets that sit right next to the salsas and the tortillas in the grocery store?  I mean, how easy are they to prepare  weeknight tacos with?
BUT…with my dietary restrictions, I am reluctant to use the packets and put the crud crap preservatives added chemicals in my mouth and through my body.  Even though the latest packets do have gluten-free taco seasoning alternatives, if I can't pronounce the ingredients, I'm pretty sure my body would be much better off without them.
On the flip side, I have come up with and tweaked and then re-tweaked again, a taco seasoning recipe with a simple list of ingredients that you most likely already have in your kitchen.  A plus for making your own taco seasoning: 1. It's super simple to make (takes me less than 60 seconds to whip up), 2. You know exactly what is going in your food, 3. You can control the flavor and spices, 4. It's a cheaper option that paying full price for each of those packets.  Have I sold ya on this one yet?
When I put this recipe together, it was my intention to make it a bit on the spicy side, but allowing the individual cook to customize the spiciness according to their own liking.  It's as easy as adding or subtracting the amount of cayenne pepper and crushed red pepper flakes!  Even if you don't like spicy recipes, you will like this seasoning mix!
DIY Gluten-Free Taco Seasoning Mix: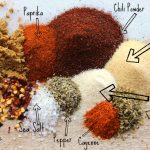 Ingredients
1

TBSP

chili powder

1

tsp

paprika

1

tsp

garlic powder

1

tsp

ground cumin

1/2

tsp

onion powder

1/2

tsp

cayenne pepper*

optional

1/2

tsp

oregano

1/4

tsp

black pepper

1/4

tsp

crushed red pepper*

optional
Instructions
Mix all the ingredients together. Use as you would use a taco seasoning packet.

Makes approximately the same amount of seasoning as one taco seasoning packet that you find in most main stream grocery stores.

* These ingredients are optional and will be the spicy additives in the mix.
This recipe makes about the same amount of seasoning as one taco seasoning packet (it actually makes a bit more in my opinion).
You can save and store this mix in an airtight container for months if you wish!
Don't forget to link up with The Soiree linky party and then join me in partying with these lovelies!