Spaghetti squash taco bake roasts fluffy spaghetti squash and melts it into seasoned ground meat, tomatoes, onion, corn, beans, and tops it off with melty cheese and fresh cilantro for the perfect healthy taco-inspired casserole!
I really really wanted to wait until Taco Tuesday to share this one with y'all but I simply couldn't. I tried really hard but I am just too excited to share this spaghetti squash casserole.
So I'm diving right into this spaghetti squash taco greatness. Mkkk?
I know that a lot of people are scared to use spaghetti squash in recipes. But I'm here to tell you that you shouldn't be one of those people.
Roasting a spaghetti squash is so stinkin' simple.
Slice the squash in half ("hot dog style"), place it on a baking sheet, drizzle with a dab of olive oil and roast it.
When the spaghetti squash is done roasting, use a fork to scoop out the inside. What comes out is a fluffy noodle-y goodness for you to work with.
I have definitely prepared the spaghetti squash the day before. Just place the cooked spaghetti squash noodles in an airtight container in the fridge overnight.
The magic happens after the squash is cooked.
While the spaghetti squash is roasting, you will want to cook your ground meat up, chop up your vegetables that you want to use, and shred that cheese.
I usually will use ground turkey for this taco bake but this past week I had extra grass fed ground beef from a recipe post I am doing with PRE Brands that I decided to use. That post will be going live in a few weeks but I decided to try the beef in this taco casserole to see how it held up with a fattier meat.
Y'all, whether you choose to go the ground turkey route or jump on the juicy ground beef train (or if you join the ground chicken club), this spaghetti squash taco bake will cure all your taco cravings.
So cook up your ground meat, season it with homemade taco seasoning, add your veggies to soften just a bit, and toss all together in a baking dish.
Top it all off with shredded cheese and chopped fresh cilantro before putting it in the oven for about 15 minutes to melt it all together.
This is why I like to pre-cook my spaghetti squash the night before.
Because on those really busy nights when you have your squash already cooked, you have only minutes standing between you and your taco bake!
Spaghetti squash taco bake tips:
I don't like beans, but if you do I bet adding a can of low sodium black beans (or any other chopped veggies) to the mix would be bonus points.
Careful when pulling the spaghetti squash halves out of the oven and scooping out the insides. I have burnt myself trying to do this before. Please don't be as impatient as I was!
If you're a cheese fan (and who isn't?!?) you may want to sprinkle on more cheese. My favorite cheese for this dish is a mexican blend, colby-jack, and/or sharp cheddar.
Store any extras in an airtight container in the fridge (if you even have any leftovers!).
Reheating this dish works well in the oven (about 300*F for a few minutes) or covered in the microwave until warm.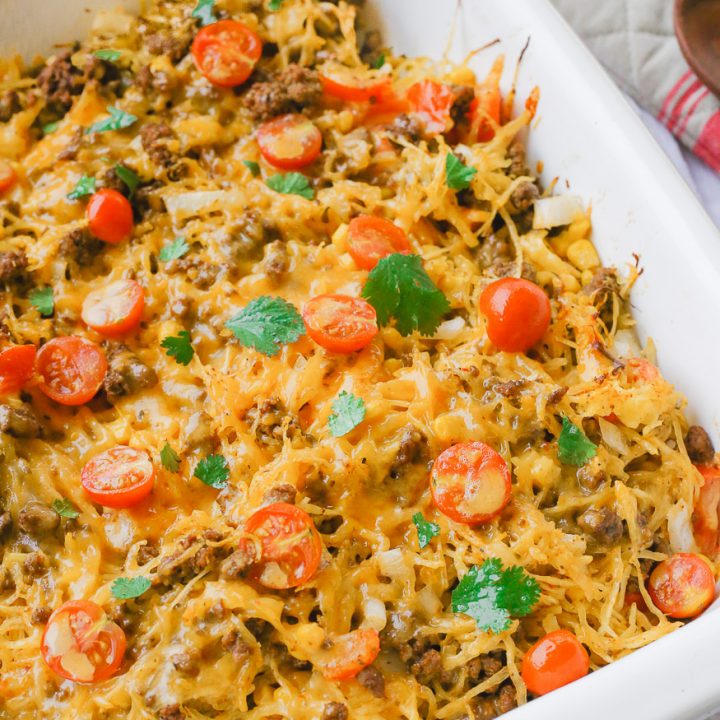 Spaghetti Squash Taco Bake
Spaghetti squash taco bake roasts fluffy spaghetti squash and melts it into seasoned ground meat, tomatoes, onion, corn, beans, and tops it off with melty cheese and fresh cilantro for the perfect healthy taco-inspired casserole!
Ingredients
1 large spaghetti squash
1 TBSP olive oil
1 pound ground meat, turkey, beef, or chicken
3 TBSP gluten free taco seasoning
1 cup grape tomatoes, halved
1 cup sweet corn kernels
1/2 cup yellow onion, chopped
1 cup shredded cheese
fresh cilantro
Instructions
Preheat your oven to 400*F.  Place your spaghetti squash halves on a baking sheet, insides facing up.  Drizzle with the olive oil and bake for approximately 40 minutes until the center is tender. Allow to cool.
While the squash is roasting, brown your ground meat in a large skillet over medium heat until it is fully cooked.  Once cooked, drain any grease out and add the taco seasoning, tomatoes, corn, and onion and cook for 2-3 minutes or until the veggies have softened slightly.
Once the squash is cooked and cooled slightly for handling, use a fork and with a scooping action, scoop out the inside of each squash half.  The result will be noodle-like strands of squash.  Transfer the spaghetti squash to the skillet with everything else.
Stir all together and then transfer to a 9 x 13 baking dish. Top with cheese and chopped cilantro.  Bake for 15 minutes or until the cheese has melted.  Enjoy!
Nutrition Information:
Yield:

4
Serving Size:

4 people
Amount Per Serving:
Calories:

334
Saturated Fat:

6g
Cholesterol:

106mg
Sodium:

422mg
Carbohydrates:

11g
Fiber:

1g
Sugar:

4g
Protein:

29g
Items used in making this spaghetti squash taco bake:
Thanks for stopping in friends!
The links on this page may be affiliate links. Any purchases made through these links helps support BlessHerHeartYall.com without any additional costs to you.