I hope that everyone had a wonderful Mother's Day weekend. My parents and brother came into town and we spent the whole weekend outside in the warm sun, grilling and sipping on delicious drinks like this blueberry vanilla bourbon smash.
This wasn't the first time that this bourbon smash was a hit at a get together. I made this drink at a Kentucky Derby party this year that Hubby and I went to. The combination of the blueberries and the vanilla give a light and sweet taste, with the bourbon adding a bit of sharpness for your sipping pleasure.
And of course you can make the bourbon smash into a mocktail by taking out the bourbon and you still have a tasty fizzy drink to enjoy all summer long.
The vanilla you use for the recipe matters. I like using Nielson-Massey vanilla for the bourbon smash. The pure vanilla extract gives off the perfect flavor to mix with the blueberries and citrus. Be sure to use a high-quality vanilla for this recipe!
Blueberry Vanilla Bourbon Smash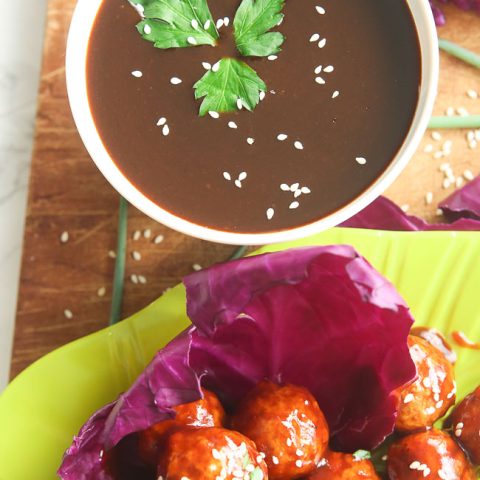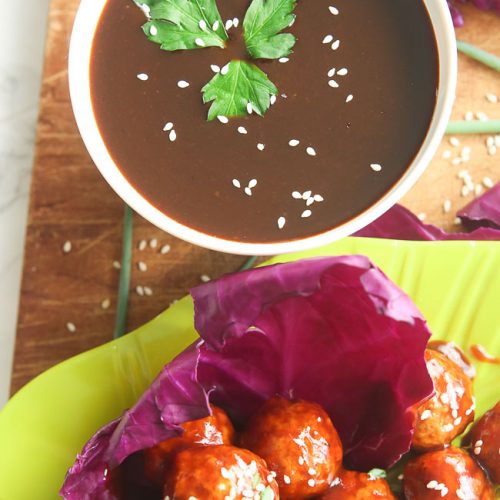 How to Make Hoisin Sauce
It's incredibly easy to make your very own hoisin sauce in the comfort of your own kitchen.  This hoisin sauce is a great flavor-booster for so many different asian-inspired dishes.  The possibilities are endless with this simple Asian barbecue-like sauce!
Ingredients
8 Tablespoons gluten-free Soy Sauce
5 Tablespoons peanut butter
3 Tablespoons fresh honey
1/4 cup chopped green onion
1/2 tablespoon red pepper flakes
4 teaspoons rice vinegar
1 teaspoon garlic powder
3 teaspoons sesame oil
1-2 Tablespoons gluten-free Chili paste, depending on how spicy you want it
Instructions
Bring all the ingredients to a boil over medium heat. once boiling, bring to med-low heat and let simmer for 3-5 minutes, until sauce slightly thickens, stirring occasionally.
Let cool to room temperature, use immediately, and leftovers are good to store in the refrigerator in an airtight container.
Nutrition Information:
Yield:

24
Serving Size:

1 /2 cup
Amount Per Serving:
Calories:

41
Total Fat:

2g
Saturated Fat:

0g
Trans Fat:

0g
Unsaturated Fat:

2g
Cholesterol:

0mg
Sodium:

383mg
Carbohydrates:

5g
Fiber:

0g
Sugar:

3g
Protein:

1g
* My family is slightly partial to "Urban Bourbon", AKA Woodford Reserve. My mother and I decided to randomly tour the distillery one day while in Kentucky and we fell in love with the taste and with the time we got to share together (how often do you get to taste test bourbon with your mom?).
**I also must say that I do NOT condone underage drinking, and please drink very responsibly. Okay? Thanks!
Don't forget to link up with The Soiree linky party and then join me in partying with these lovelies!