Cajun chicken pasta melts juicy cajun-seasoned chicken breasts with al dente gluten-free noodles in an easy creamy pasta sauce and sprinkles of extra gooey cheeses and herbs all in under 30 minutes!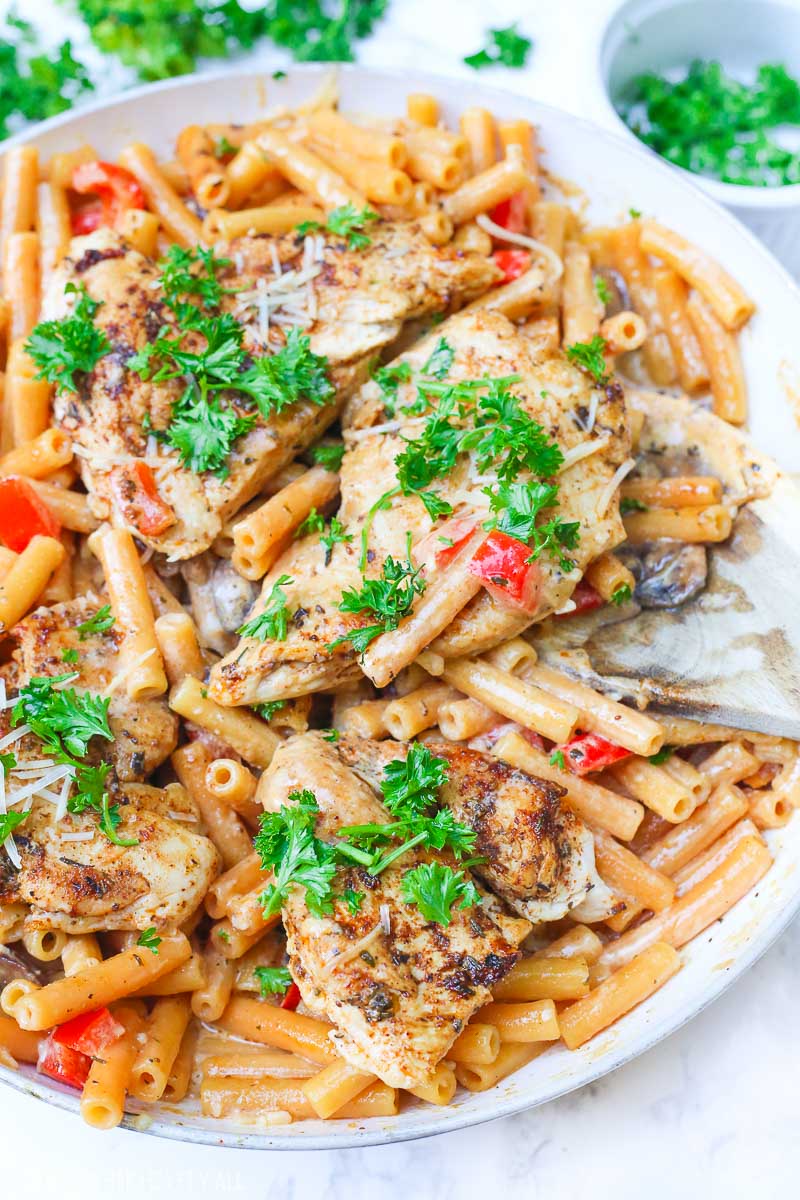 Cajun chicken pasta is a favorite in our home.  We kind of have a thing for chicken dunked in creamy sauces with pasta.  Case in point -> One-Pot Rosemary Goat Cheese Chicken Pasta!
But not much can beat juicy chicken sizzled in homemade cajun seasoning over top pasta and then smothered in creamy savory cheese sauce.
It's creamy, cheesy, savory, and it can all be yours in 30 minutes.
The chicken is cooked in a large skillet with the cajun seasoning on it until browned and the seasoning becomes this darkened slightly-crispy almost-caramelized layer on the outside of each piece of chicken.
Then using the same pan as the cajun chicken, the cajun cream sauce is born!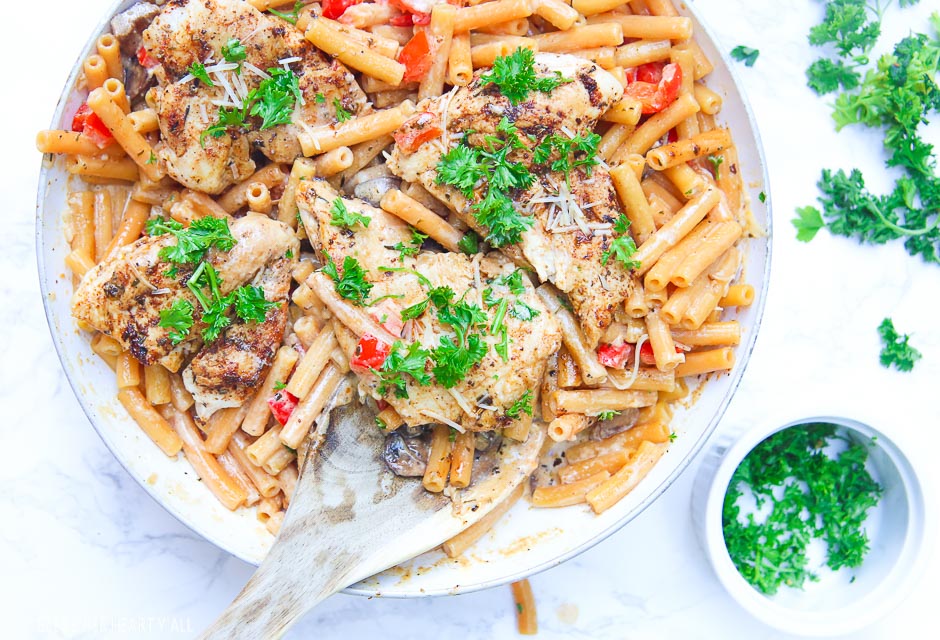 You'll want to use the same skillet that the chicken is cooked in so that you can scrape off some of that wonderful baked on crunchy crispy cajun seasoning that sticks to the bottom of the pan.
You know, the leftover bits that hold in a TON of flavor.  Don't waste that!  Use those scrapings to turn your savory creamy cheese sauce into a robust cajun flavor-packed explosion.
Those skillet scrapings will just melt into the cream, cheese, chicken broth, and mushrooms that the sauce is made up of after a few gentle scrapes with a skillet-safe spoon or spatula.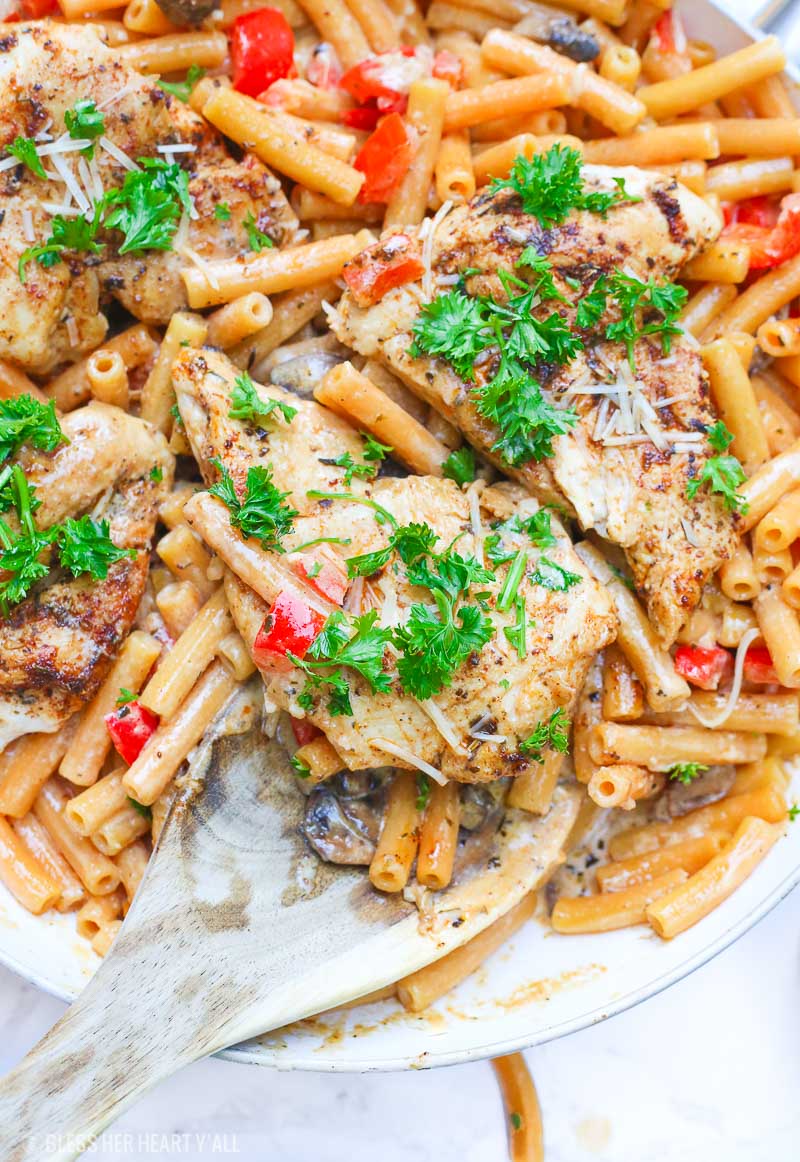 Let the sauce start to simmer and froth into a thickened masterpiece to smother your pasta and chicken in.
Drop in your cooked pasta of choice and your cajun chicken pieces back into the warm hearty skillet of sauce.
Then sprinkle the entire skillet with extra parmesan cheese and fresh chopped parsley!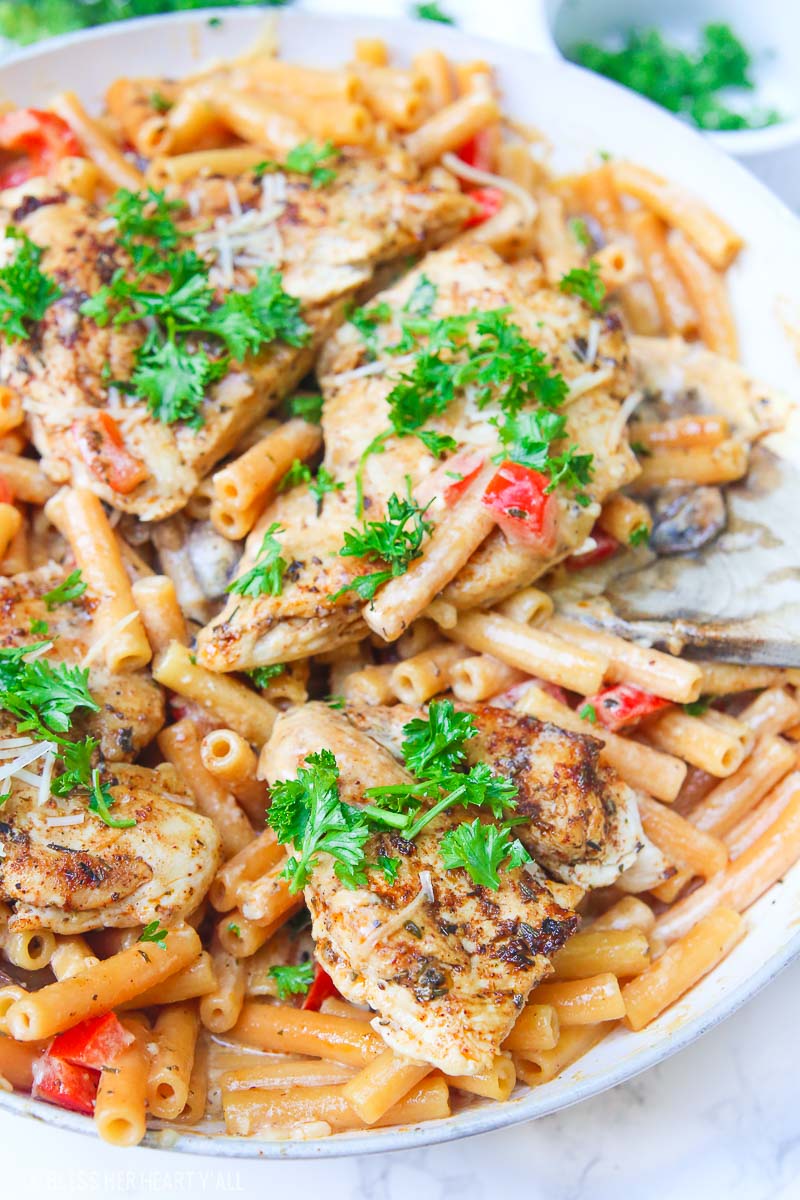 You will not find a better tasting cajun chicken pasta dish out there.

There's no restaurant where you can get this dish in just 30 minutes.
And this homemade version means you don't have to leave your house to get this amount of flavor!  You can have a night-in in your yoga pants, hair a mess, no makeup, full-on comfort mode with a skillet full of cajun chicken pasta comfort.
That's a win in my book.
Cajun chicken pasta tips:
You can easily substitute the chipotle chili powder with regular chili powder but the aftertaste of the cajun seasoning will be a touch different.
You can store the extra cajun seasoning in an air-tight container with your other spices for later use.
The halved chicken breasts (slice them hamburger-style… not hotdog-style!) cook faster so make sure you slice your chicken into thin flat halves!
The mushrooms and bell pepper are optional BUT they do add flavor and texture.  Consider adding some sort of vegetable to the dish if mushrooms and bell peppers aren't going to work for you.
I used a delicious new gluten free red lentil pasta.  I really liked the soft flavor of the noodles and they held up very nicely and never got mushy or soggy like some gluten free noodles do.  I'm not getting paid by this company… I just really liked using these noodles.
You can decrease the cayenne pepper in the cajun seasoning to 1/2 tsp if you are more sensitive to spicy food.
Store any leftovers in an airtight container in the fridge for up to 3 days.  When reheating add a TBSP of milk or cream, stir, and then heat to your desired temperature.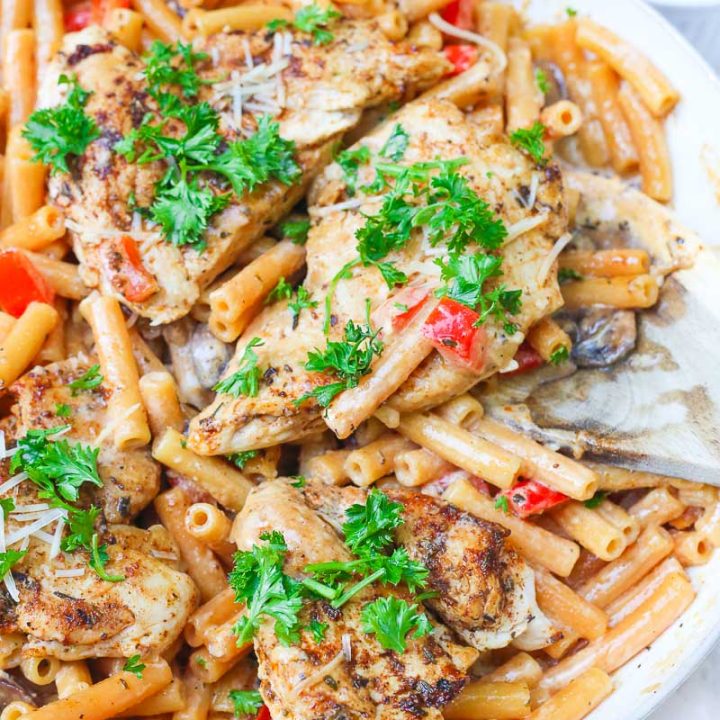 Cajun Chicken Pasta
Cajun chicken pasta melts juicy cajun-seasoned chicken breasts with al dente gluten-free noodles in an easy creamy pasta sauce and sprinkled of extra gooey cheeses and herbs all in under 30 minutes!
Ingredients
2 TBSP olive oil
2 chicken breasts, halved into thin breasts
10 ounce pasta
Homemade Cajun Seasoning
2 TBSP chipotle chili powder
3 tsp garlic powder
3 tsp paprika
2 tsp dried basil
2 tsp ground sage
2 tsp ground mustard
2 tsp black pepper
1.25 tsp cayenne pepper
1 tsp onion powder
1 tsp ground oregano
1 tsp ground thyme
1 tsp fine salt
Creamy Cajun Pasta Sauce
2 TBSP butter
1 TBSP minced garlic
1 medium red bell pepper, chopped
1 cup sliced mushrooms, optional
1/4 cup GF chicken broth
3/4 cup heavy cream
1 TBSP almond flour, optional
1/2 cup parmesan cheese, shredded or grated
1/2 tsp garlic powder
1/4 tsp black pepper
Instructions
Make your homemade cajun seasoning by combining all the cajun seasoning ingredients together and mixing well.
Make your pasta according to package instructions.  If your pasta is done before the rest of the dish, drizzle your fully cooked and drained noodles in a splash of olive oil and set aside.
While your pasta is cooking, make your cajun chicken: In a large skillet heat the olive oil over medium heat and add the chicken breasts.  Add a pinch of the homemade cajun seasoning to each chicken breast and then cook for 3-5 minutes.  Flip each chicken piece, sprinkle the second side with another pinch of cajun seasoning, and cook another 3-5 minutes or until brown on each side and fully cooked. Remove chicken and set aside on a plate. 
In the same skillet that the chicken was cooked in, add the butter and minced garlic until the butter is melted.  Add the sliced mushrooms and bell pepper and cook for a few minutes until tender. 
Add in the chicken broth, cream, almond flour, parmesan cheese, garlic powder, and pepper and allow to simmer (stirring occasionally) until the sauce starts to slightly thicken, about 5 minutes.
Add in the pasta and stir to coat.  Place the chicken breasts on top of the creamy cajun pasta and sprinkle with extra parmesan cheese and chopped fresh parsley.  Enjoy!
Nutrition Information:
Yield:

4
Serving Size:

4 people
Amount Per Serving:
Calories:

672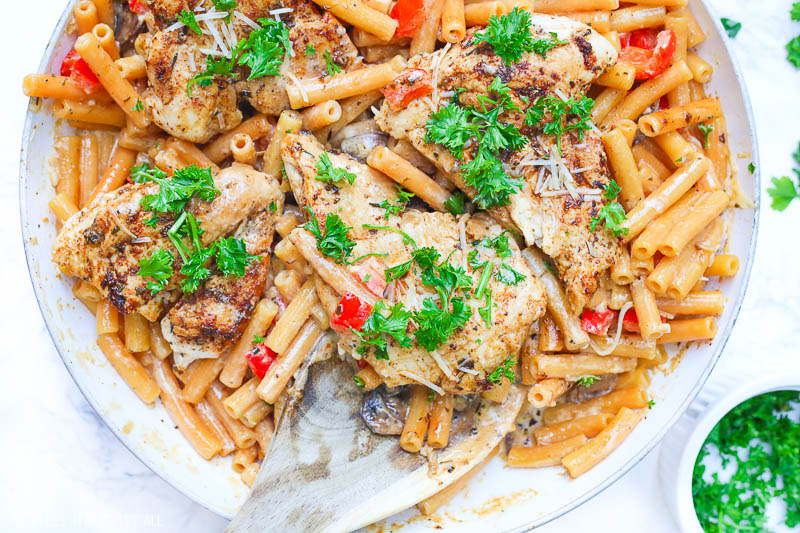 Items used to make this cajun chicken pasta dish: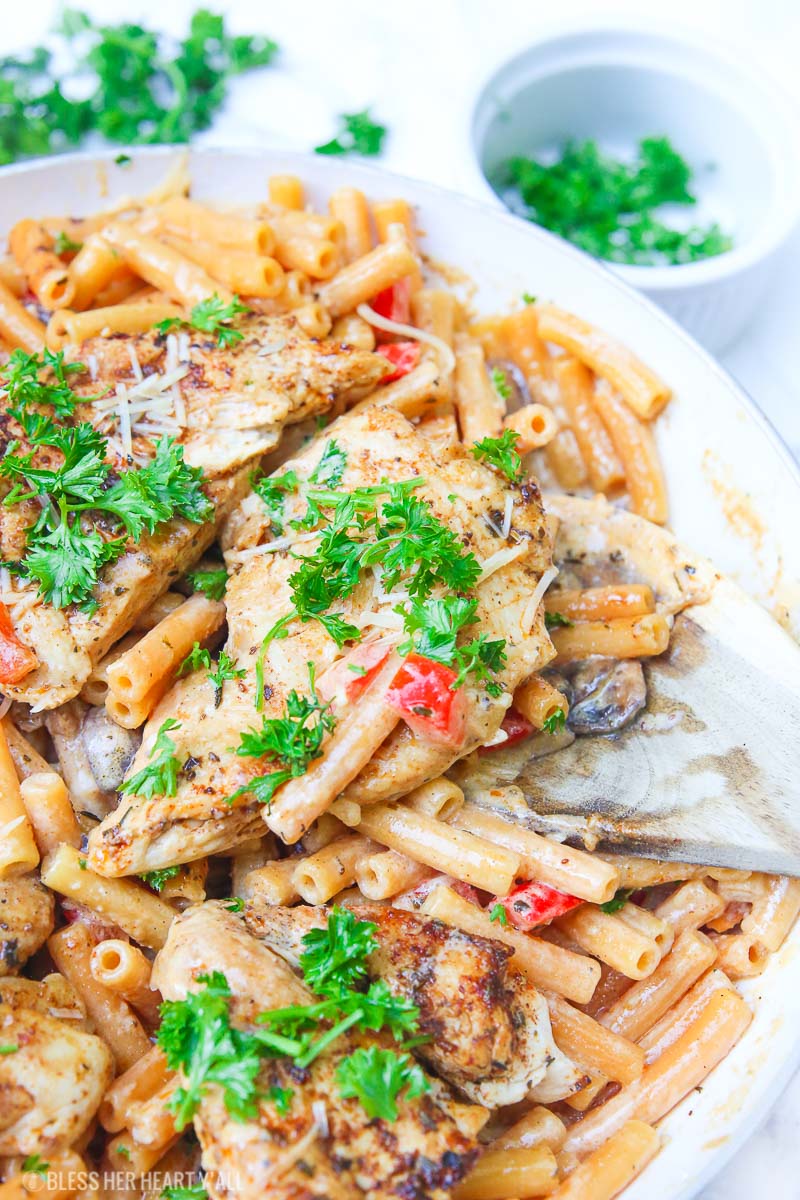 Thanks for stopping in friends!
The links on this page may be affiliate links. Any purchases made through these links helps support BlessHerHeartYall.com without any additional costs to you.