It's the weekend!  Not only is it the weekend, but it's a long holiday weekend at that!  There will be memorial services, there will be get togethers, there will be barbecues.  And why not pull out all the American classics for this American celebration?  Hot dogs, hamburgers, french fries, and cold drinks (I could also be describing the concession line at a baseball game!) are about as American as it gets!
So I hope that many of you get to fire up that grill this Memorial Day weekend and enjoy a hot dog or two and some fries.  Oh wait…. you can't have gluten….oh….and you can't find french fries that are gluten-free?  Y'all… I gotcha covered!
These gluten-free baked garlic french fries are my favorite of all the french fries to make.  They are so easy to make, and they taste like a combo of straight french fry and seasoned french fries together.  What?  Yeah, they are amazeballs (I hate to use that word, but it applies here y'all).
I made these french fries just the other night and they were gone for I knew it.  Even those who eat a gluten-full diet will love these and everyone can rest assured about the simple ingredients of olive oil, garlic, and sea salt being gulped down.  Hooray for chemical-free food once again!
Baked Garlic French Fries: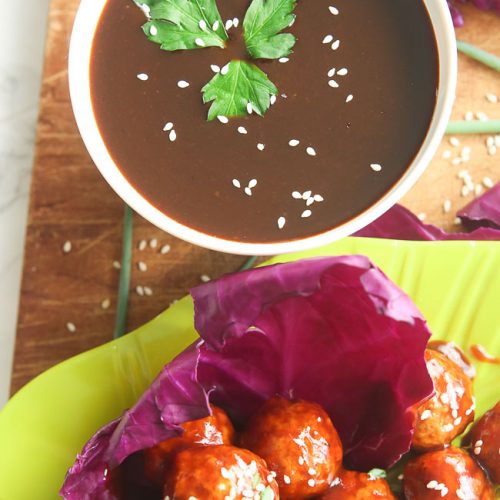 How to Make Hoisin Sauce
Ingredients
8 Tablespoons gluten-free Soy Sauce
5 Tablespoons peanut butter
3 Tablespoons fresh honey
1/4 cup chopped green onion
1/2 tablespoon red pepper flakes
4 teaspoons rice vinegar
1 teaspoon garlic powder
3 teaspoons sesame oil
1-2 Tablespoons gluten-free Chili paste, depending on how spicy you want it
Instructions
Bring all the ingredients to a boil over medium heat. once boiling, bring to med-low heat and let simmer for 3-5 minutes, until sauce slightly thickens, stirring occasionally.
Let cool to room temperature, use immediately, and leftovers are good to store in the refrigerator in an airtight container.
Don't forget to link up with The Soiree linky party and then join me in partying with these lovelies!