These gluten-free pancakes with smashed strawberry champagne sauce are one for the books!  The pancakes are light and fluffy

 

with a touch of coconut sweetness.  The smashed strawberry champagne sauce is a fun topper, with strawberries, lemon juice, and champagne caught up together in a thick, warm syrupy sauce to smother your pancakes in!  Breakfast is now the best meal of the day!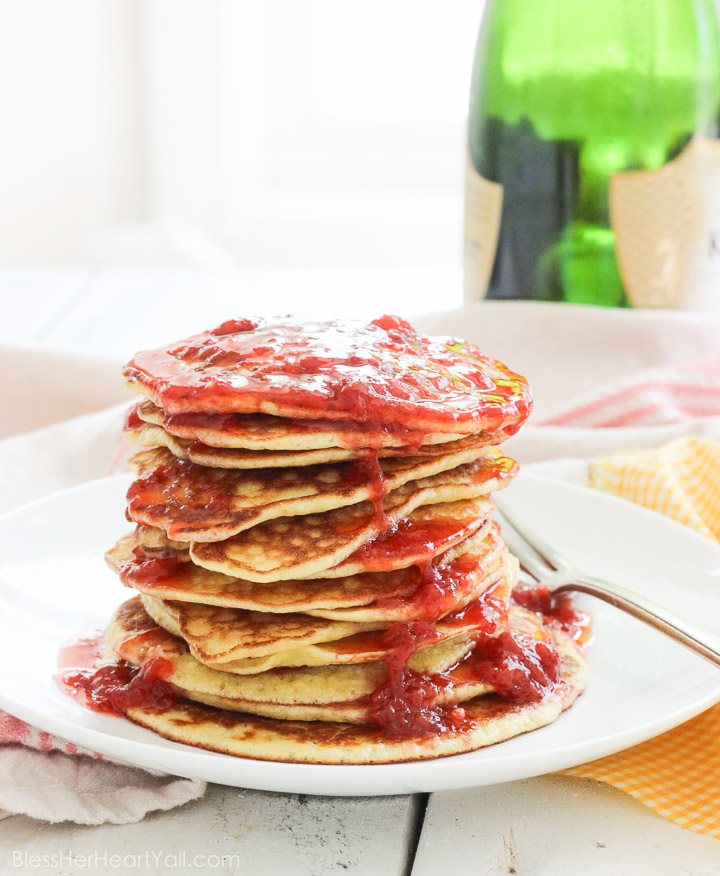 Today is a strange one on BHHY!  I usually don't do breakfast food posts… because, well…. I don't have many breakfast recipes in my recipe book.  
But when I was reading Fearless Dining's Stuffed French Toast post it inspired me to  start thinking about a new breakfast recipe.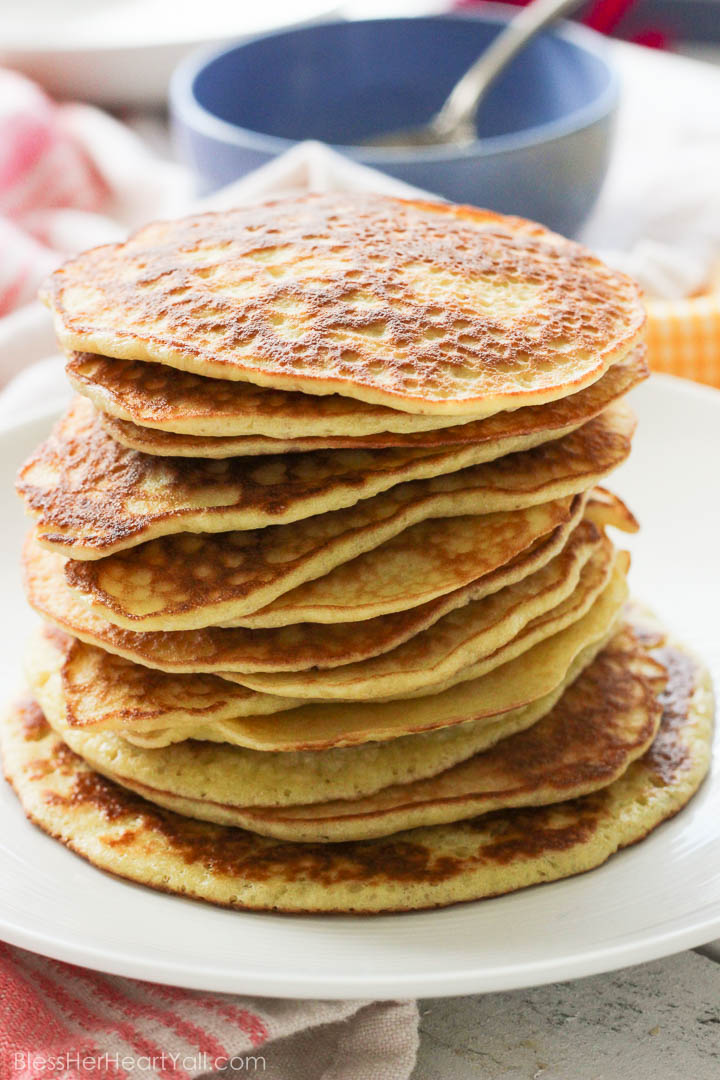 When deciding to focus the first posts of new year on champagne (that you may or may not remember you had) left over from New Years (I know, I know!  Some of you don't have any left over!  Buy more!), I remembered this recipe and decided it was time I shared this dandy with you.
The pancakes themselves are very light and fluffy and I simply use my homemade 1-Minute Gluten-Free Bisquick Mix and a few wet ingredients.  Can I also just put it out there that this recipe makes about a dozen DVD-sized pancakes with just 1/2 cup of the homemade mix!  They are easy to cook (and flip!)over a warm skillet in a few minutes time too.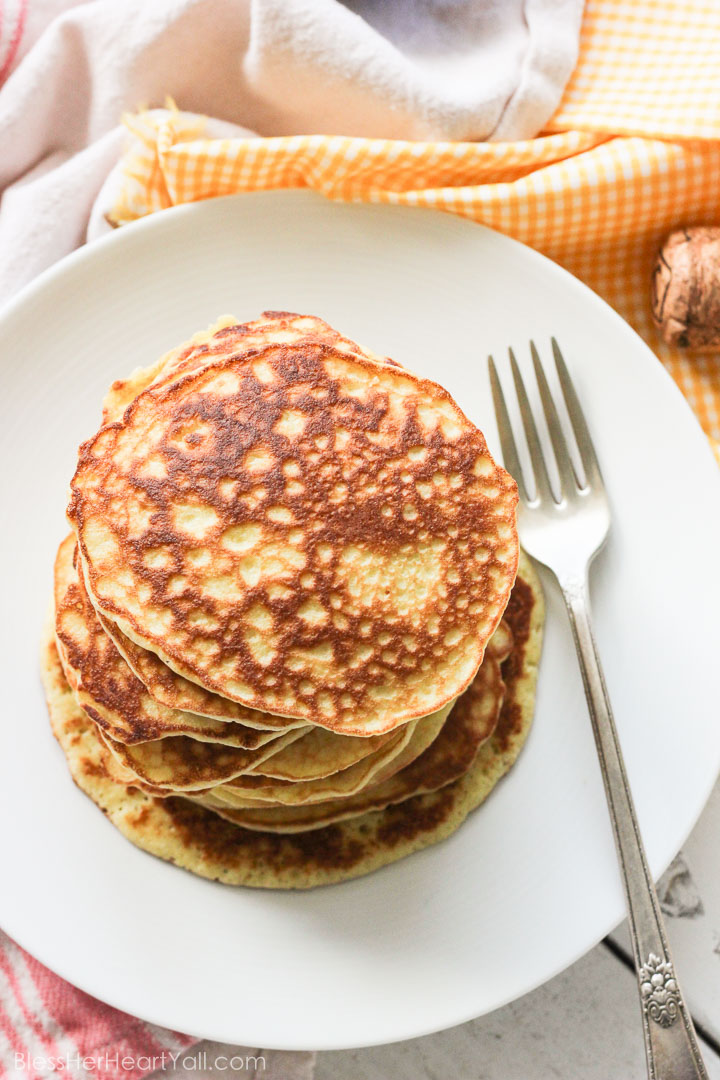 And then comes the part of the conversation where I talk to you about this dreamy smashed strawberry champagne sauce.  So basically, here's the low-down… Smash your berries (so much fun!), and add them into a medium sauce pan with some sugar, lemon juice, cornstarch, and obviously the star player…champagne!  Glorious bubbles!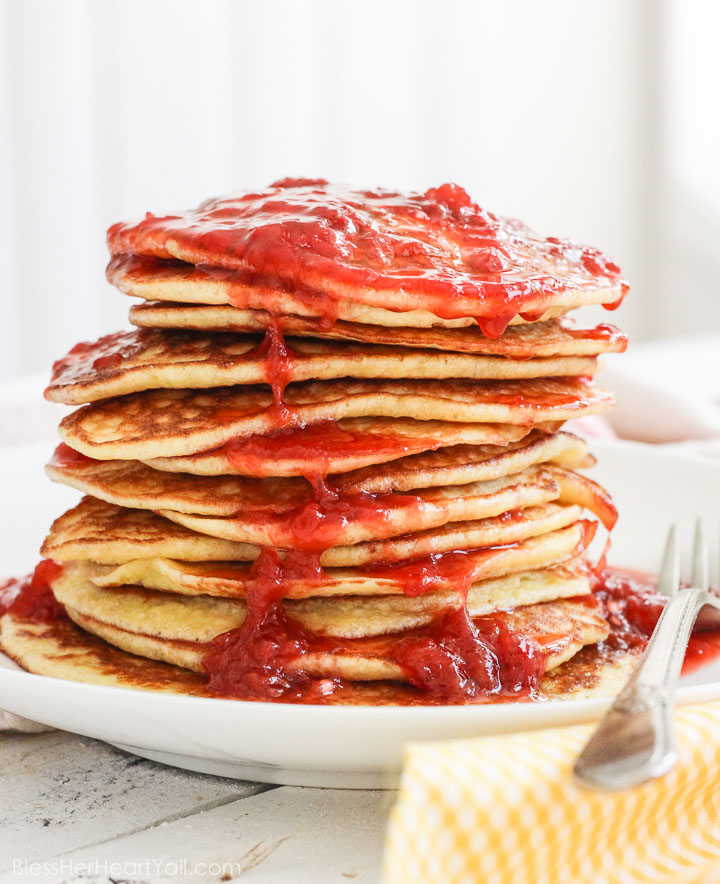 After simmering together while the pancakes do their thing on the skillet, the strawberry champagne sauce thickens and becomes this magical sweet and refreshing sauce/syrup/glaze amazingness.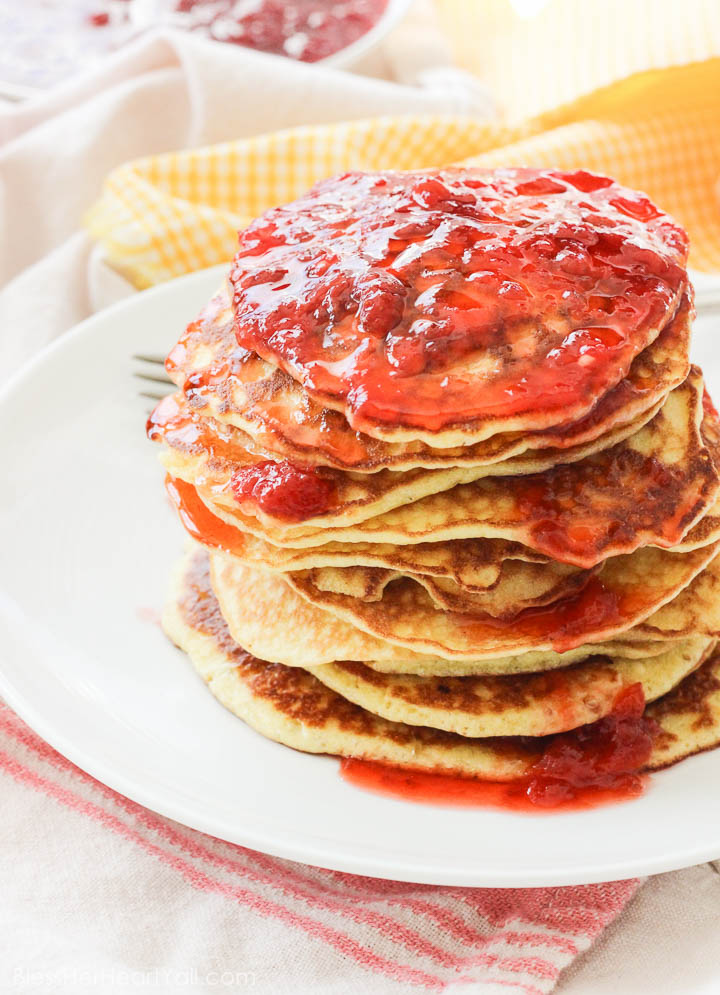 Of course, if you don't have any champagne or you want to make this recipe as a non-alcoholic dish, I get you!  Just exchange the champagne for orange juice.  I've had it this way too and it does not disappoint!
And if you need a paleo option I would recommend checking out Noshtastic's Paleo Crepes for a delicious breakfast option!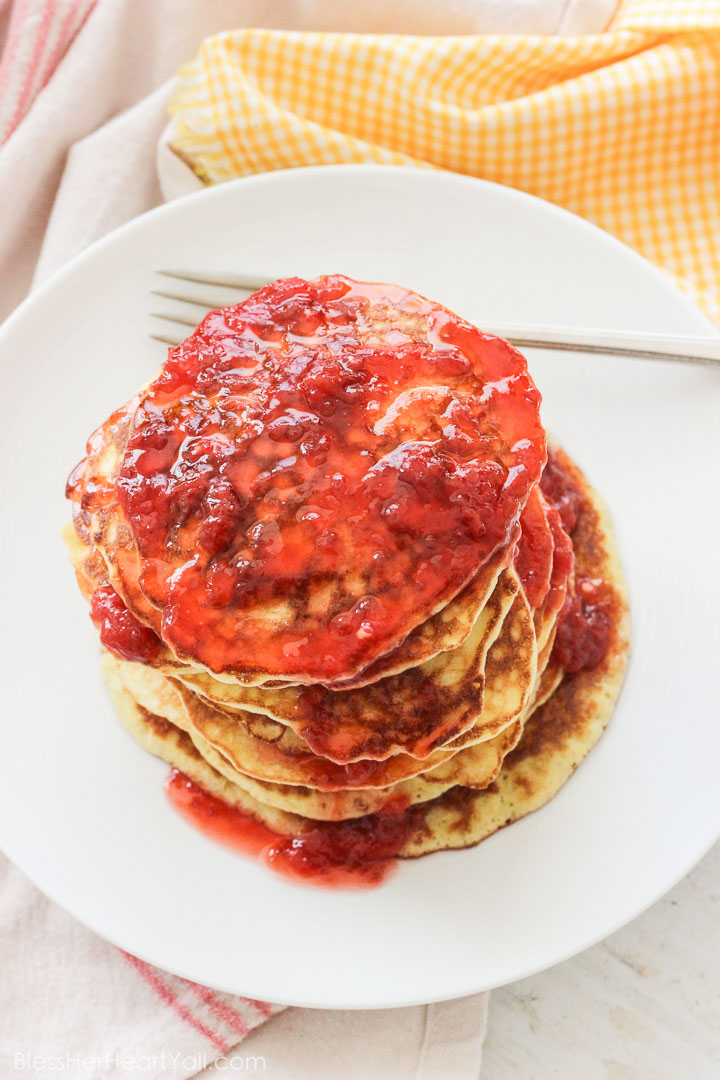 Time for me to stop blabbing and for you to get to this recipe!  Here it is my dears!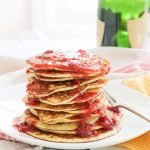 Gluten-Free Pancakes with Smashed Strawberry Champagne Sauce
Ingredients
½

cup

of BHHY's 1-Minute GF Bisquick Mix

4

eggs

¼

cup

milk or cream

3

TBSP

coconut oil

For the Champagne Sauce:

2

cups

strawberries

tops taken off and halved

¾

cup

granulated sugar

½

tsp

lemon juice

1

tsp

cornstarch

3

TBSP

champagne

or orange juice!
Instructions
In a large skillet over low heat, melt the coconut oil until melted. Place melted oil in a large mixing bowl.

Add the eggs and milk and whisk until fully combined. Add in the 1-Minute Bisquick Mix and stir until smooth and there are no lumps.

Turning the heat up on the large skillet to medium-low, place ⅛ cup fulls of the batter into the already coconut-oiled skillet. Let cook for 2-3 minutes on the first side, check to see that it is golden brown and flip to the other side until the same color is seen.

Using a spatula, remove each pancake from the skillet. Keep cooked pancakes warm by wrapping them in a warm towel on a plate.
Recipe Notes
While the pancakes are cooking, make your strawberry champagne sauce:
In a medium saucepan, combine the smashed strawberries (smash with a potato masher or the bottom of a bowl!), sugar, cornstarch, lemon juice, and champagne. Place over medium heat until boiling. Turn down to a simmer and allow to simmer uncovered for 10-15 minutes or until reduced to about half of original volume. Remove from heat and allow to cool for a few minutes before smothering your pancakes with the sauce!