This vegan coconut vanilla fudge post has been compensated by Collective Bias, Inc. and its advertiser. All opinions are mine alone. #GladeHolidayJoy #CollectiveBias
This vegan coconut vanilla fudge takes only 5 minutes worth of prep time and 5 simple ingredients to make.  It's also paleo, dairy free, and gluten free!  Put this sweet fudge as well as some other "simple ingredients" on your front entryway table to welcome guests in during the holiday season!
It's definitely holiday time.
The hustle and bustle of the holiday season is in the air. One way that I am getting my home ready for the holiday season and holiday guests is by putting together a simple and quick welcoming table spread in my home's entryway.
When guests arrive, they will see a holiday-decorated table with a tray to set small items like car keys, hints of Fall's most memorable holiday scents thanks to a few new Glade® products, and a cute little platter full of vegan fudge that your guests will not be able to say no to.
The welcome table is a great way to make your guests feel welcomed and and at home.
So here's a list of must-have's for your holiday welcome table:
A tray or container for guests to put their small necessary items, like car keys, wallets,

The holidays most memorable scents, like vanilla, apple, or pine tree.  As a hostess, you want your home to look, feel, and smell like the holidays!  I picked up Glade

®

3.4 oz. Small Jar Candle and Glade

®

9.2 oz. Large Jar Candle in

Timeless Joy™

scent which reminds me of walking through a Christmas tree farm.  I also snagged Glade

®

Wax Melt 6 ct. Refills in

Merry Fun™

scent, too, which evokes warm, fuzzy, and happy feelings to help make memories and alleviate the stress of the holidays. You want your guests to walk in and smell the most delicious and memory filled scents when they enter your home.

Next on the list is holiday decor. I think Garland, pinecones, apples and pumpkins, whatever brings holiday joy and memories to you, will most likely bring those same feelings to your guests.

I like to put out a memorable greeting, whether it be a framed card, a holiday print, or a Pinterest-y looking wooden sign with a holiday greeting on it.  

Lastly, set out a holiday treat so that guests can taste some of the best holiday flavors as they walk in as well. I love putting out this vegan vanilla coconut fudge. It's easy to pick up and grab with your fingers and doesn't crumble or need a napkin.  It's a no-fuss no-mess poppable treat.
The fudge is thick and dense, with rich vanilla and coconut flavors.
I actually toasted the coconut before I put it in the food processor and then combined it with vanilla maple syrup, and coconut butter, before putting it in the refrigerator to chill.
Once chilled I cut it into little squares, and put it in a cute little platter before placing it on my welcome table.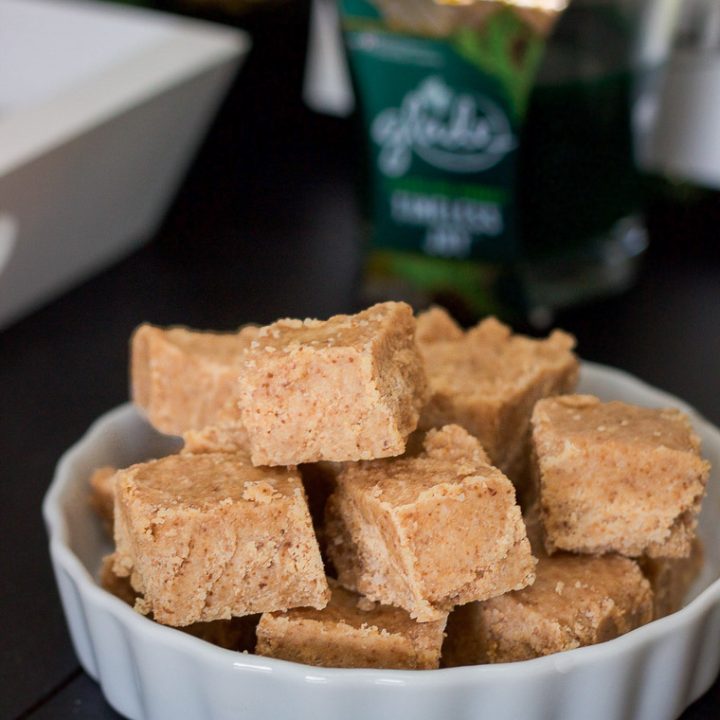 Vegan Coconut Vanilla Fudge (Paleo, Dairy Free, Gluten Free)
This vegan coconut vanilla fudge takes only 5 minutes worth of prep time and 5 simple ingredients to make. It's also paleo, dairy free, and gluten free!
Ingredients
1 1/2 cups unsweetened coconut flakes
1 TBSP coconut oil
1/4 cup coconut butter
1 TBSP maple syrup
1/2 tsp vanilla extract
sprinkle of sea salt, optional
Instructions
In a skillet over medium heat, add the coconut flakes and coconut oil. Stirring regularly, cook the flakes until toasted golden brown. Remove from the skillet and allow to cool.
Once cooled, place the flakes in a food processor and pulse until finely ground.
Add the ground coconut flakes into a large bowl with all other ingredients, stirring very well.
Pour the fudge in an even flat layer in to the bottom of a small container and refrigerate for 1-3 hours or until hard.
Remove from fridge and cut into 1" squares
Notes
After refrigerating the fudge, it may be easier to let is sit out for a few minutes before trying to cut it into pieces.
Now that you have an idea of how to put your holiday welcome table together, it's time to actually make it happen:
Go to your nearest Kroger or Kroger Marketplace store and find the special display with the Glade® products on it.  The display should look like the one in the picture below.   You can also visit Facebook, Twitter, Instagram, Pinterest, and Youtube for more information.
Next, mix up your vegan coconut vanilla fudge.
And lastly, get out those holiday decorations and go crazy!
There is also a partnership with the Shazam app that is going on.  Just look for the Shazam logo on in-store displays which leads to a Spotify playlist, video content, giveaway, etc.  Oh the perks!
Now go get your table spread done before your guests arrive!