I made this skinny crustless cheese and veggie pizza pie the other day and posted it on Instagram during the baking process.  I was so worried that it wasn't going to turn out right.  But, like I mentioned on Insta, what was I worried about?
This crustless pizza is like a salad in pizza form, something that connects this upcoming bikini season with pizza.  Maybe the one and only thing that connects the two.  You can actually have your pizza and have your swimsuit bod too!  The best of both worlds.
I use whichever veggies that I have on hand in this (gluten-free!) pizza recipe.  This time around, I had carrots, corn, spinach, zucchini, and onion.  This is my preferred veggie combo, but this dish will taste great with any sort of veggies y'all!
And you'll want a whole LOT of veggies for this recipe…
Skinny Crustless Cheese + Veggie Pizza Pie: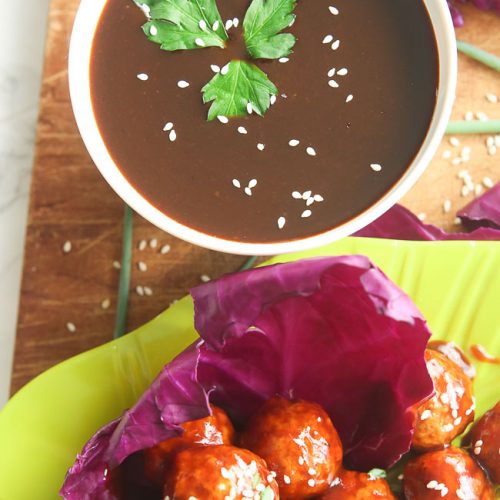 How to Make Hoisin Sauce
Ingredients
8 Tablespoons gluten-free Soy Sauce
5 Tablespoons peanut butter
3 Tablespoons fresh honey
1/4 cup chopped green onion
1/2 tablespoon red pepper flakes
4 teaspoons rice vinegar
1 teaspoon garlic powder
3 teaspoons sesame oil
1-2 Tablespoons gluten-free Chili paste, depending on how spicy you want it
Instructions
Bring all the ingredients to a boil over medium heat. once boiling, bring to med-low heat and let simmer for 3-5 minutes, until sauce slightly thickens, stirring occasionally.
Let cool to room temperature, use immediately, and leftovers are good to store in the refrigerator in an airtight container.
Don't forget to link up with The Soiree linky party and then join me in partying with these lovelies!