Oh y'all, do I have a spicy one for ya today.  This sriracha lime chicken recipe is becoming more and more famous around these parts (and by 'these parts', I mean, our home).  This recipe is hands-down, flat-out spicy, but you can tame it down by using less of the sriracha and more of the honey.  I personally like it really hot, but I understand how many would prefer a toned-down flame.
This recipe is super simple to make and is fast and on-the-cheap as well.  It's a perfect busy weeknight meal on top of a bed of quinoa (which is the way my family prefers it) or brown rice. We also like a large helping of the green onion and cilantro in the dish, it's just so yummy.  And the limes take it to the next level.  Y'all ready to try it yet?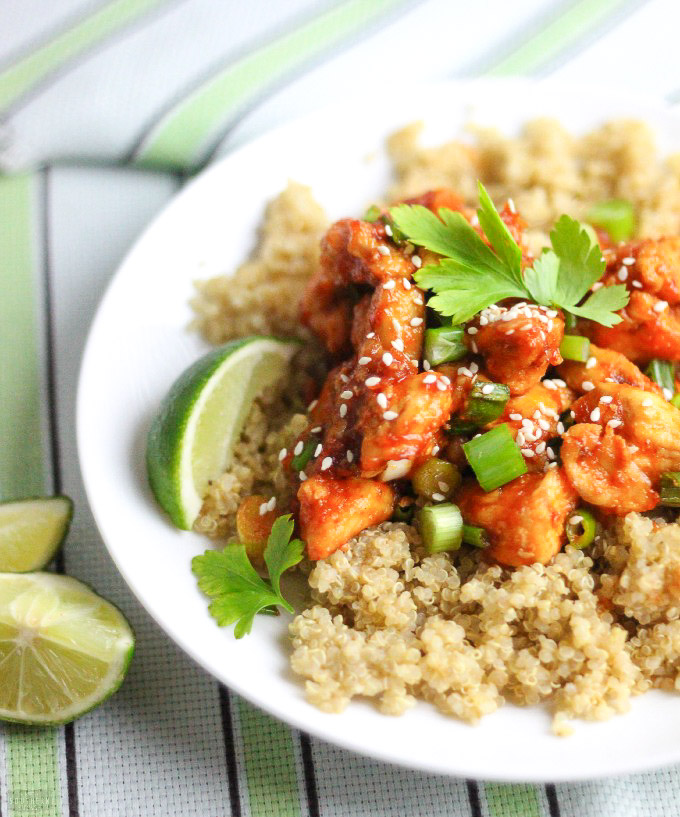 Sirracha Lime Chicken: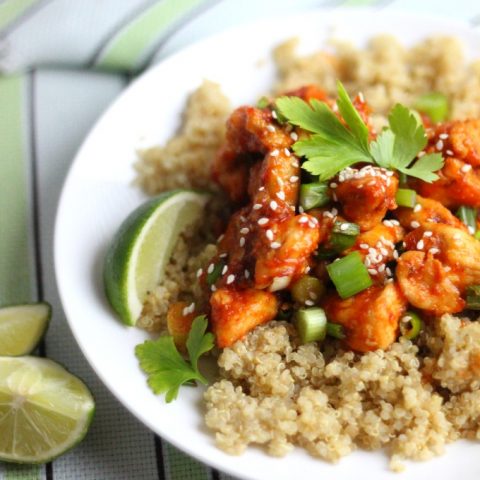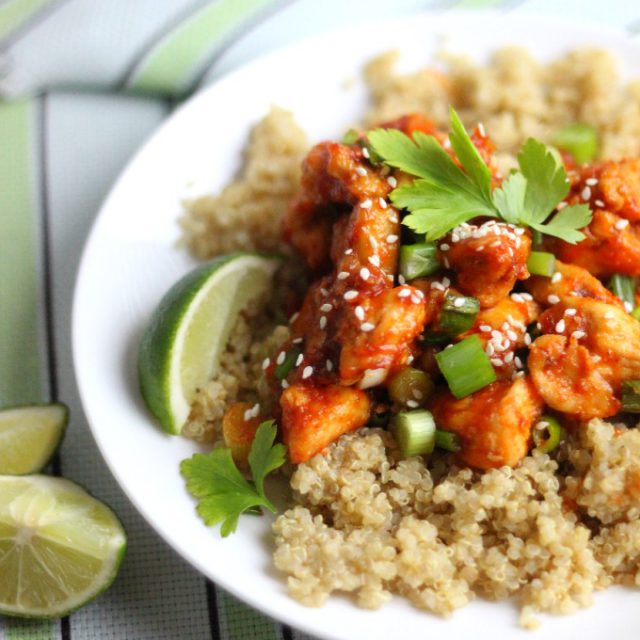 Sirracha Lime Chicken
Ingredients
4 cups quinoa, cooked
2 pounds chicken breasts, cubed
1 Tbsp coconut oil
1/2 sweet onion, diced
1/3 cup sriracha
1/4 cup fresh honey
1 Tbsp fresh lime juice
1/2 cup chopped green onion
3 Tbsp chopped cilantro
sesame seeds for garnishing
Instructions
Add the sweet onion and coconut oil to a large skillet over medium heat. Sauté for approx. 3 minutes. Add the chicken and cook until lightly browned and cooked thoroughly. Once cooked, discard the liquids.
While the chicken is cooking, add the sriracha, honey, and lime juice together in a small bowl.
Once the chicken is completely cooked, add the sauce mixture over top, lower the heat on the skillet to med-low, and cook for approx. 5 minutes longer. Sauce will begin to thicken.
Add the green onion, cilantro, and sesame seeds just before serving.
Serve the chicken on top of a nice fluffy bed of quinoa!