Thank you Trivento for sponsoring this post. Get in the game with Trivento Wine and Major League Soccer!
A few weeks ago some friends and I headed a few miles down the road to watch our Atlanta United MLS (Major League Soccer) team play and win on our home turf.
We watched the match, cruised home, opened up a few bottles of Trivento… the official wine of the MLS, and snacked on these amazing Thai Basil Lettuce Wraps.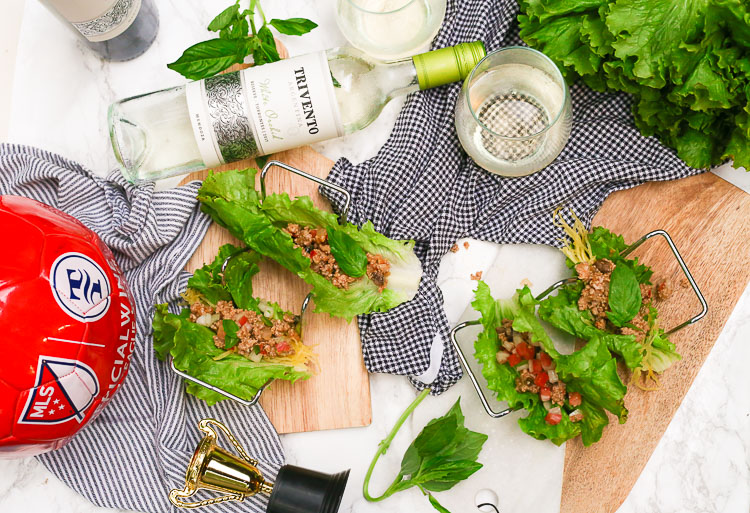 It doesn't matter whether you are lucky enough to attend a game in person or if you are watching the game in the comfort of your home surrounded by good friends, you're going to want to pair your game day experience with the perfect food and beverage pairing, so I wanted to share my delicious idea with y'all today.
Why?  Because it's soccer season y'all.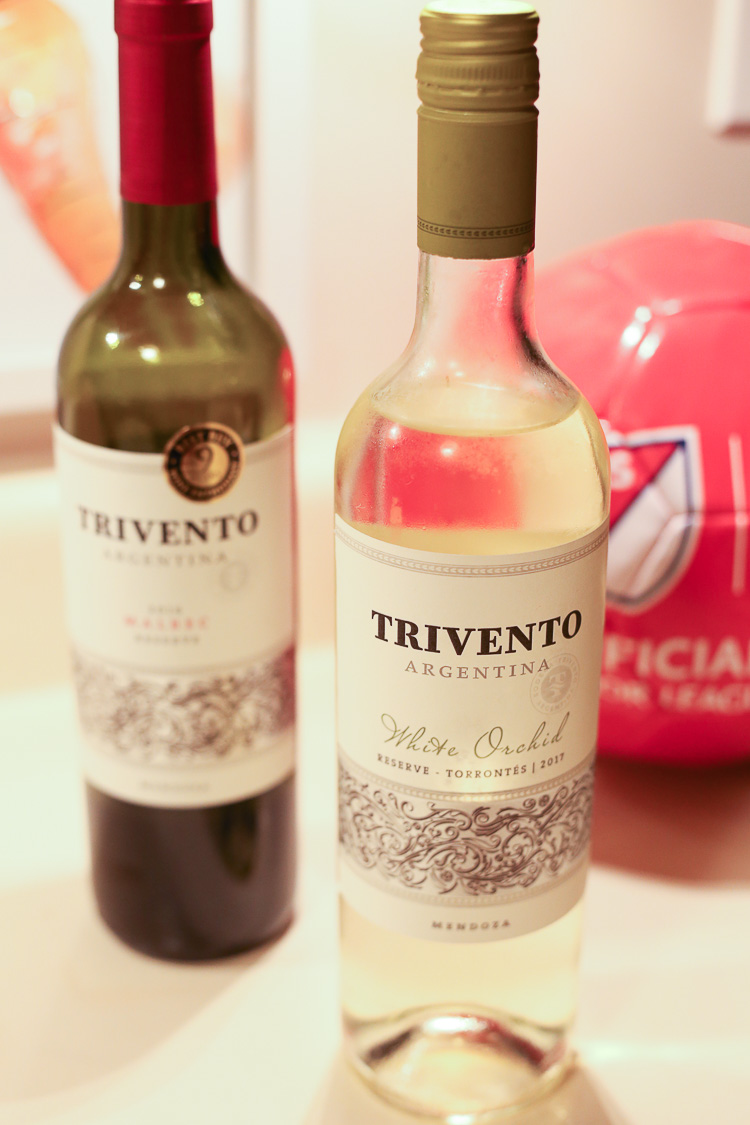 I've never watched professionals play soccer in a huge field right in front of my eyes before and all I can say is…
"ummm…. wow!!!!!"
… those are some crazy athletes!  They never stop running.
It was a blast to watch a match in person so if you ever get a chance just DO IT!
Other things that you just need to trust me on is that you're going to need to entertain your fellow soccer friends and I found that it was pretty darn easy to do with a bottle of Trivento wine (my favorite is a chilled glass of White Orchid wine) and a sweet and savory, crisp and healthy, Thai Basil Lettuce Wrap.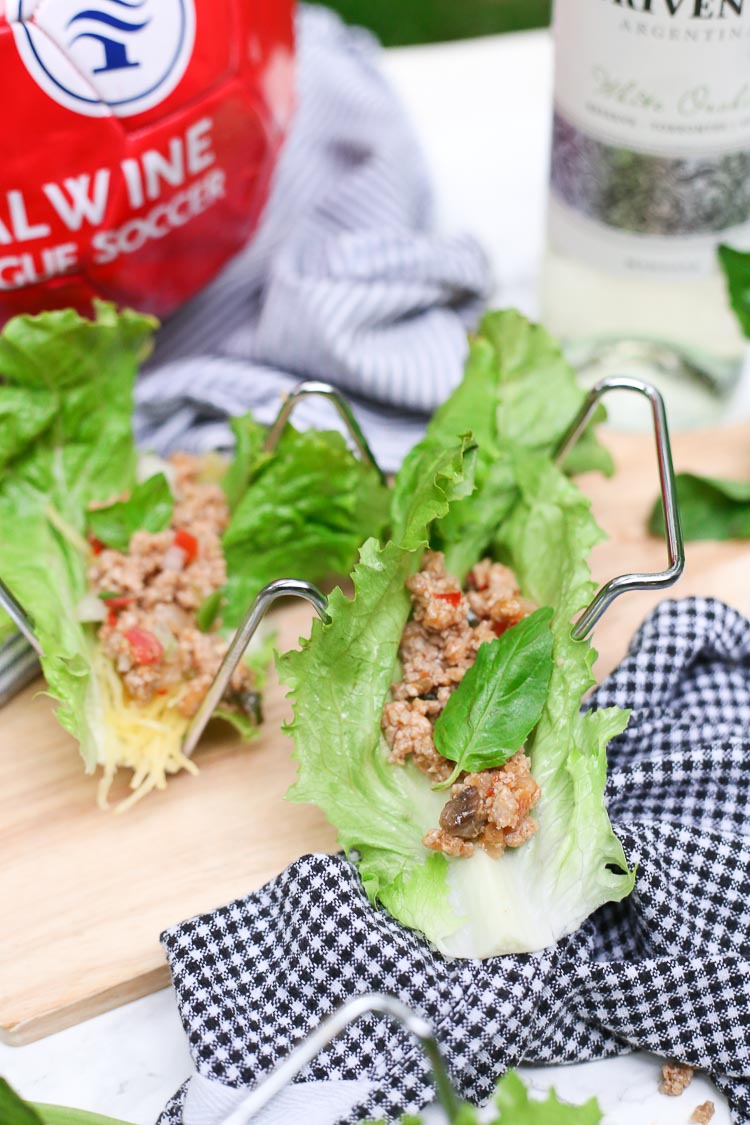 Here's why I suggest this pairing:
No matter whether you are at the game or watching from the couch, your heart is going to be racing watching any MLS event.
You're gonna need to cool off.
Secondly, you are going to probably try and recreate some of those fancy soccer moves on your own after that final score is posted.  You're going to need a protein-packed nutritious meal or snack to fuel your antics.  Problem solved by making this 15-minute Thai Basil Lettuce Wrap recipe.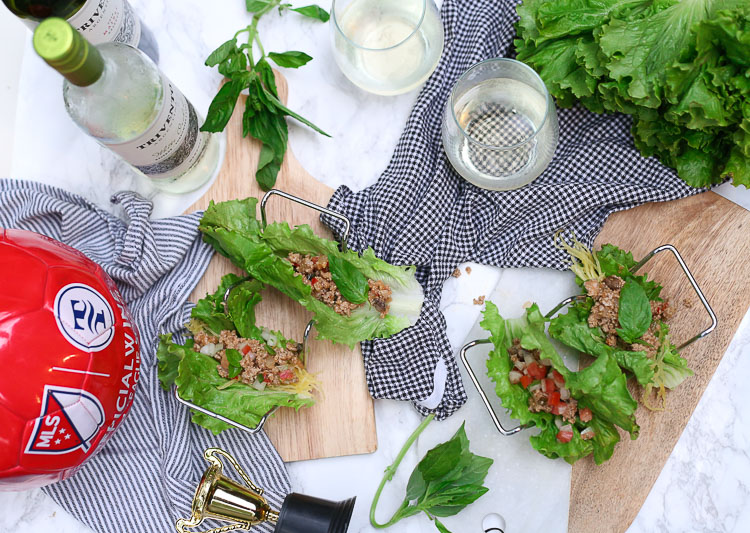 These quick Thai Basil Lettuce Wraps are as delicious as they sound and much easier to make than they look!  Healthy ground chicken or turkey is cooked in a sweet chili basil sauce with fresh chopped vegetables and then placed in a bed of fresh crisp lettuce wraps.  Mealtime just got healthy and delicious!
These Quick Thai Basil Lettuce Wraps have been on my weekly evening menu for the past 5-6 weeks since I've started working out hardcore with a personal trainer and really watching what I put into my body.
I have been playing with different ways of getting in high quality protein, ways besides doing this chicken and broccoli thing which I LOVE (I'm a big weirdo), but it does get a little boring after days upon days of nothing else.
One day I wanted nothing else but to break down and consume waaaay too much Chinese food.
I was determined to make a healthy version of something Asian-inspired and used what I had in my fridge to come up with this amazing concoction of ingredients.
Okay so enough about me, let's talk Thai Basil Lettuce Wraps.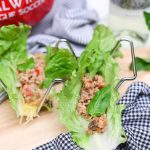 Print Recipe
Quick Thai Basil Lettuce Wraps
Ingredients
1

pound

ground turkey, chicken, or pork

2

TBSP

sesame oil

or olive oil

1

TBSP

minced garlic

2

stalks

green onion

chopped

1/3

cup

white mushrooms

optional

1

jalapeno

diced (optional)

4-6

TBSP

sweet chili paste

1

TBSP

coconut aminos

or soy sauce

1

handful

basil leaes

chopped

Lettuce for wraps
Instructions
Add the oil into a heated wok, follow by the minced garlic and green onion and stir fry them until aromatic. Then add the ground meat, pepper, and mushroom into the wok. Use a spatula to quickly stir-fry and break the ground meat into small lumps.

When the meat changes color, toss in the chili paste and coconut aminos and combine well. Add in the basil leaves and do a few quick stirs until the basil leaves are wilted and you smell the warm basil fragrance and serve immediately.
Video
These Quick Thai Basil Lettuce Wraps are a lifesaver when your crew is hungry after watching the big game.  So cook up a quick batch while talking about the match with your delicious glass of Trivento wine.
Happy soccer watching y'all!
I was selected for this opportunity as a member of CLEVER and the content and opinions expressed here are all my own.