This holiday olive wreath is a festive holiday appetizer that is not only easy to put together, put easily adaptable to the party-goers likes and needs. Plate your favorite herbs underneath tasty mozzarella cheese, sweet tomatoes, and your favorite olives. Sprinkle cracked pepper and a delicious balsamic reduction drizzle to finish!
With Thanksgiving over just moments ago, we have to be fully committed to the holiday season, there's no way around it now.  Now all the Christmas parties begin.  And what do you bring to all those parties?
How about something besides cookies and carbs?!? How about a veggie and cheese plate? But not any veggie and cheese plate…..
How about a festive holiday olive wreath! It's so easy to put together. I put this one together in under 2 minutes. If you want the balsamic drizzle, then you could be done in a few extra minutes of kitchen time.
It's seriously the easiest app you could put together and one of the prettiest throughout the holiday season.
So how about that balsamic reduction drizzle I mentioned?  Here's what ya do: Place your balsamic vinegar in a small saucepan over medium heat.  Heat the vinegar until it starts to simmer. Allow to simmer until the vinegar reduces by about 1/3 to 1/2.  Remove from heat right away and it will thicken quickly.  Drizzle over your holiday olive wreath and enjoy!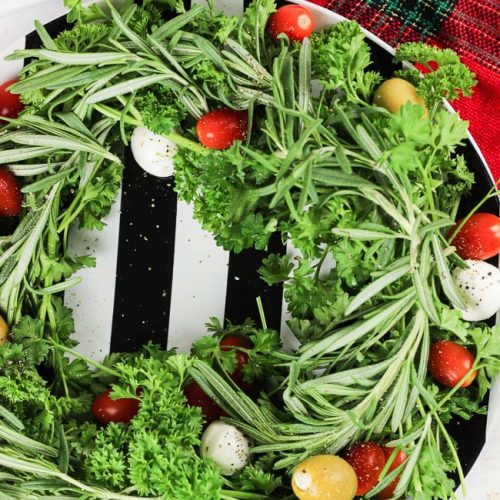 Holiday Olive Wreath
Ingredients
one bunch of parsley
leaves fresh rosemary
leaves fresh sage
leaves fresh thyme
olives
cherry or grape tomatoes
mozzarella balls
cracked pepper
balsamic vinegar
Instructions
Place the parsley and fresh herbs on a plate or platter in a wreath shape. Add the tomatoes, mozzarella balls, and olives along the wreath.
Sprinkle with cracked pepper and balsamic reduction drizzle (see notes).
Notes
To make the balsamic reduction: Place your balsamic vinegar in a small saucepan over medium heat. Heat the vinegar until it starts to simmer. Allow to simmer until the vinegar reduces by about 1/3 to 1/2. Remove from heat right away and it will thicken quickly. Drizzle over your holiday olive wreath