We are lucky to have delicious recipes in the United States that combine meat and seafood. Today we share with you a typical Eastern recipe that will delight young and old alike! The Chicken Chesapeake is a delicious chicken recipe, combining tender, savory chicken with a full-flavored imperial crab.
While you can find it in most restaurants in the area, it is really easy to make at home, you must try it 🙂
CHICKEN CHESAPEAKE INGREDIENTS:
4 chicken cutlets (Or skinless chicken breast cut in half)
1 cup of blue crab meat 
1 Pint Heavy whipping cream
1/4 cup of mayonnaise
1/4 cup of dijon mustard
2 tablespoons of bread crumbs
1 tbsp of parsley
1 knob of butter (or cooking spray)
Potato or corn starch
Old Bay, salt, black pepper
INSTRUCTIONS:
Step 1: Preheat your oven to 400 degrees.
In a medium bowl, gently mix the crab meat, mayonnaise, 1 tablespoon of Old Bay, bread crumbs, and parsley. Be careful not to puree the meat.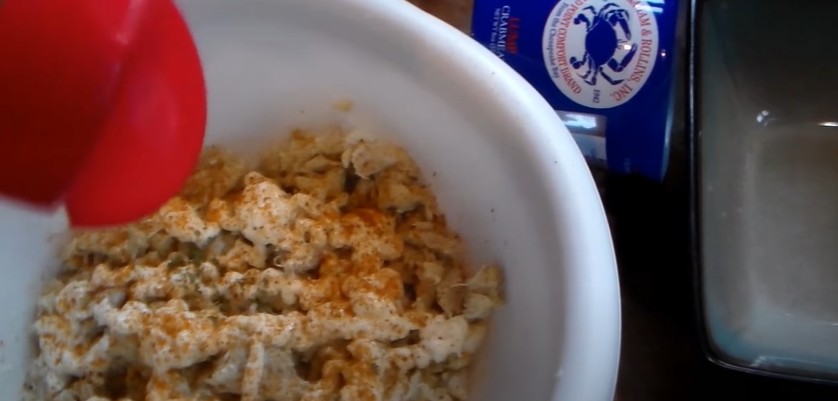 Form 4 crab balls and put them on a non-stick baking sheet or aluminum foil, cook the crab meat mixture for 7-8 minutes, take it out and let it rest outside.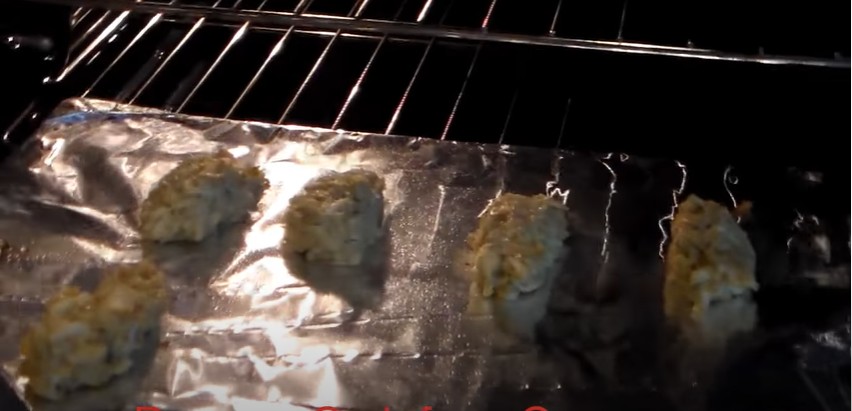 Step 2: Pour the whipping cream into a saucepan and heat over medium-high heat. Add the mustard and a teaspoon of Old Bay. Stir gently and bring to a boil. Once boiling, turn down the heat to very low and stir every couple of minutes with the pan uncovered.
Step 3: In a medium skillet, melt the butter over medium heat. Add the seasoning to the cutlets on both sides with salt and pepper before browning in the melted butter. Allow 5-7 minutes on each side for a nice brown color. The chicken should be almost cooked through, but not all the way through, it will finish cooking in the oven.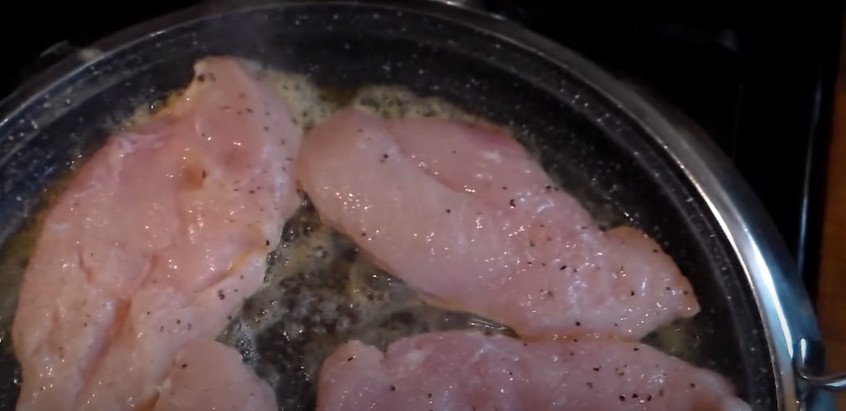 Step 4: On the previously used baking sheet, place each cutlet and place a crab mixture ball on top of each. 
Put the whole thing back in the oven for about 10 minutes, the crab should be golden brown.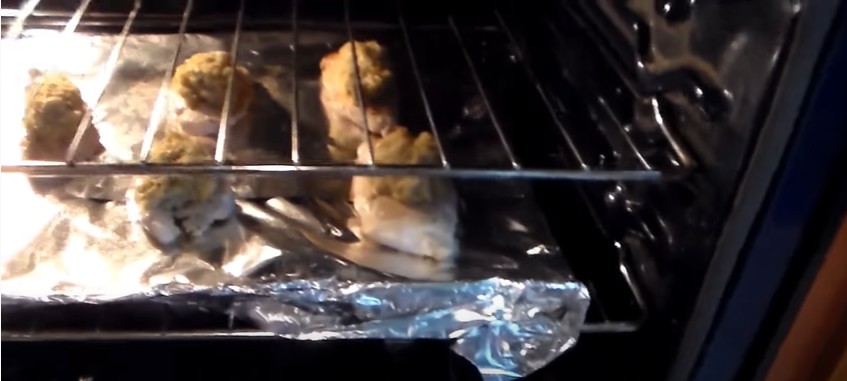 Step 5: Turn off the heat under the sauce skillet, let it rest and cool down until the chicken finishes cooking. If you find that the sauce is not thick enough, you can use a little potato or corn starch to thicken it (dissolve a teaspoon of cornstarch into a bit of water, add it to the sauce and stir gently until the sauce is thicker).
Step 6: Remove the cutlets from the oven, and place each cutlet on a plate. Pour a little sauce over each one and don't forget to garnish with a little parsley. Serve your delicious Chicken Chesapeake with your favorite side dish.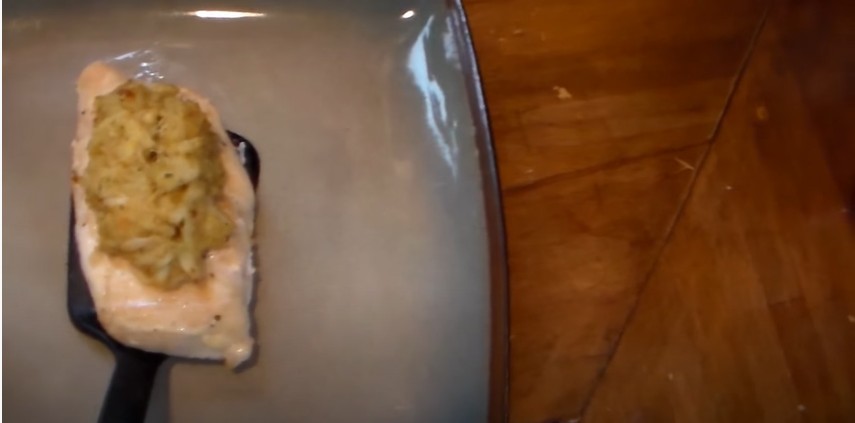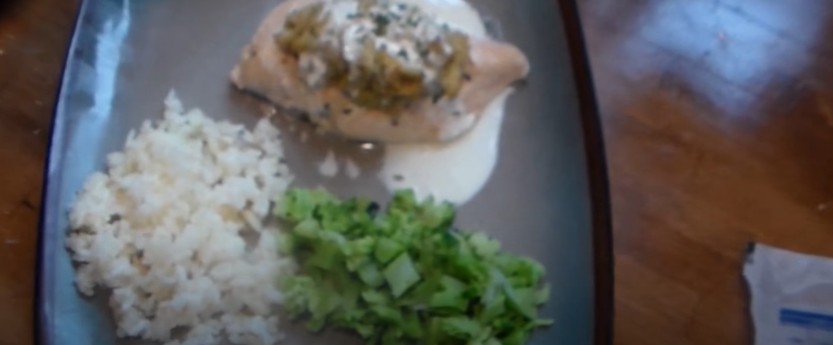 FREQUENTLY ASKED QUESTIONS
What crab meat should I use?
Obviously, we recommend using the best quality crab possible, blue crab will be perfect for you and your guests. A fine and tasty meat will make all the difference. Be careful not to use fake or imitation crab, the result will be really disappointing.
Where does the recipe for Chicken Chesapeake come from?
The recipe is typical of the eastern United States, particularly in Maryland, the state is well known for its seafood cuisine.
Are there any ingredient variations?
This dish is a bit unusual because it really varies from person to person and family to family. Some people use bacon by wrapping their chicken in it or simply sprinkling the final result with small bacon shavings. It is also possible to use a good shredded cheese (a sharp cheddar cheese for example) to make the dish more gourmet. The quantities of seasoning can also change, the best is to adapt according to your taste. Some variations of the recipe use ingredients such as Worcestershire sauce and lemon juice that are mixed in with the crab at the first step.
Finally, if you don't like using butter, virgin olive oil will also work.
What to serve the Chicken Chesapeake with?
Feel free to accompany with side dishes such as green vegetables. Our favorites are green beans, cherry tomatoes lightly candied in the pan, mashed potatoes, or even a little rice. 
OTHER RECIPES FOR CHICKEN
RUTH'S CHRIS STUFFED CHICKEN BREAST RECIPE
GLUTEN FREE CREAM OF CHICKEN SOUP RECIPE
CHICKEN WITH WHITE WINE CREAM SAUCE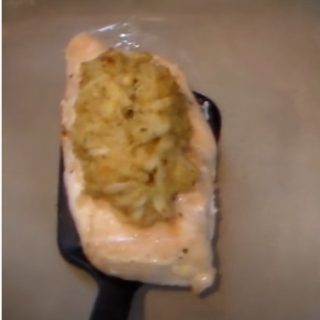 Easy Chicken Chesapeake Recipe
A take on a typical eastern Chicken Chesapeake recipe that will delight young and old, as good as in a restaurant !
Ingredients
4 chicken cutlets (Or 2 skinless chicken breasts cut in half)
1 cup of blue crab meat 
1 Pint Heavy whipping cream
1/4 cup of mayonnaise
1/4 cup of dijon mustard
2 tablespoons of bread crumbs
1 tbsp of parsley
1 knob of butter (or cooking spray)
Potato or corn starch
Old Bay, salt, black pepper
Instructions
Step 1: Preheat your oven to 400 degrees.In a medium bowl, gently mix the crab meat, mayonnaise, 1 tablespoon of Old Bay, bread crumbs and parsley. Be careful not to puree the meat.

Form 4 crab balls and on a non-stick baking sheet, cook the crab meat mixture for 7-8 minutes, take it out and let it rest outside.

Step 2: Pour the whipping cream into a saucepan and heat over medium-high heat. Add the mustard and a teaspoon of Old Bay. Stir gently and bring to a boil. Once boiling, turn down the heat to very low and stir every couple of minutes with the pan uncovered.

Step 3: In a medium skillet, melt the butter over medium heat. Add a nice seasoning on the cutlets on both sides with salt and pepper before browning in the melted butter. Allow 5-7 minutes on each side for a nice brown color. The chicken should be almost cooked through, but not all the way through, it will finish cooking in the oven.

Step 4: On the previously used baking sheet, place each cutlet and place a crab mixture ball on top of each. Put the whole thing back in the oven for about 10 minutes, the crab should be golden brown.

Step 5: Turn off the heat under the sauce skillet, let it rest and cool down until the chicken finishes cooking. If you find that the sauce is not thick enough, you can use a little potato or cornstarch to thicken it (pour a teaspoon of cornstarch into the sauce and stir gently until the sauce is thicker).

Step 6: Remove the cutlets from the oven, place each cutlet on a plate. Pour a little sauce over each one and don't forget to garnish with a little parsley. Serve your delicious chicken chesapeake with your favorite side dish. 

Little advice: don't deprive yourself of a small glass of white wine 😉
Nutrition Information:
Yield:

4
Serving Size:

1
Amount Per Serving:
Calories:

765
Total Fat:

69g
Saturated Fat:

34g
Trans Fat:

2g
Unsaturated Fat:

30g
Cholesterol:

353mg
Sodium:

1095mg
Carbohydrates:

34g
Fiber:

3g
Sugar:

5g
Protein:

50g