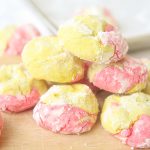 Print Recipe
Strawberry Lemonade Crinkle Cookies
This strawberry lemonade crinkle cookies recipe combines zesty lemon flavors with sweet strawberry hints in a soft and fluffy crinkle cookie! These moist gluten free cookies are a great little snack or dessert all summer long!
Dry Ingredients
2 1/4

cup

Gluten Free Baking Flour

2

tsp

baking powder

pinch of salt

1/4

cup

powdered sugar
Preheat your oven to 350*F. In a large mixing bowl combine all wet ingredients (except the food colorings) together until well combined.

In a medium mixing bowl combine all dry ingredients EXCEPT for the powdered sugar together until well combined.

Slowly add the dry ingredients to the wet ingredients. Stir until completely combined and a smooth dough forms. Divide the dough into two even amounts and add food coloring to each half to get the desired pink and yellow colors.

Roll dough into golf ball-sized balls (using part of the pink dough and part of the yellow dough) and then roll them into a small bowl filled with the powdered sugar. Coat each ball on all sides with the powdered sugar.

Place the cookie dough balls on a parchment paper lined baking sheet 2-3 inches apart and bake for 8-12 minutes or until the cookies are crinkled on the tops.

Remove from the oven to cool briefly on the cookie sheet before carefully being moved to a cooling rack to finish cooling. Enjoy!