This slow cooker gluten-free chicken marsala post has been compensated by Collective Bias, Inc. and its advertiser. All opinions are mine alone.  #MoreMomentsWithExcedrin  #CollectiveBias
This slow cooker gluten-free chicken marsala recipe is a no-brainer, no-stress recipe for those busy hectic weeknights.  This incredibly easy dinner slowly cooks juicy chicken in a thick mushroom and marsala sauce all in the crockpot.  All you need do is put all of the ingredients in the slow cooker and turn it on.  Waiting is the hardest part!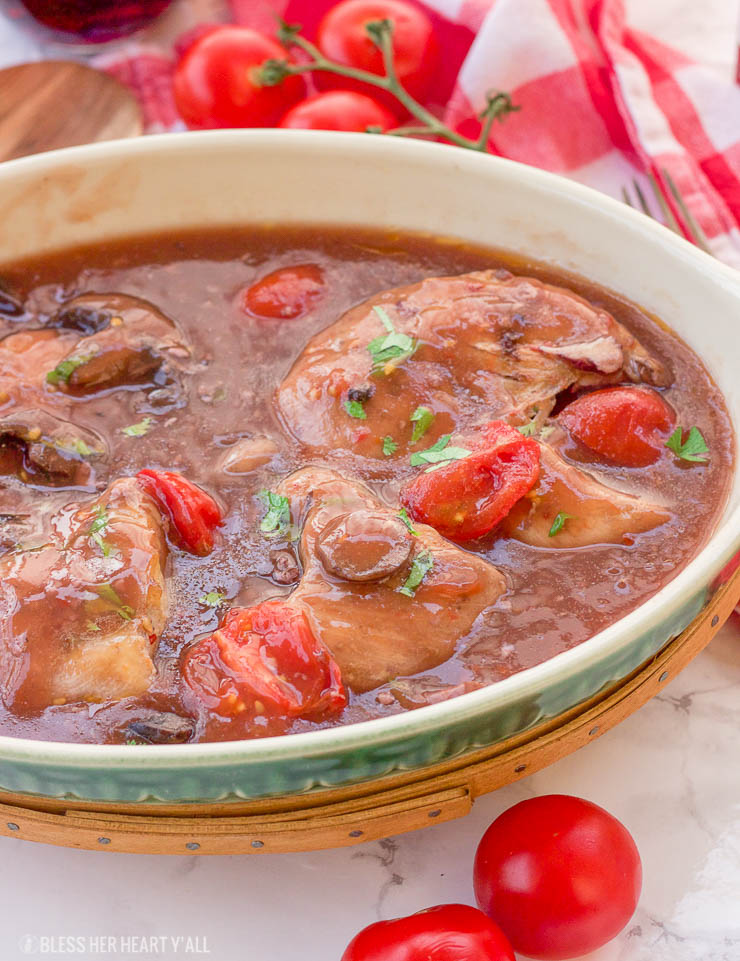 With the holiday season right around the corner the days are packed with work and the weekends with parties or party planning.
I can't remember the last weekend where we weren't hosting guests at our house and I wouldn't want it any other way.
I LOVE hosting.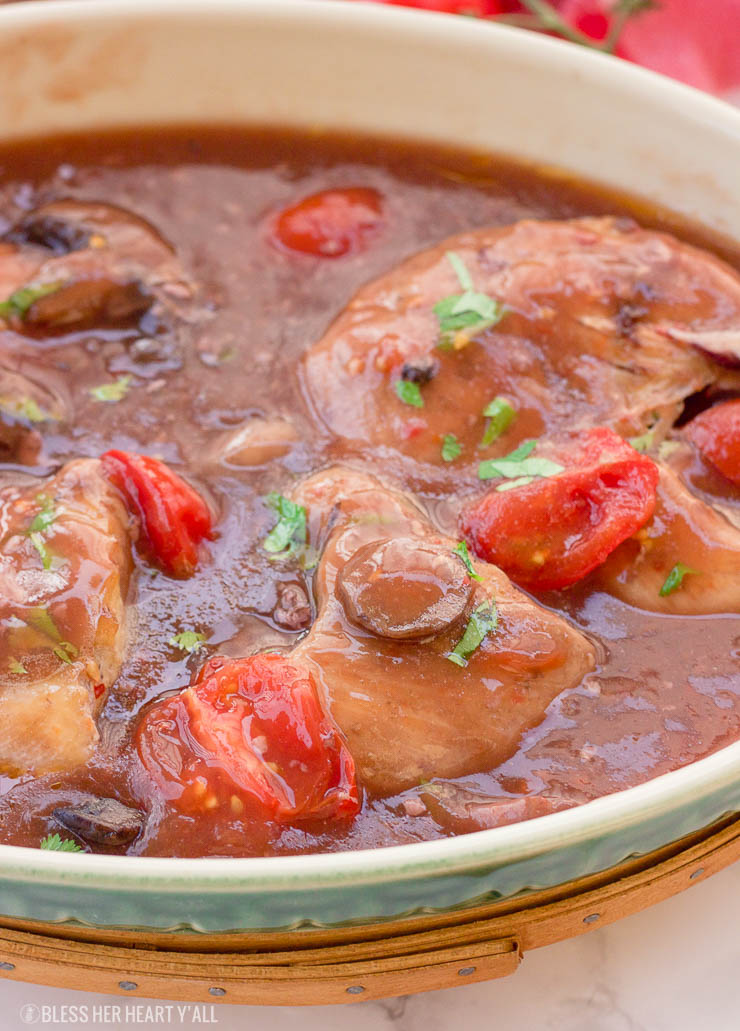 It's just hectic sometimes fitting it all in.
You've got to clean the house, you've got to buy groceries and party supplies, and then you've got to cook and get yourself looking party-ready.
Sometimes it's hard for me to get it all done before guests or family arrive and I don't even have kids!  How do parents do it?
I've just got a farm with a whole mess of rescued fur babies.  Parents are superheros.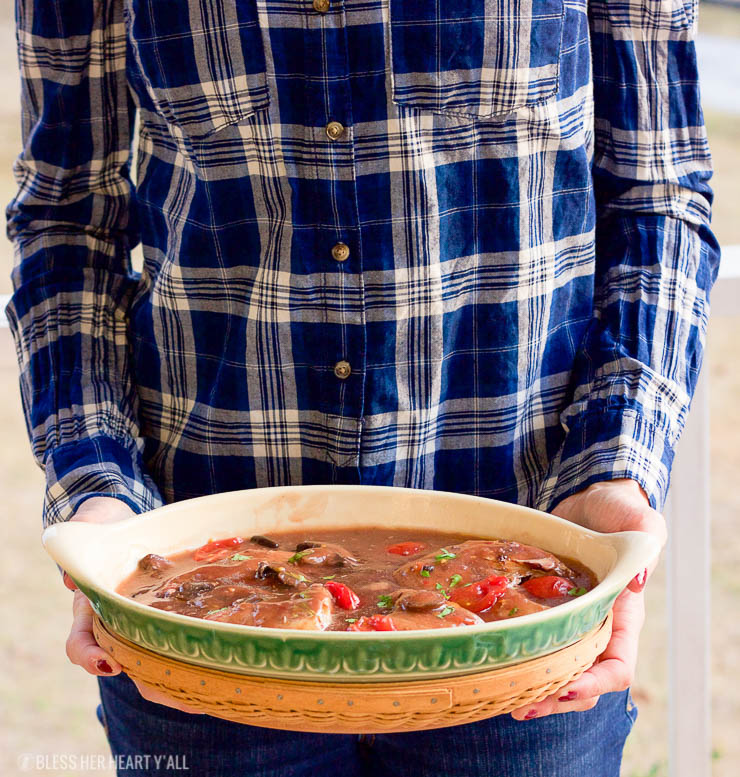 So I guess what I'm trying to say is that party hosting or Sunday family dinners this time of year can be tricky, and stressful, and have I said stressful yet?
Having a stress-free recipe plan (ahem… the slow cooker) and a backup plan for stress (ahem…Excedrin® Tension Headache) means that no matter what your nosey family members ask you, your family dinner will be successful.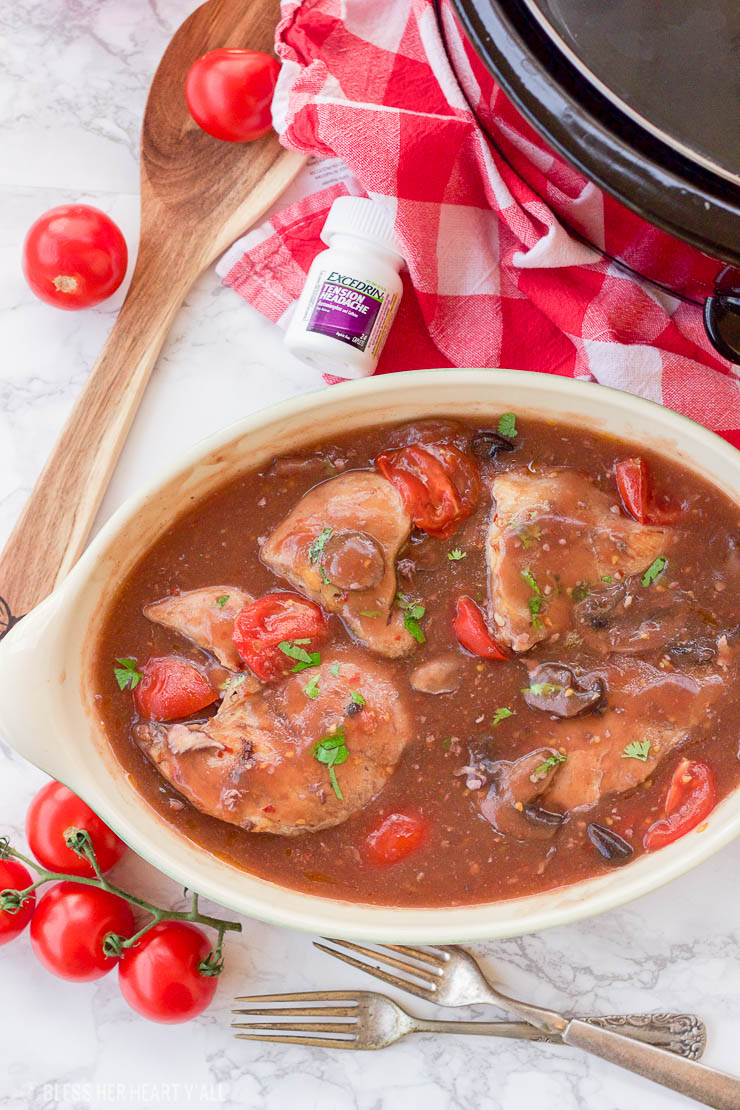 I sometimes get a little too much stress going on to the point where it runs up my back and neck and gives me a complete headache.
So then what?  Guests are coming and I'm a hot mess?
I do what I've been doing for years now.  I try to plan ahead and make an easy no-brainer slow cooker meal that's savory and fancy looking to oooh and ahhhh guests and then I take my Excedrin® Tension Headache with aspirin-free headache relief out of my purse and have it at the ready.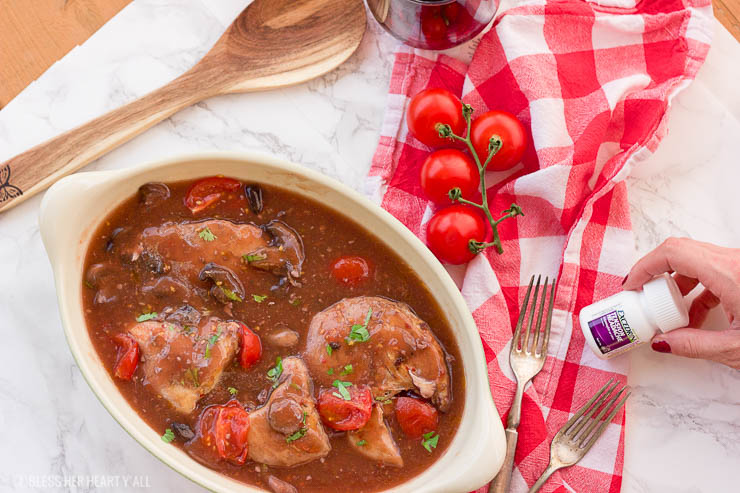 I made this slow cooker gluten-free chicken marsala a few weeks ago for a family dinner I was hosting.
All I did was toss the chicken and marsala wine in the bottom of a lined slow cooker and then sprinkled on some minced garlic, spices, and mushroom slices.
Then the hard part.  I had to wait and let the dish simmer and smell that amazingly savory aroma.
But that was the perfect amount of time to clean, prep the rest of the meal, get myself ready for the party, take my Excedrin® Tension Headache (saved the day!) and you know… all that other stuff.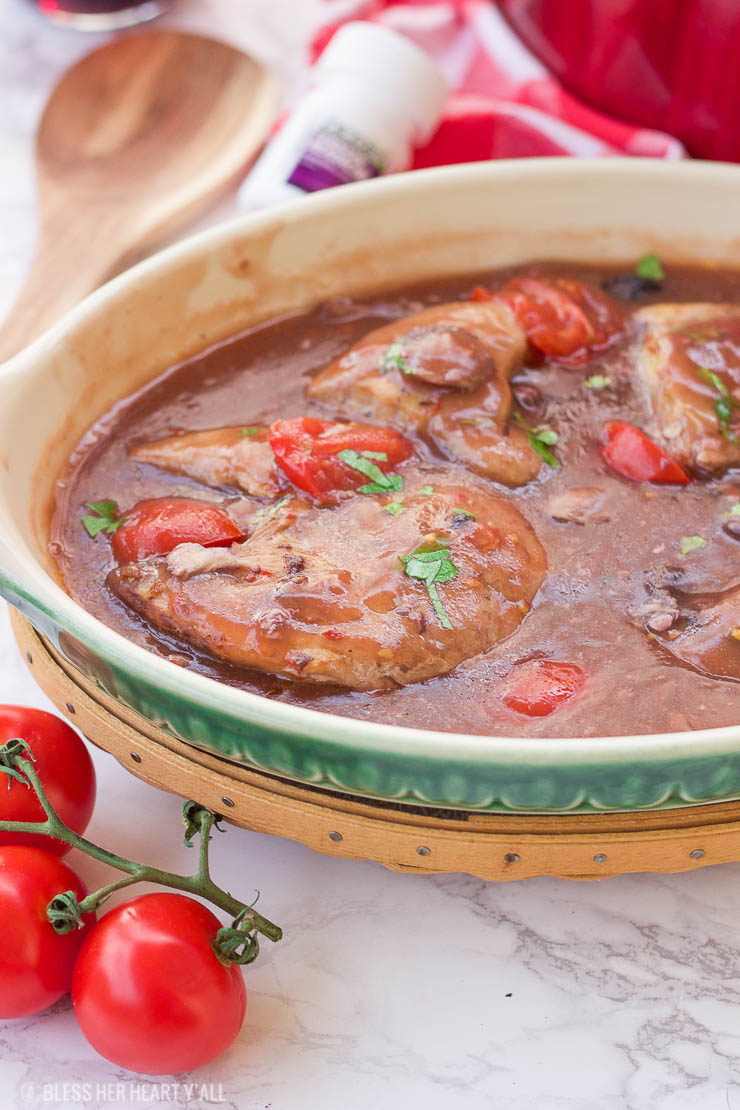 Just before the chicken marsala is done I toss in a few cherry tomatoes and a little cornstarch to thicken the sauce.
It seriously couldn't get any easier than this.  It's my go-to no-stress incredibly easy dinner dish that allows you to take the worry out of creating a large family meal and focus more on your family!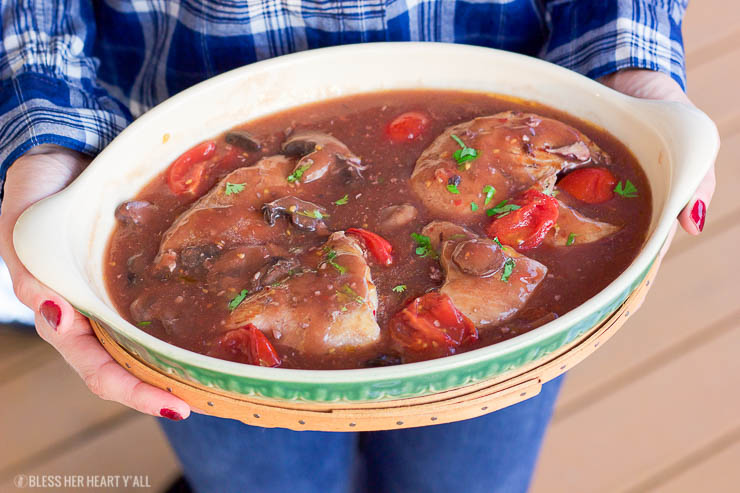 I sometimes serve my slow cooker marsala in the slow cooker but other times, depending on the party, I will put the meal in a pretty serving dish.
When your family arrives at your doorstep the mouthwatering will start!
Make your family and friends think you were slaving away at it!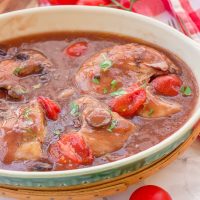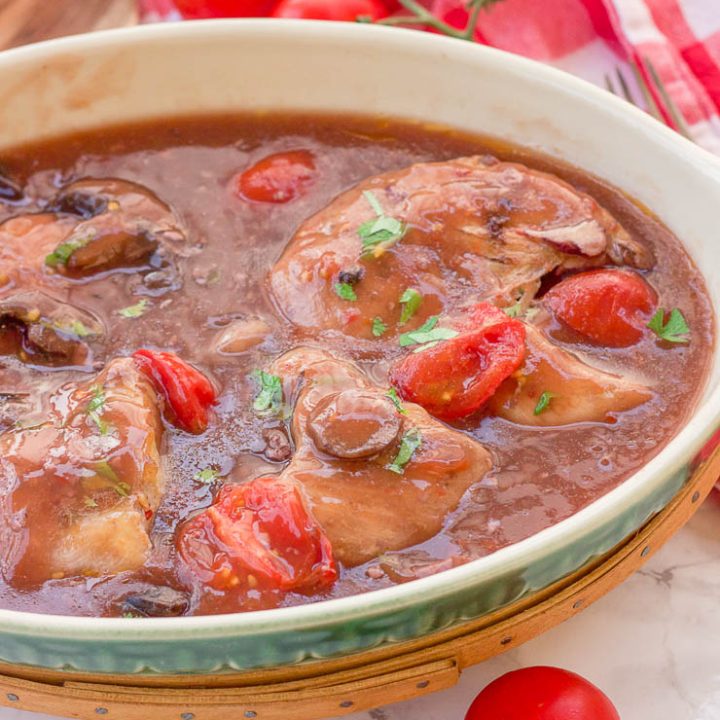 Crockpot Chicken Marsala
Total Time:
6 hours
5 minutes
Ingredients
4 boneless skinless chicken breasts
2 TBSP butter or olive oil
2 tsp minced garlic
1-2 cups sliced mushrooms
salt and pepper to taste
1 cup marsala wine
1 cup cherry tomatoes, halved
1/2 cup water
1/4 cup cornstarch
parsley for garnish
Instructions
Line your slow cooker with a liner. Place the butter, garlic, and chicken seasoned with salt and pepper in the bottom of the slow cooker. Heat on high until the butter melts (should take less than 5 minutes).
Stir in the mushrooms and marsala wine. Cover and cook on low for 6 hours or until the chicken is fully cooked.
In a small bowl whisk the cornstarch and water together until fully dissolved. Pour the liquid into the slow cooker and stir well.
Turn the slow cooker to high and cook for another 20-30 minutes or until sauce is thickened.
Sprinkle with parsley and enjoy.
My Sunday family dinner would have been ruined by a headache but Excedrin® was the solution that took care of the pain.  Your headache demands a headache solution too.  Excedrin products deliver fast relief for different types of headaches.  99% of the time mine are tension headaches.  Ugh!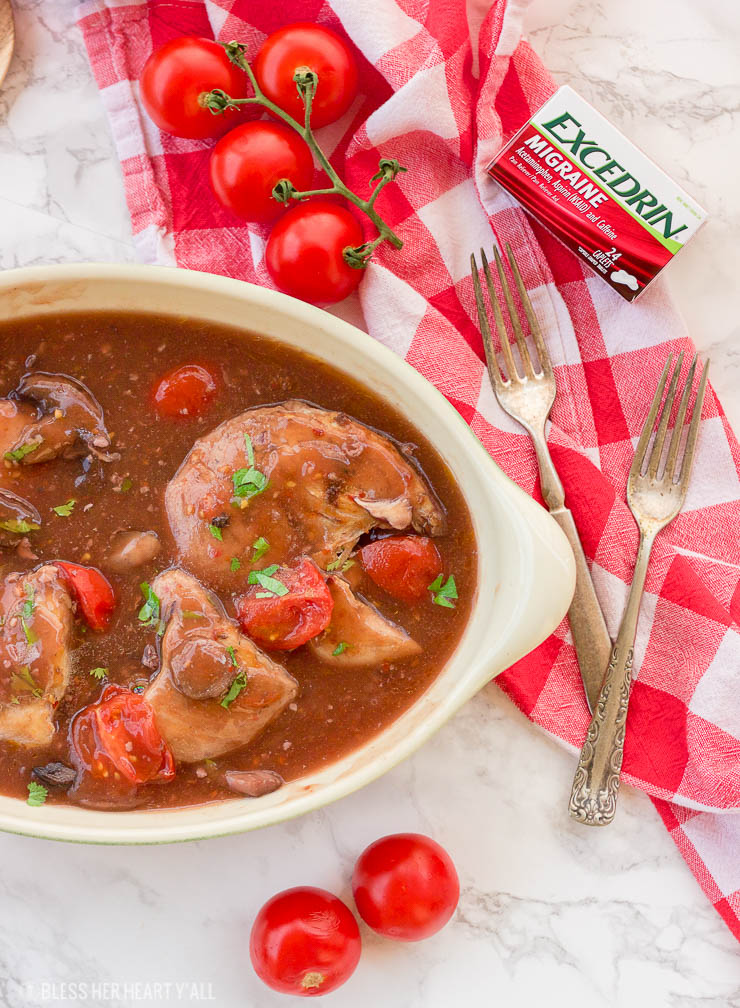 If you were diagnosed with having migraines like many of my family members, I would recommend stocking up on Excedrin® Migraine in case someone unfortunately comes down with one at the party (always seems to happen).  Consult your doctor if you think you are suffering from migraines.
Excedrin® Migraine starts to relieve migraine pain in 30 minutes. That's quicker than a slow cooker meal!  It's #1 Neurologist Recommended* *Among OTC medicine for migraines. Symphony Health Solutions, 2016  Use as directed.

Visit online for more information for you and your family.
I partnered with Excedrin®, a brand I personally recommend to friends and family, for this post.  Thank you for continuing to support me, BHHY, and the brands that help make this site possible.