Saltyard, a relaxing and trendy tapas / small plate restaurant is located in Atlanta (ahem… excuse me… "Buckhead"), GA with a large food menu and some amazing drinks. Here is my unpaid personal resturant review of the food, the drinks, and the atmosphere for all my local Atlanta readers.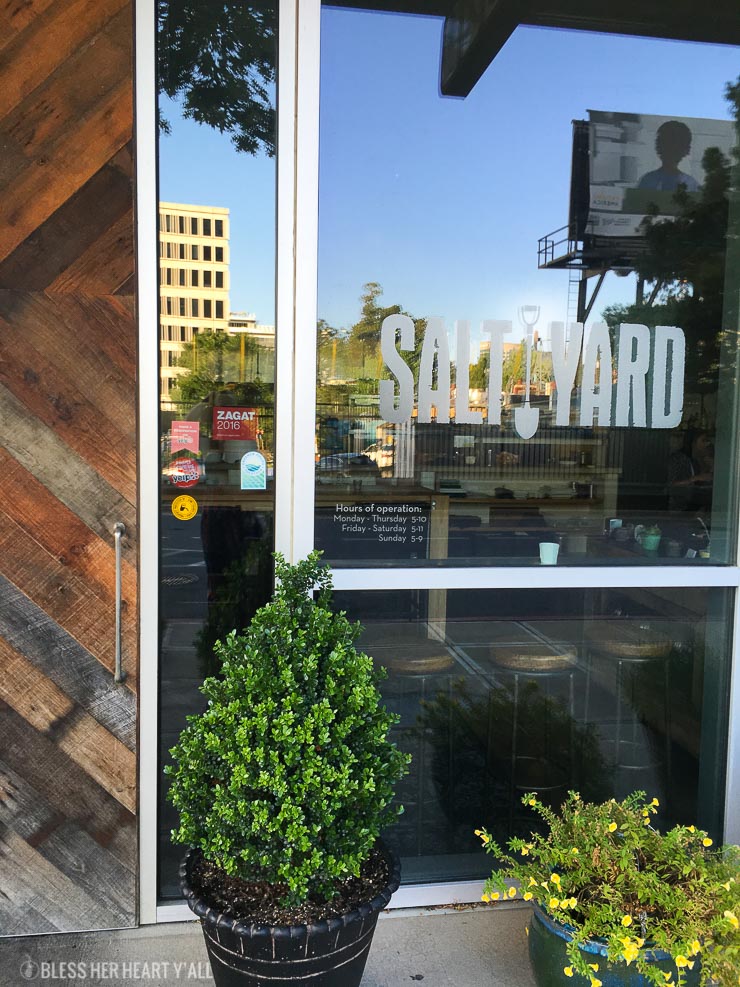 First off, so that I don't get my butt chewed off by any actual professional food and restaurant reviewers (how awesome would that job be?!?) I want to say that this is an unpaid post.  I did not tell the Saltyard staff that I was a blogger, I didn't want any special treatment.  I fell in love with this place and wanted to share it with my local readers and with anyone visiting Atlanta that needed a great restaurant recommendation.  It's just a personal review/critique/opinion or whatever word I "should" be using for it.
Also, I didn't want to disturb the other diners in the resturant with my big fancy camera setup while they were stuffing their faces with food so I used my iPhone with a shattered lense for these photos.  This means that these dishes actually look waaaay better in person.  Okay, now on to the fun stuff!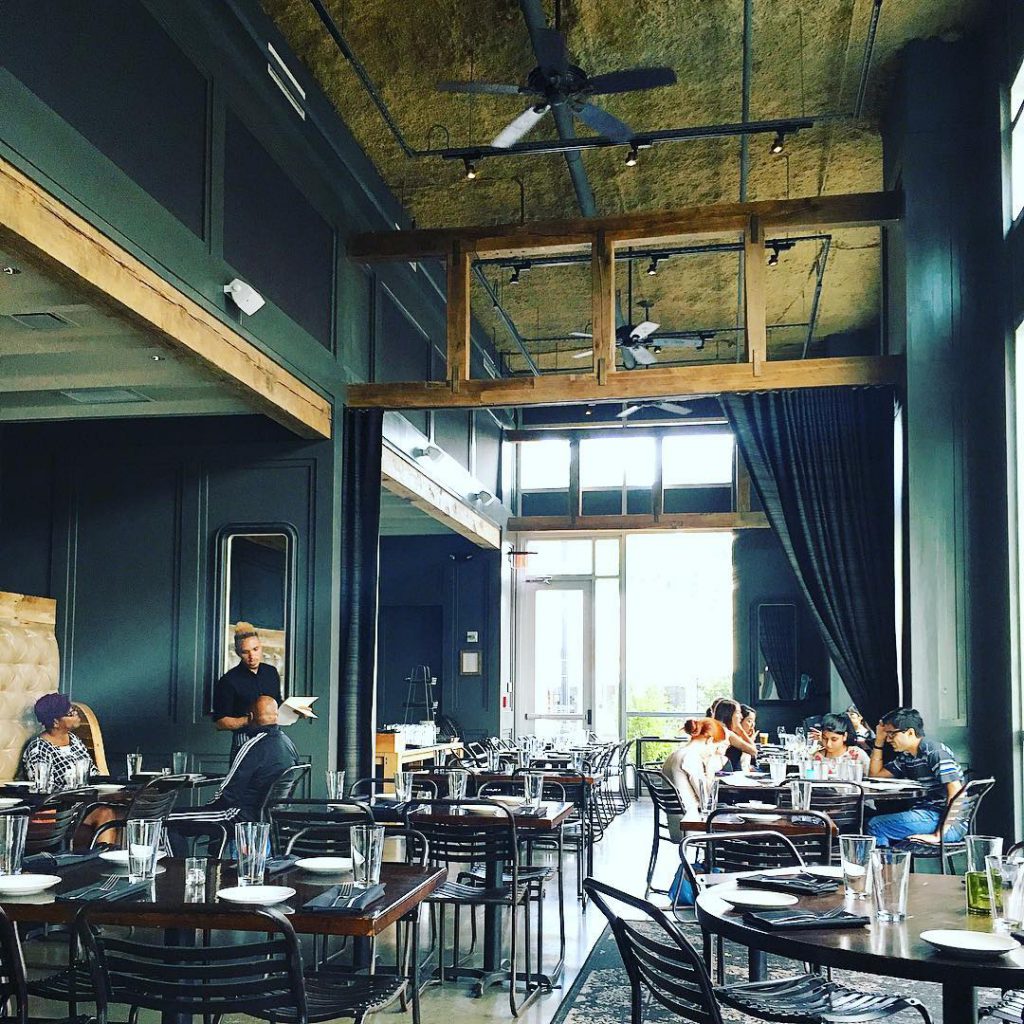 My hubby took my mother and I to Saltyard for the first time and we fell in love with it's trendy vibe. I will say that it was not packed with people when we were there (we went early to catch a baseball game later on) but by the time we were leaving it was starting to fill up.  So it's not one of those awkward joints where you are the only people in the place and the waitstaff is bored and staring at your every move.  In fact the staff is very chill and observant on what you need.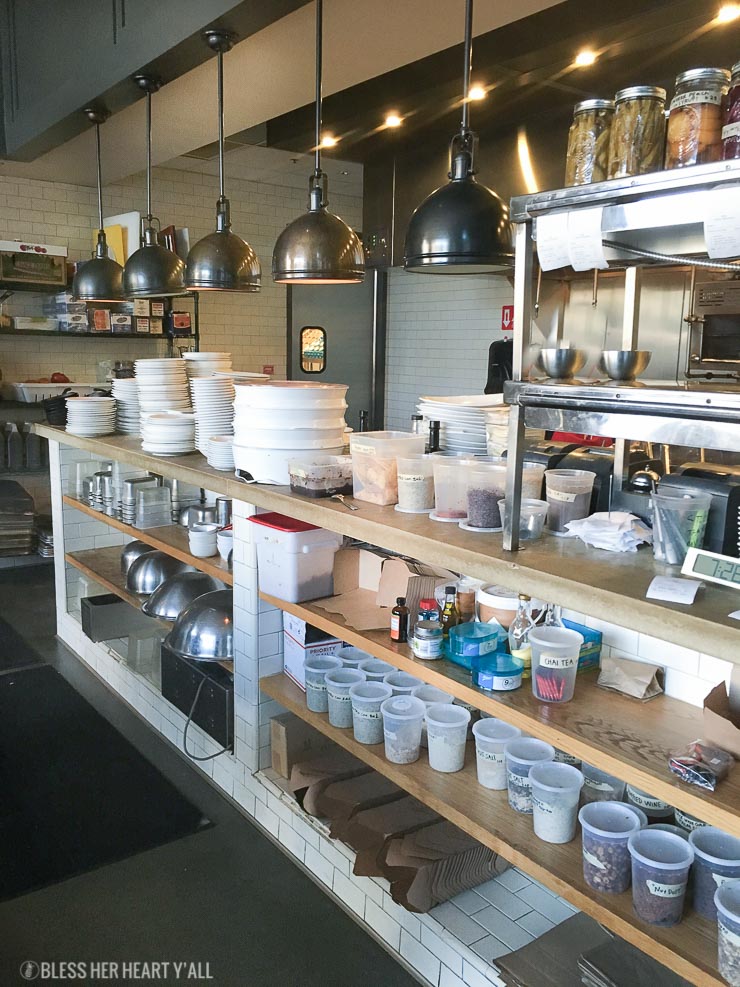 When you walk in, you instantly see and smell the cute open kitchen set-up.  We were immediately seated (we did have a reservation which we were late for. Opps!) and ordered drinks.  I got too excited about my Rich Peach drink to even think about taking a picture of it.  Makes me sad because it was so pretty (and sooooo good….I mean rum + thyme + fresh peaches + champagne!).
Then it was time to decide (which took forever because they have such a large selection to chose from including lots and lots of gluten-free options!) which small plates to order off of their menu.  This is what the three of us ordered (sounds like a lot) and we were perfectly full after eating it all:
Housemade Chicharones (are gluten-free)
Charcuterie plate (are gluten-free)
Grilled Corn (are gluten-free)
Heirloom Tomatoes (are gluten-free)
Pan Roasted Scallops
Grilled Petit Filet (are gluten-free)
They bring out one dish at a time and everything they brought out was amazing (I didn't eat the scallops but I heard that they were pretty freaking delicious).  The presentation was great and they all were cooked to perfection, melt-in-your-mouth kind of deals.  Every dish kept you wanting more.
My absolute favorite dish was this Grilled Corn dish that was served last.  They describe it as "street cart style, cotija, and lime aioli"  It was amazingly stick-to-your-ribs creamy while still being refreshing and lime-y.  I wanted to order an extra one of these to-go and eat it in the car ride home where no one could judge me.
Obviously I dug this place and would recommend it to anyone needing a food recommendation in the area.  I am definitely going back again and trying some new small plates (and obviously ordering the grilled corn again) that I didn't get a chance to taste during our first tour.
Have you been to Saltyard yet?  I'd love to hear your opinion on what I should order next time around!
And need another great local restaurant recommendation?  Check out my review of Praise the Lard!