One thing that I love about summer (one of the kazillion reasons why I love summer) is the grilling.  In Atlanta, we can pretty much grill all year long.  But there is just something so relaxing and enjoyable about being able to sit outside on the patio, sip something cold, and smell that sweet grill at the same time.
Hubby and I try our hardest to grill lots of fruits and veggies during the warm months.  We luuuurve how sweet the kiss of a grill makes pretty much any produce taste.  One of our favorite, easiest, and quickest versions to make is a quick grilled zucchini squash.  By adding a few common ingredients together that you likely already have in your kitchen, you have the base that gives the squash a little bit of extra flavor (as it doesn't need much extra flavoring help).  If you have 10 minutes and a grill, this easy gilled zucchini squash recipe will be a delight next to your grilled meat.
Quick Grilled Zucchini Squash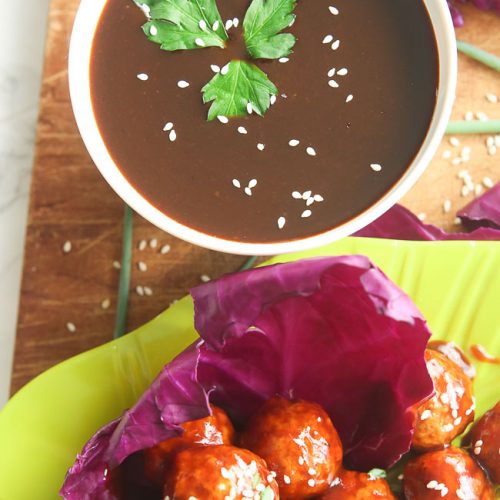 How to Make Hoisin Sauce
Ingredients
8 Tablespoons gluten-free Soy Sauce
5 Tablespoons peanut butter
3 Tablespoons fresh honey
1/4 cup chopped green onion
1/2 tablespoon red pepper flakes
4 teaspoons rice vinegar
1 teaspoon garlic powder
3 teaspoons sesame oil
1-2 Tablespoons gluten-free Chili paste, depending on how spicy you want it
Instructions
Bring all the ingredients to a boil over medium heat. once boiling, bring to med-low heat and let simmer for 3-5 minutes, until sauce slightly thickens, stirring occasionally.
Let cool to room temperature, use immediately, and leftovers are good to store in the refrigerator in an airtight container.
Right before you place the veggies on the grill, sprinkle them with the parmesan cheese and the granulated garlic.
*Cook the zucchini on the lower rack of the grill using a vegetable grill basket or pan.  Hubby likes this grill pan (we have the older version).
Be ready to eat the grilled zucchini squash right after coming off the grill (but just long enough not to burn your mouth!) as they taste so good when they are still melt-in-your-mouth warm!