This is such a quick and easy guacamole recipe and it doesn't last long, it's gobbled up in minutes!
I have a confession to make.  I hate avocados.  HATE them.  It makes me so frustrated.  I know how good they are for your body.  They just aren't good for my soul.  I want to love them like the rest of the world, but I just can't.  I can't do avocados and I can't do guacamole.
Until now.   I like it!
What?!?  Maybe there is still hope for me!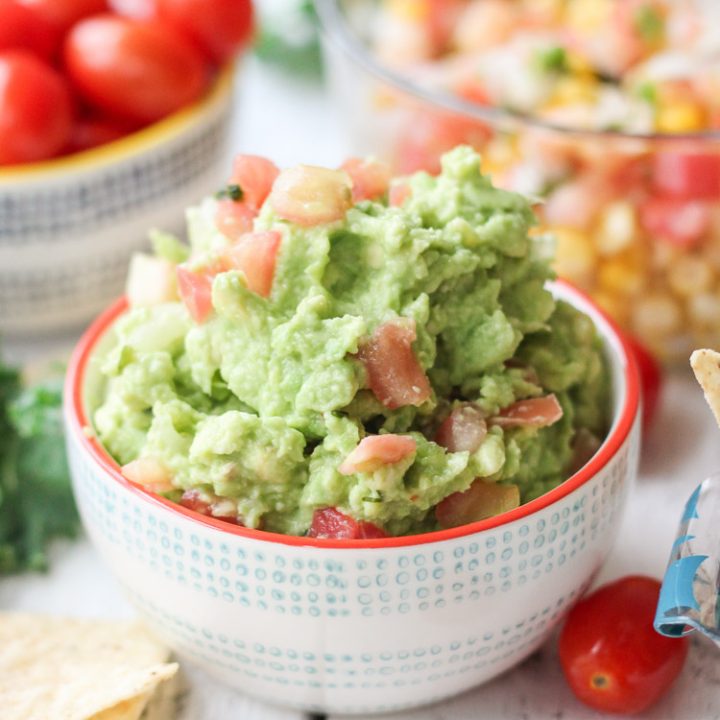 Holy Guacamole
Ingredients
10-12 cherry tomatoes
1/4 red onion
2 Hass avocados
Juice of 1/2- 3/4 fresh lime
salt to taste
Instructions
Peel and remove the pit from both avocados. Mash the avocados in a medium bowl until a consistent paste-like texture is achieved.
Dice the tomatoes and red onion and mix into the bowl with the mashed avocados.
Squeeze the lime into the mix and top with sea salt to taste.
If you have leftovers (which is very unlikely), you can store it in an airtight container in the fridge for 24 hours… just put one of the avocado pits in with the leftovers to keep the guacamole looking it's greenist.