This is an easy master closet organization tutorial and this shop has been compensated by Collective Bias, Inc. and its advertiser. All opinions are mine alone. #WinterizeYourClosets #CollectiveBias
Just in time for the holidays, easy master closet organization tips that will help you stay neat and tidy throughout the busy holiday season with easy and simple ideas that you can do on your own!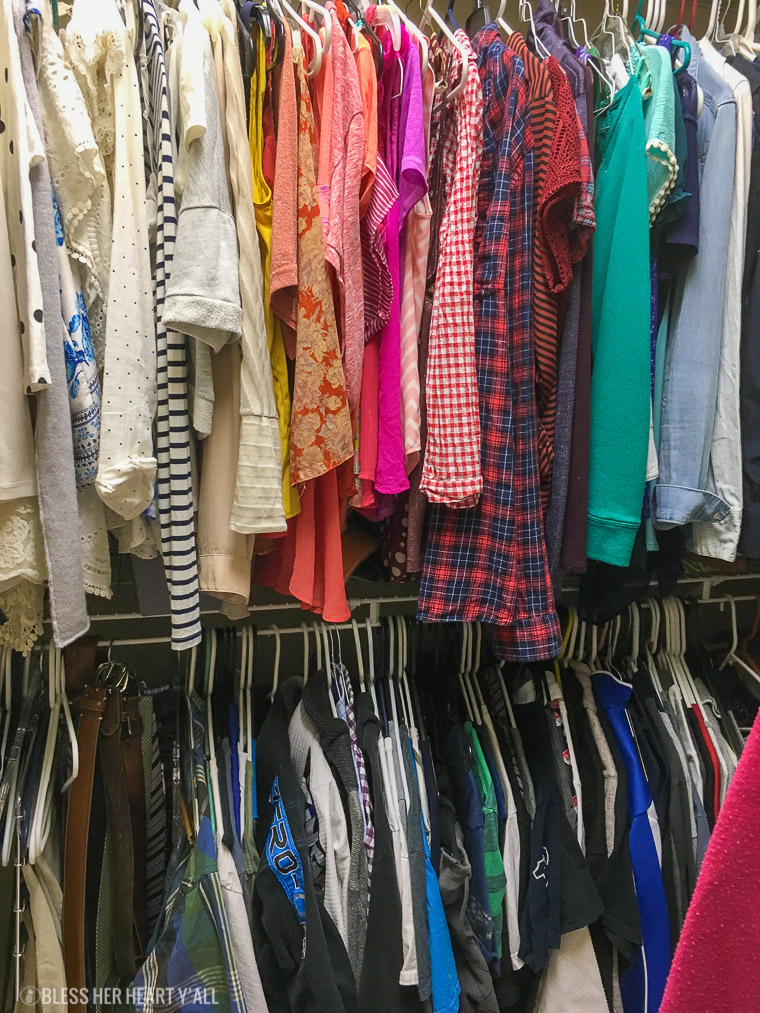 With the holidays right around the corner, now is the time to get organized before all those parties, overnight guests, and sweater presents start to filter/roll in.
For Alex and I, our biggest mess was in our master closet.  I mean look at it.  It's not a large closet so things are crammed in.  It's disheveled.  It's messy.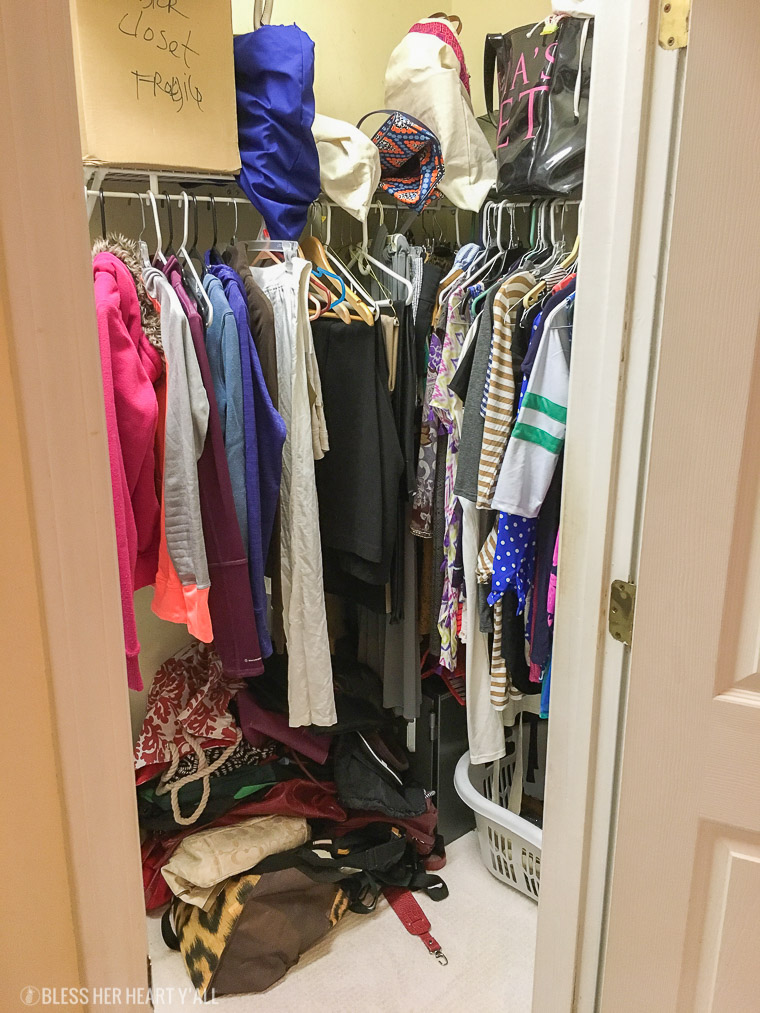 And that's not us.  ESPECIALLY Alex, he's a tad OCD.  And I like my home clean and organized, it helps with my stress too.
So we hated that we had a unorganized and inefficient closet but really had no other choice.  We needed to find a way to organize the small room of chaos in an efficient, easy, and quick way.
Our closet also wasn't taken care of very well before we bought the house this past spring.  So we decided to do a complete master closet overhaul this past weekend.
We thought we'd do it now before the holidays so we have the space to add in that new holiday sweater and cute new pair of holiday shoes.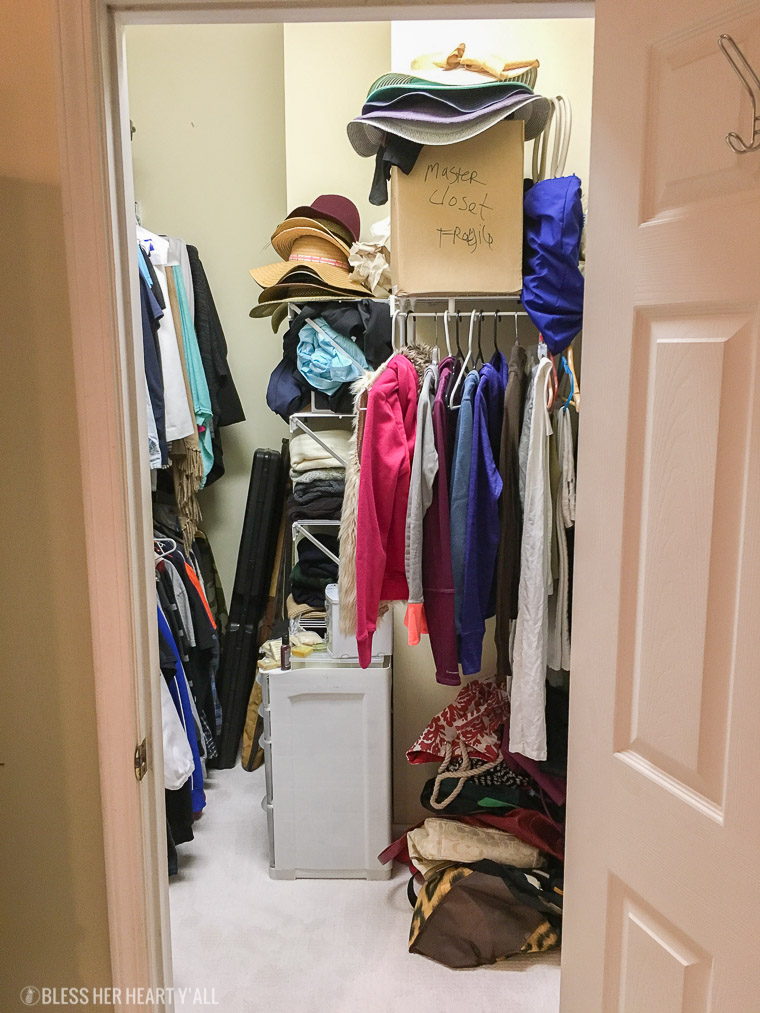 The first step was to decide which Rubbermaid® HomeFree Series™ Closet kit from Lowes would be the best fit for our needs.
We loved that the coordinating collection had telescoping rods and expanding shelves to let us organize our closet the way that made sense to us and it would let us reconfigure or expand our closet system as our life changes.  This kit truly changes to fit you and your changing needs!
So I went online and used the Rubbermaid Storage Planner to design my new closet system and printed out what items I needed to pick up thanks to the awesome planner (It even tells you what aisle you need to head to at your local Lowes.  It's perfect for people who get lost a lot like me).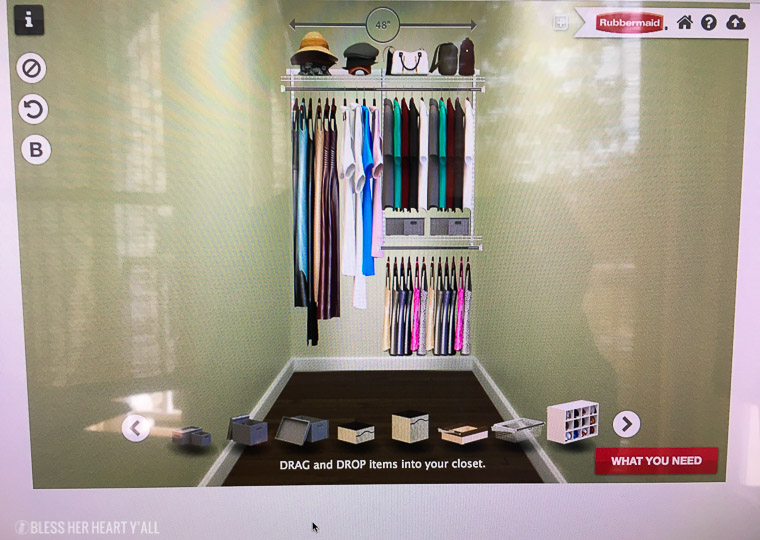 Of course before you go to Lowes you should double check your measurements with your things and current shelving removed from your closet.  The adjustable kits range from 3 foot to 10 foot options.  The main wall we were working with was 4 feet long.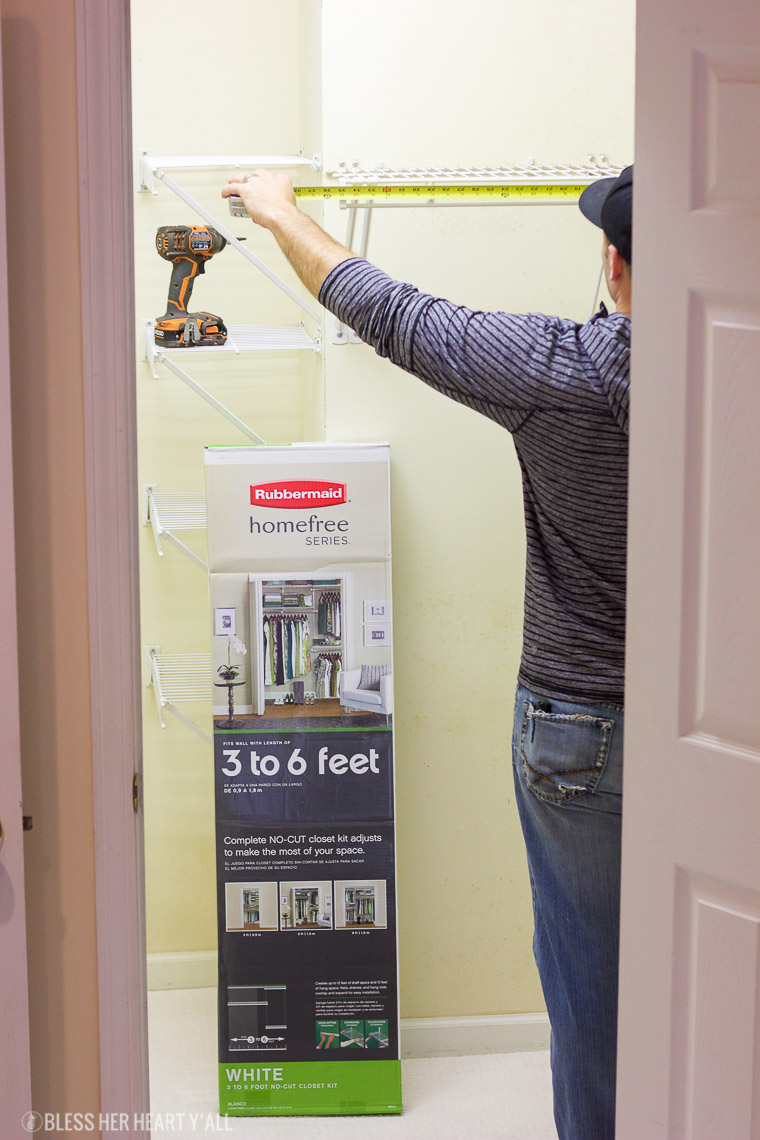 After picking up my Rubbermaid® HomeFree Series™ 3-ft to 6-ft White Adjustable Mount Wire Shelving Kit and the Rubbermaid® HomeFree Series™ White Wire Shoe Shelf Kit I was ready to paint a new coat of paint on the walls and start putting together my shelving kit.

The directions are really really simple.  So simple that I could do it on my own.  There's no cutting needed.  Everything is adjustable and expandable.  There are so many accessories to customize and finish off your closet needs and everything you need to put it all together is included in the kit which makes installation a breeze.
All that was done was securely mount a few rails and uprights to the wall after careful measuring and then the fun started.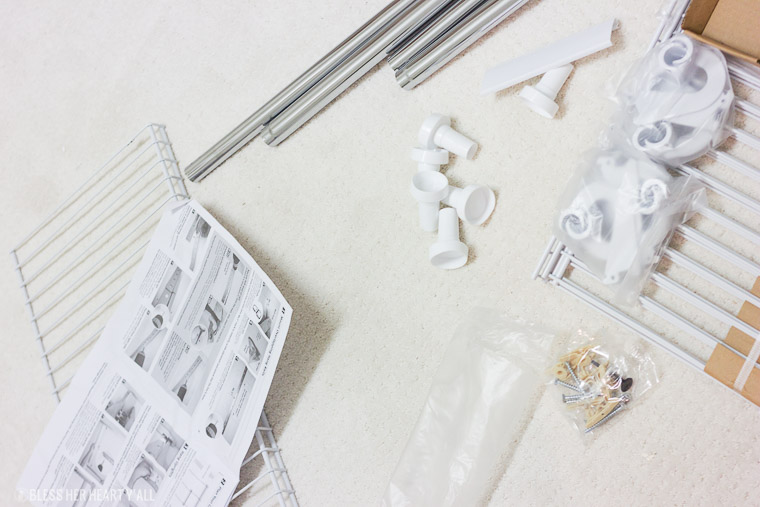 Then brackets were inserted with a simple 'click' to the height and location that I wanted to place shelving and clothing rods within the system.  Deciding on how I wanted the layout of my closet was so much fun.
Can't I pretend to be an interior designer just this once?
'Bus driver…. MOVE THAT BUS!'
And here's the final closet!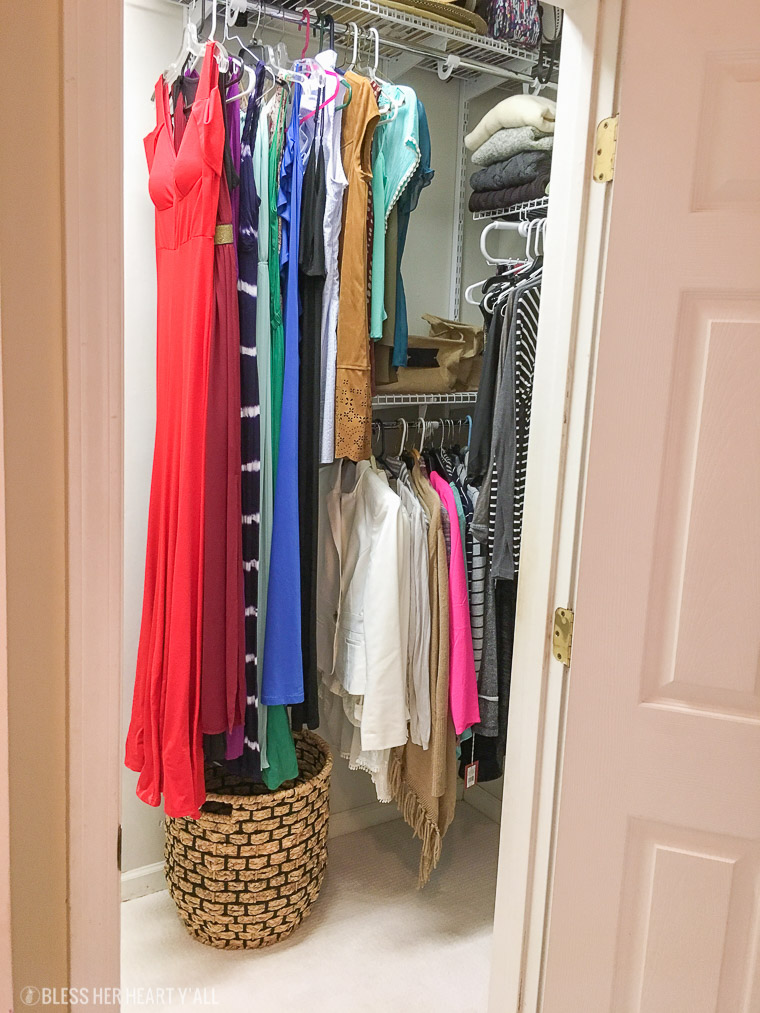 Easy Master Closet Organization Tips for your Small Closet:
Use Some Height: My designer momma taught me this tip.  So many times the top half of a closet wall is left empty and bare, wasted space.  Use that empty space to put extra shelving areas for out-of-season or rarely-used items.  An quick use of a step stool every now and then for those special items isn't a hassle at all.
Keep the wall colors light and neutral.  A dark wall color will make the closet look dreary and dingy even if it isn't.  And a neutral color will give all your clothes a fighting chance.  You don't want your bright colorful spring dresses next to an olive green wall, of course it'll clash!
Baskets baskets baskets.  For mis-matched items or knick knacks, use matching baskets or buckets to hide the small bundles of clutter.
Here are the pieces I purchased from Lowes to complete my closet's look:
(all shelving in final photos with clothing/shoes are a part of the list below)
(1) Rubbermaid® HomeFree Series™ 3-ft to 6-ft White Adjustable Mount Wire Shelving Kit
(1) Rubbermaid® HomeFree Series™ White Wire Shoe Shelf Kit
(1) Rubbermaid® HomeFree Series™ White Tie and Belt Rack
(1) extra Rubbermaid® HomeFree Series™ White 47.5″ Upright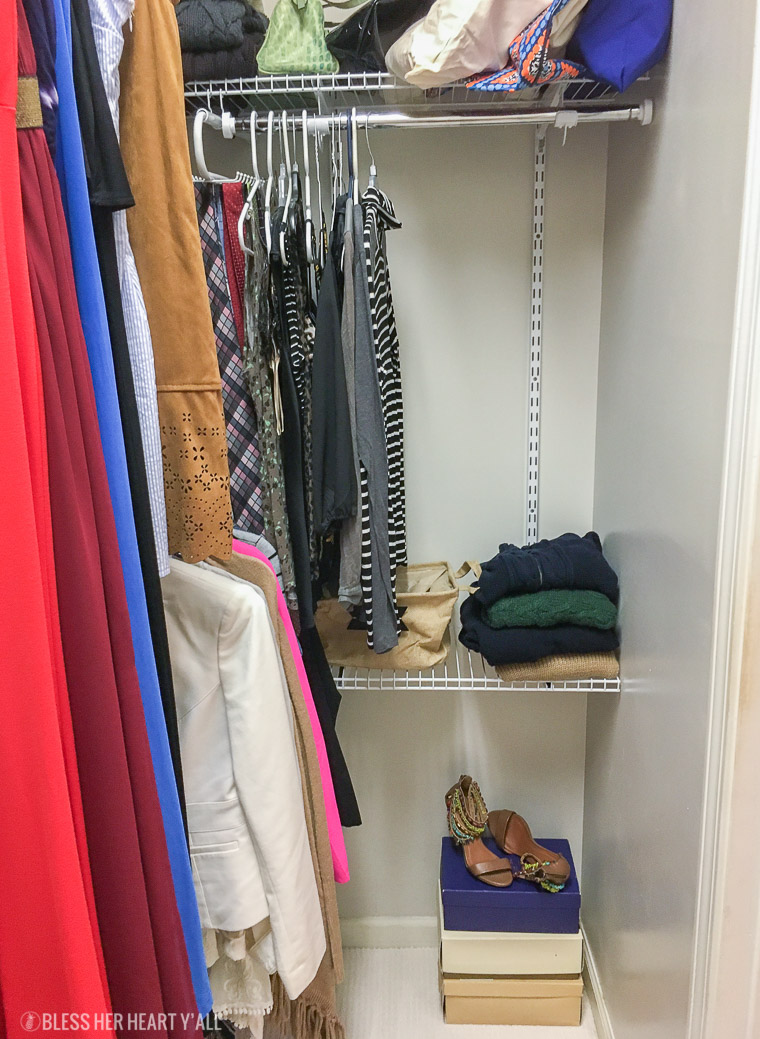 We added an incredible amount of both hanging space and shelving areas to our closet in just minutes.
I hope I accurately demonstrated how easy it is to install these closet systems and shared some helpful tips and tricks to have an organized closet space just before the holidays.
It CAN happen!  Get ready to winterize your closets, gain maximum easy master closet organization, and get them guest and holiday ready too!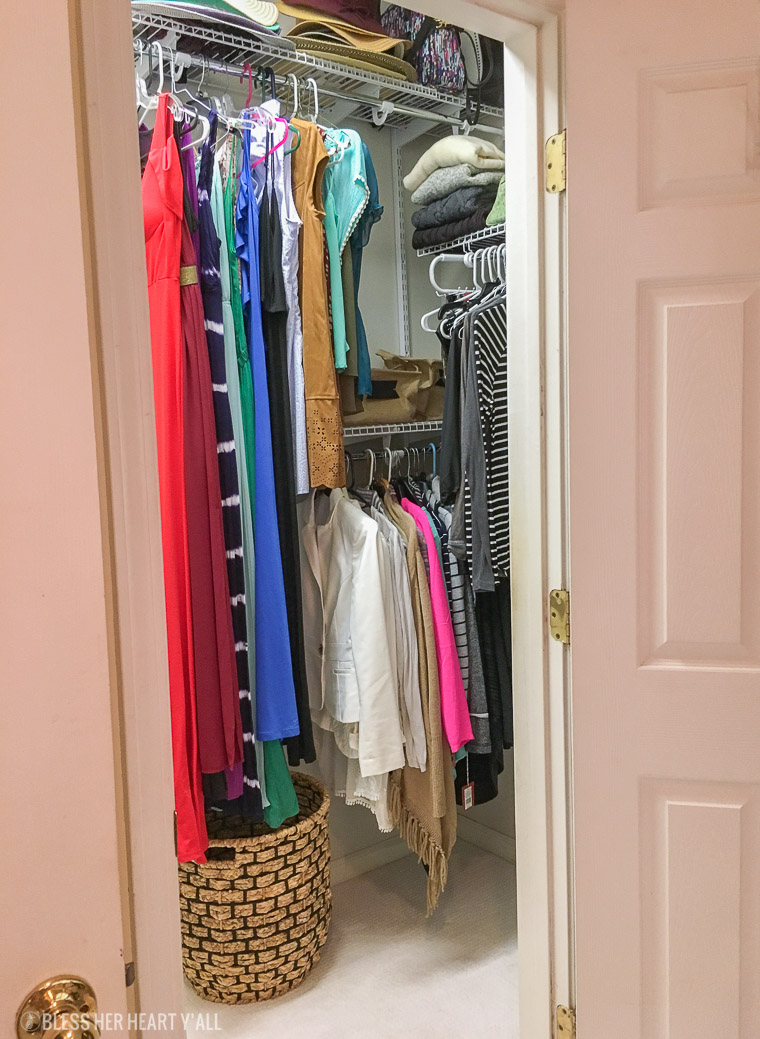 I partnered with Rubbermaid, a brand I personally recommend to friends and family, for this post.  Thank you for continuing to support me, BHHY, and the brands that help make this site possible.