I hope that everyone had a wonderful Father's Day / National Peaches and Cream Day / First Day of Summer weekend.  I didn't get to spend the weekend with my dad, however I did get to participate in eating some delicious Georgia peaches.  And with leftover peaches, I make this tried and true recipe for seriously the best gluten-free blackberry peach cobbler ever.
This blackberry peach cobbler is so decadent but light enough to enjoy during the summer months, when peaches are at their peak.  It's sweet, it's juicy, and it's buttery and melt-in-your-mouth.  Need I say more?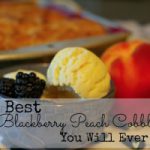 The Best Blackberry Peach Cobbler Ever
Ingredients
4

cups

of sliced peaches

about 1.5 -2 pounds fresh peaches

2

cups

blackberries

1.5

cups

all-purpose flour

I used Gluten-Free

1

cup

granulated sugar

2

tablespoons

cornstarch

1/2

cup

packed light brown sugar

1/4

teaspoon

salt

2

teaspoons

baking powder

6

tablespoons

cold unsalted butter cut into small cubes

3/4

cup

heavy cream

ice cream is optional but highly recommended!
Instructions
Preheat your oven to 325 degrees and grease up a square 9 inch pan.

In a large bowl, combine the sliced peaches, blackberries, cornstarch and 1/2 cup of the granulated sugar.

In a second bowl, combine the flour, 1/2 cup granulated sugar, brown sugar, salt, and baking powder. Then add in the cubed cold butter and mix until the mixture has a crumbly consistency. Stir in the heavy cream last

Spread the bowl of the fruit mixture into the bottom of the greased pan.

Drop the batter by spoonfuls on top of the fruit mix.  (I like to sprinkle some granulated sugar on top of the batter just before it goes into the oven!)

Bake for 40-50 minutes, or until golden on top and bubbling fruit juice is seen along the sides of the pan.

Let sit for 5-10 minutes and then enjoy with your favorite ice cream! Enjoy it messy!

Join me in partying with these lovelies!