I come at ya today with a gluten-free recipe that I made a few months ago that's already up on the blog (what the fluff are you doing reposting the same dang recipe girl?!?).  For one, the initial King Ranch Chicken recipe has been very popular, but I felt that the pictures didn't do the dish justice (justice for all, right?!?).  I wanted new pictures; lighter, brighter, tastier pics.  Secondly, I had a few questions about this spicy recipe, so I wanted to talk ya through it and answer those Q's.
And thirdly, I wasn't feeling well yesterday and wanted to curl up in the fetal position all night.  But I didn't, I made one of my comfort foods instead (this recipe!).  And today, I am all better!  Spicy King Ranch Chicken fixes 24-hour bugs y'all….!  It's magical (plus Hubby LOVES this recipe, so I get brownie points!).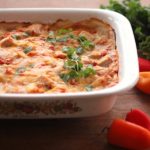 Spicy King Ranch Chicken
Ingredients
1

Can Rotel tomatoes

I like the hot variety

1

can cream of Chicken *

Gluten-Free of course!

1

can chicken broth **

Gluten-Free as well

4

cups

cubed chicken

2

cups

shredded cheese

plus some for sprinkling on the top of the dish., I prefer colby-jack for this recipe

1/2

chopped red onion

crushed red pepper flakes or sirracha to taste

we like it spice-say and we use both!

Gluten-Free corn tortillas (10-12 depending on the size of tortilla

but one package of tortillas will be enough)
Instructions
Preheat the oven to 350 Fahrenheit.

In a large bowl, combine all ingredients (except for the tortillas). Stir to combine.

In a 9 x 13 baking dish, layer a single layer of the tortillas on the bottom of the pan.

Place 1/3 of the mixture on top of the tortillas. Do this tortilla-mixture layering two more times (so there is 3 layers total of each of the two layers)

Sprinkle the top of the casserole with the extra shredded cheese and then bake for 50-60 minutes, or until the top is golden brown and the chicken pieces are cooked thoroughly. Let sit 5 minutes to cool and set and then enjoy it messy!
* I really like this GF cream of chicken soup
** And this wheat-free chicken broth is my fav for casseroles.
Don't forget to link up with The Soiree linky party and then join me in partying with these lovelies!