Sometimes I get the hankerin' for chocolate. My body says 'yes, you must have this', and my mind says 'no, but it's swimsuit season!'.  So I usually try and come to a compromise.  How about something chocolatey but small.
I thought about what I could make that was bite-sized and would still be scrumptious for these sweltering summer days.  Cookies?  No.  Brownies?  No.  What about no-bake chilled truffles?  Absolutely!
I made these sea salt cookie dough truffles and they were AH-mazing!  I threw them right in the fridge (they would be good companions for the freezer too!) and would pop one bite-sized morsel in my mouth whenever I had the chocolatey craving. This was a much better solution than making a whole pan of brownies and eating half the pan in one sitting (so guilty of this!) and it was better than making a basket full of cookies and secretly eating them all in front of the t.v. (so guilty of this too!).
By refrigerating the truffles, it made me portion control these gluten-free tasties, even though I had no idea that it was going on.  It also is an amazing chilled treat on a hot summer day! And who can say no to cookie dough and a no-bake recipe y'all?!?  Can you tell that I am just a little bit excited to tell y'all about these little summer treasures?
No-Bake Sea Salt Cookie Dough Truffles: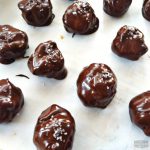 Sea Salt Cookie Dough Truffles
Ingredients
1

cup

gluten-free flour

I use a 50/50 combo of tapioca and almond flours in this recipe

1

stick butter

softened (not melted! I made that mistake once before!)

1/3

cup

packed dark brown sugar

1

TBSP

Vanilla*

1

cup

milk chocolate chips

2

cups

semi-sweet chocolate chips

for the outside coating

Course sea salt for garnish
Instructions
Line a large baking sheet with parchment paper.

In a large bowl, mix the butter, sugar, flour, and vanilla together until just combined. Fold in the milk chocolate chips.

Shape the dough into one-inch balls and place on the lined baking sheet. Freeze the balls for 30 minutes (or until firm).

While the cookie dough balls are chilling, heat a medium saucepan over low heat. Add the semi-sweet chips into the heated pan. Stir occasionally, until the chips are completely melted and smooth.

Using a toothpick, poke a cookie dough ball and dip it into the melted chocolate, covering the entire ball of cookie dough. Place it on the lined cookie sheet once again.

Immediately sprinkle the sea salt over he hardening chocolate. Continue this until all the cookie dough balls are coated in chocolate.

Let the truffles sit in a cool area until the chocolate coating hardens. (I sometimes stick them in the fridge before they are completely hardened because it makes them harden faster. I have no patients!)

Store in an air-tight container in the fridge or freezer for easy sampling!

Enjoy it messy!
*My fav vanilla to use for this recipe is this N-M Vanilla hands down!
Don't forget to link up with The Soiree linky party and then join me in partying with these lovelies!