This paleo sweet potato pie is made with simple healthy ingredients and is both decadent and smooth.  This southern treat is also gluten free, grain free, and dairy free!  Bring on the holidays with this easy recipe y'all!
 Okay so raise your hand if you're ready for the election to be over tonight?
I just raised both my hands with y'all.
I'm so over hearing about this election and ready for the next "big deal" which is way more fun and uplifting, THANKSGIVING!!!
But tonight I'll be sitting and watching election results.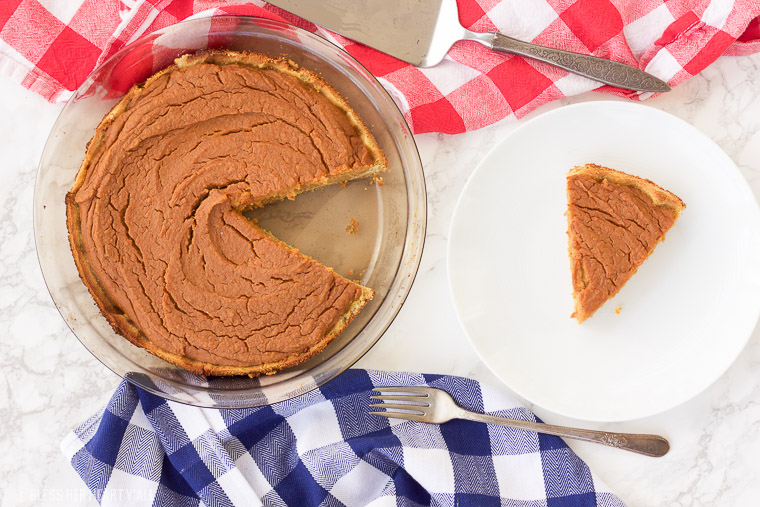 I feel like I did my civic duty and American responsibility to vote today so I might as well watch the election results in the background  while I do something else more interesting.
And you know what else is oh-so American and way more interesting than watching red and blue states being colored onto a map on tv?  Making this paleo sweet potato pie!
I'd much rather analyze this healthy version of a pie than over analyze unofficial election results any day!
I feel like half of all country songs produced in the nineties sang of Georgia girls and sweet potato pie.
I also think that many people don't even know about sweet potato pie!  Ekkk.  It's definitely more popular in the south but soooo many are missing out.
Alex didn't know what I was talking about when I told him I was making an all-American sweet potato pie for Election Day and we've lived in Atlanta for the past five years.
So this American girl decided to make a healthier version of this tasty southern tradition for Election Day.
How did I make this paleo sweet potato pie healthier?
Instead of dark brown sugar I used coconut sugar.
Instead of cream I used unsweetened almond milk (you could use coconut or cashew milk too).
I made my own doughy yet crisp crust out of almond and coconut flour so the crust is gluten-free and grain-free.
I used coconut oil instead of butter so the sweet potato pie is also dairy-free!