Happy Sunday!  I can not believe that Christmas is this coming week!  I have been so so busy finishing up Christmas baking, shopping, decorating, and Christmas partying!  It is such a fast and fun part of year to share with friends and family.
And speaking of sharing…. Ulta Beauty along with People Style Watch have asked me to share my favorite holiday makeup look, which just happens to be an icy silver metallic holiday makeup look this year!  To keep things simple (because complicated makeup just isn't my thing), I created this look in 5 minutes and all the makeup pieces I use in this look are from popular common brands and are less than $50 combined.  You may already have many similar pieces in your makeup bag and anything you don't already have, you can find at your nearest Ulta Beauty….. so basically, anyone can achieve a similar look in just minutes!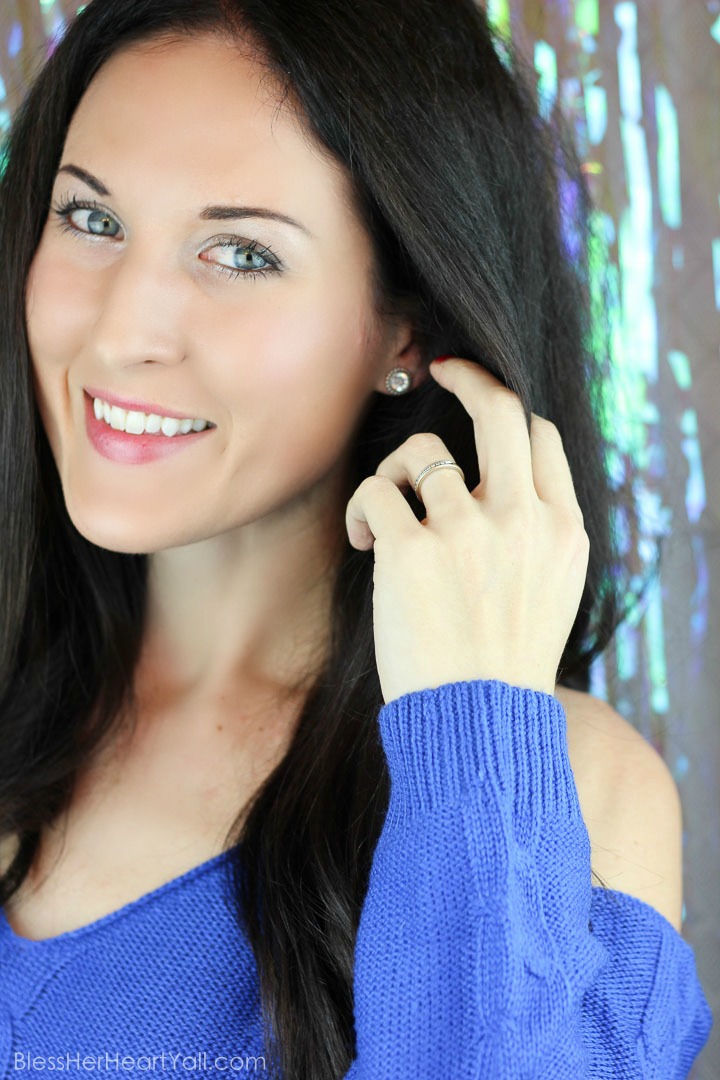 I started with a clean face and used my fav primer.  I will have to do another post on this part of the process if there are enough people who want to know the nitty gritty.  So let me know if you do and I will get a post up for you! (I also have to mention that I did have Chapstick on before I started this tutorial.  I want to be completely honest about my look.  My lips have been so chapped lately that I just had to apply something.  Anyone have any great lip products that could help a girl out?)
I used my foundation brush to apply my L'OREAL True Match Lumi in Creamy Natural (C3).  This foundation, besides being very affordable, goes on smooth and fills in any fine lines or blemishes and gives my face a smooth soft finish.  I have naturally very oily skin, and this foundation has a slight amount of shine, so my skin still looks natural.
I love Covergirl's bronzer in Copper Radiance (102).  This is another affordable product that I carry in my everyday handbag in case of a little extra needed color throughout my day.  The little brush that comes with it makes it easy to brush on when I am on the go.  I put this bronzer in the hollows of my cheeks, on both sides of my nose, and along the top of my forehead for a little defining color.
L'OREAL's True Match blush in Tender Rose (C3-4) is the perfect color for winter.  With my hair darker and skin more fair, this sweet pink hue gives my cheeks a snow-kissed look, like I just stepped inside from playing in the snow to warm up!  I place this blush on the apples of my cheeks.  When my skin tans during the summer, I would use a bit more of this blush to get a similar effect.
L'OREAL's Colour Riche eye shadow quad in Cookies And Cream (933) is a fun little addition to my makeup collection.  It is a cute mix of shimmery grays, silvers, and charcoals.  The back of the package has step-by-step directions on how to apply each color.  I used these instructions verbatim, except for step 3, the "defining" step, which I changed up a bit.  Instead of using the dark glittered shadow to define my eyelid's crease, I used the color to line my upper eyelash line (and a small bit of this same shadow on the inside edge of my lower lash line).  Everything else in the directions, I followed.
Next up, I used Rimmel's ScandalEyes Waterproof Eyeliner in Silver (010).  I applied the smooth liner to both upper and lower lash lines and the inside corners of my eyes.
Cover Girl's Loose Powder in Translucent Medium (115) was used next, to lightly powder my face and set the makeup in place.  This loose powder really helps stave off a super oily look that my face likes to give me.  Sometimes I feel like I am still 15 years old!
One of my all-time favorite beauty buys is Maybelline's Falsies Volum' Express in Black Drama (M701).  I apply just one coat and it gives me the perfect cute and sassy lashes!
Then I needed to work on my non-existent brows.  My brows are very sparse (I have never even plucked my brows!) and are much lighter than my hair color.  I just started playing around with Eylure's Brow Ink in Dark Brown (No. 10) and LOVE it!  My greasy face tends to wipe most brow products away in half a day's time, but this brow ink stays put.  The brown color is nice in that it isn't red in tone at all, which is normally another issue of mine.  Love love love this product for a more defined look.
And last but not least, a simple clean lip from Burt's Bees (lip gloss in Summer Twilight).  If I have a bold eye, I go for a subdued lip and vice versa.  This lippie gives me a subtle juicy hint of color.  Not too much, not too little.
And the final look…..
I hope this gave you a few ideas on what to pick up on your next makeup haul this holiday season!  I went to my local Ulta Beauty and picked up all of these products that I showed you today.  I scored some great deals and they were fully stocked with their products!  No leaving empty handed for this girl!
Please let me know if you have any questions (or suggestions on my chapped lip issue!).  If you have anything else you would like me to put into a how-to, let me know!  A special thank you to Ulta Beauty and People Style Watch for sponsoring this post and helping me spread some fun holiday inspiration!