This shop has been compensated by Collective Bias, Inc. and The Coca-Cola Company. All opinions are mine alone. #ColorMeHydrated #CollectiveBias
For the working girl grinding hard all day, these tips on how to heat the heat like a southern belle can not be missed!
I don't know about you but here in Atlanta, summer can be pretty brutal.  It's hot and so incredibly humid that somedays it feels hard to breathe outside.  But no matter how freaking hot it is outside this summer there are just some busy days where you gotta put on your big girl pants and face it without looking like you even tried.  I mean no one wants to look like their makeup is sweating off their face or that their hair has totally turned to frizz even on their craziest of days!  As a girl always  on-the-go I've learned a thing or two about facing the heat and beating it.  Here's my tested ways on how to beat the heat like a southern belle.
Wrangle your hair up:

Keep your hair off your face and throw it up in a cute ponytail or bun.  It's amazing how much heat your hair can trap against your body on hot sunny days.  Plus, if you are the

sweaty

glisten-y type, wet or damp skin turns into wet or damp hair, which then turns into a massive case of the frizzies.  And ain't nobody got time for that (

seriously, I don't have the time to battle with my hair!

)

Work a hat: If putting your hair up isn't an option but hanging outside is, consider using extra hairspray to keep frizz at bay or rocking a cute hat with your outfit.  This will also keep the sun and heat off of your face.
Rock your sunnies: stop that squinting because it's not that cute.
Summer wardrobe:  Wear season-appropriate clothing.  Don't try to rock a sweater in August, no matter how cute it is.  What till October for that.  Keep wearing those cute tank tops and summer dresses till summer is actually gone.  If you are anything like me, you'll be glad you did and will be quickly missing those warm summer days when you could wear them.  On a similar note… on the hottest of days, make sure those cute outfit pieces are very breathable or are flowy and not skin-tight.  You will be so much more comfortable and a lot less sweaty!
Wipe away and start fresh: Already left the house but need to freshen up?  Grab a travel package of makeup-removing or face cleansing wipes from your local target and keep them in your purse or car for a quick refresh and cleanse.  I keep a packet of grapfruit-infused face wipes in the center console of my car for this exact reason.
Sweat-proof makeup: It's especially important for a busy girl like me to look put together (even when I'm not).  I've got long days out in the heat and I have to jump from working out, to work, to traffic, to cooking and cleaning, etc., so I need a sweat-proof looooong lasting makeup routine that's both quick and easy:
Start with a clean dry face, and then apply a matte/oil proof primer and an all-day/long-wear foundation.  AFTER your foundation apply your concealer (you can see where I quickly apply my oil-free concealer in the picture below).
I then use a waxy eyebrow crayon (they tend to stay better when my face is glistening) to define my brows and a fat liquid eyeliner to line only my waterline of each eye.  Remember, a southern belle doesn't want to look like she has a full face of makeup on even when she does, so go easy on the daytime eyeliner!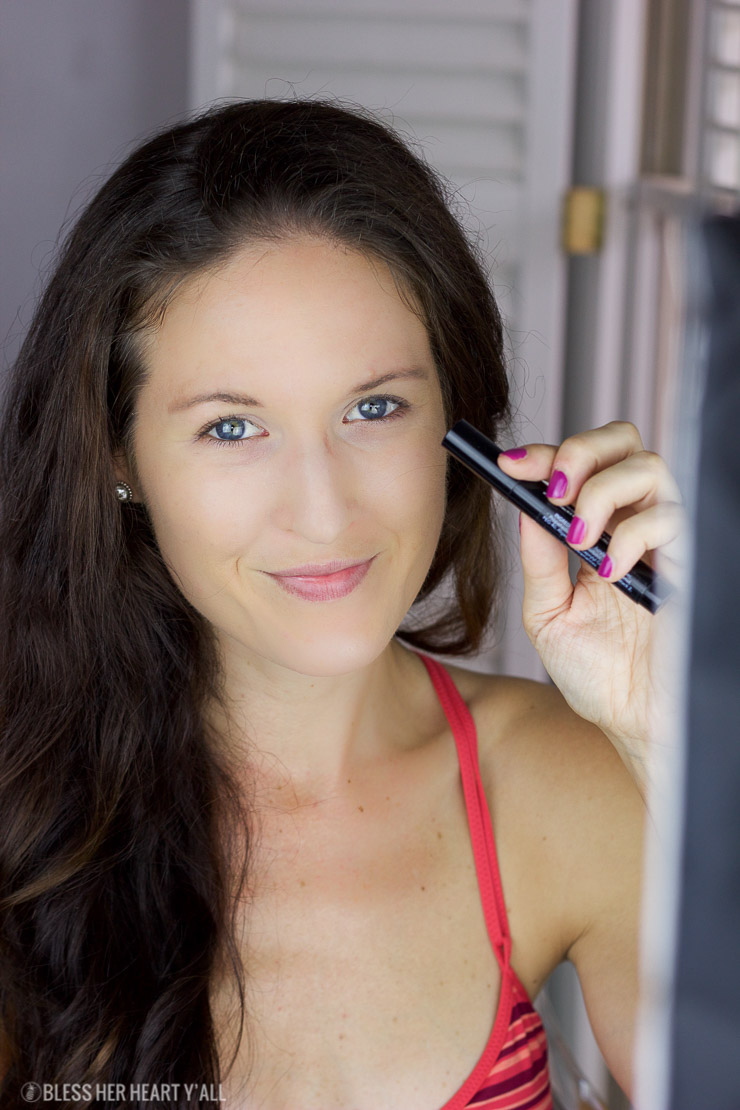 I then apply a bronze-y blush and bronzer to highlight my cheekbones and a translucent powder to set the look.  Lastly I apply waterproof mascara and a matte setting spray (this is like hairspray for your face but not sticky at all!).  If you want a bit of color on your lips, try adding a bit of color-enhancing lip balm to the mix.  AND……. you're done!  So easy and it won't melt off your face!
7.  Workout Schedule: Keep your workouts to the parts of the day that are coolest.  I don't mean that you should workout at 3am (I mean unless that is your thang girl), but try to work out in the Am or Pm, closer to sunrise or sunset, when the heat of the day hasn't started or has already passed.
8.  Keep your hair and your skin hydrated: For your skin, use a creamy body lotion that really locks in moisture right after you jump out of the shower.  Your hair will thank you for taking the time to give it at home deep conditioning treatments to combat the frizz.
9.  Keep your body hydrated: It's incredibly important to keep your body hydrated by drinking lots of water and other refreshing fluids.  If buckets of water isn't your thing, try something flavored like my favorite vitaminwater zero (with a large variety of flavors and colors to suit your taste buds like Squeezed, XXX, and Rise) that I found when I was getting sucked in (happens EVERY time!) at Target one day.  vitaminwater zero can make your daily grind look good by offering zero calorie taste and hydration with vitamins and electrolytes.  No matter what, don't forget to hydrate your hustle!
Save 5% off now with a coupon and mix and match your vitaminwater zero flavors to find the one that's right for your mood with the multiple vitaminwater zero options available at your local Target.
Also, if you want specifics on any of the products I used in my makeup tutorial (most of which I purchased at the always lovely Target) just let me know!
Still stuck in winter mode?  Here are some winter skin care favorites!