So hubby and I are obsessed with trying new quinoa recipes lately.  Yeah, obsessed is a good word for it.  This gluten-free parmesan, spinach, and toasted pecan quinoa that I threw together with ingredients that I had laying around at home, turned out to be stupendous!  Stupendous y'all!  And I never use that word.  In the words of my hubby "I am really enjoying our meal, but I would prefer to use up my stomach space solely on this quinoa."  Yup, me too sweetie, me too.  So we did.
This recipe is so easy and quick to make, contains healthy gluten-free ingredients, and has amazing melt-in-your-mouth flavors. I wish every time I just threw things together that they would end in such happy bellies y'all.
While your quinoa is cooking, you can throw together your spinach and toasted pecan mix and have a great side dish ready in 15-20 minutes!  Yes please!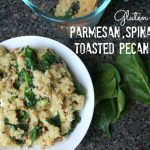 Gluten Free Parmesan, Spinach, and Toasted Pecan Quinoa
Ingredients
1

cups

quinoa

rinsed and drained

1/4

cup

crushed pecans

1 1/2

Tablespoons

minced garlic

1

Tablespoon

lemon juice

1/2

cup

shredded parmesan cheese

1/4

cup

feta cheese crumbles

2

cups

fresh baby spinach

2

Tablespoons

olive oil

2

cups

water

A dash of salt
Instructions
In a medium sauce pan, combine the water, quinoa, and a dash of salt to a boil. Once boiling, turn to med-low heat, cover, and let cook until water is absorbed (approx 15 mins.)

Heat the olive oil in a medium skillet over medium heat. Add the pecans and cook until lightly browned (approx. 2-3 mins). Then add the garlic and cook until lightly browned (another 2-3 mins).

Add in the spinach to the skillet and cook until the spinach starts to wilt and shrink. Toss in the quinoa, lemon juice, and cheeses. Stir and serve hot. Eat messy!
 I am linking up with these lovelies!