This is a sponsored post written by me on behalf of Beneful for IZEA. All opinions are 100% mine.
Ummmmmm…… so I can't believe that July is nearly halfway through already!  Summer goes by waaaay too fast!  I am trying to get out and enjoy the summer outside with my little family a much as possible in our free time.
Haha!  Wait?  Where do I find all this free time that I speak of?  Oh yeah… sometimes (cross out) many times it's hard to find the time….. and when we do find time to hang out, then what do we do to make everyone happy?
The Hubster just wants to see me with my phone down and social media off.  The two pups just want to be in our presence, and I want to grab some fresh air.
So off to the dog park it is for one of our family "doggie dates".  It checks off a lot of those little boxes, a win for everyone.  She throws her hands up like she just won the lottery or something.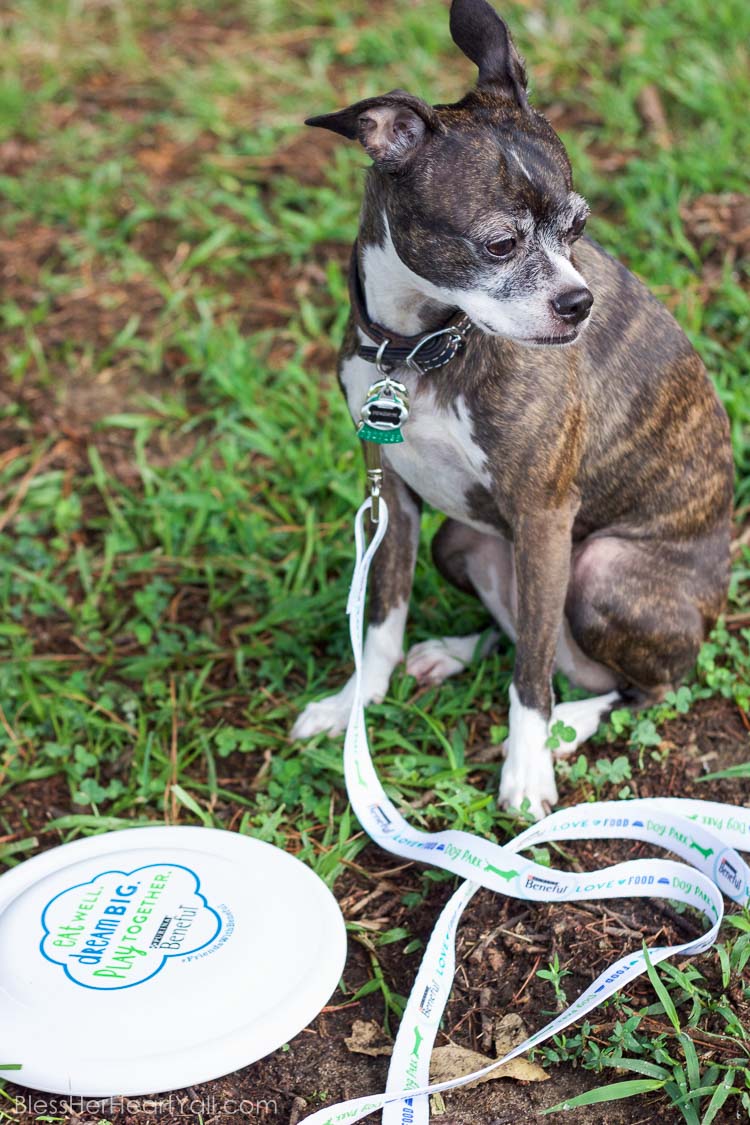 As a veterinarian I am always suggesting to owners to get moving with their pets and I think one of the easiest ways to get your pet on-the-go is to get active and social with them…. So yeah, I throw around the doggie date idea quite a bit.
 I pack up these essentials into our dog park bag:
      

the pup's favorite toys which include their new Frisbee and squeaky tennis ball,

     

a thermos full of cool water that belongs to the fur babes (except for that one time I wasn't paying attention and reached down and grabbed their bottle of slobbery water…. and ewwww, whoops, gross!)

      

a towel in case of muddy or wet paws

      

an extra collar and leash

      

too many poop bags (I always need that one more bag!)

      

a snack and water for the Hubster and I

      

a camera to catch all the funny moments
Our local dog parks have fenced areas for the dogs to run around in and even have sections specifically for large dogs and small dogs too.  It's perfect for when our small 15 pound Boston Terriers get tuckered out by the 100 pound bouncing ball of energy that some people call a puppy who won't leave them to chill and cool down.
Once the pups are pooped and played out and need a nap, we usually find a shady picnic bench to have snacks and drinks and watch the other family's and their fur babies walk by.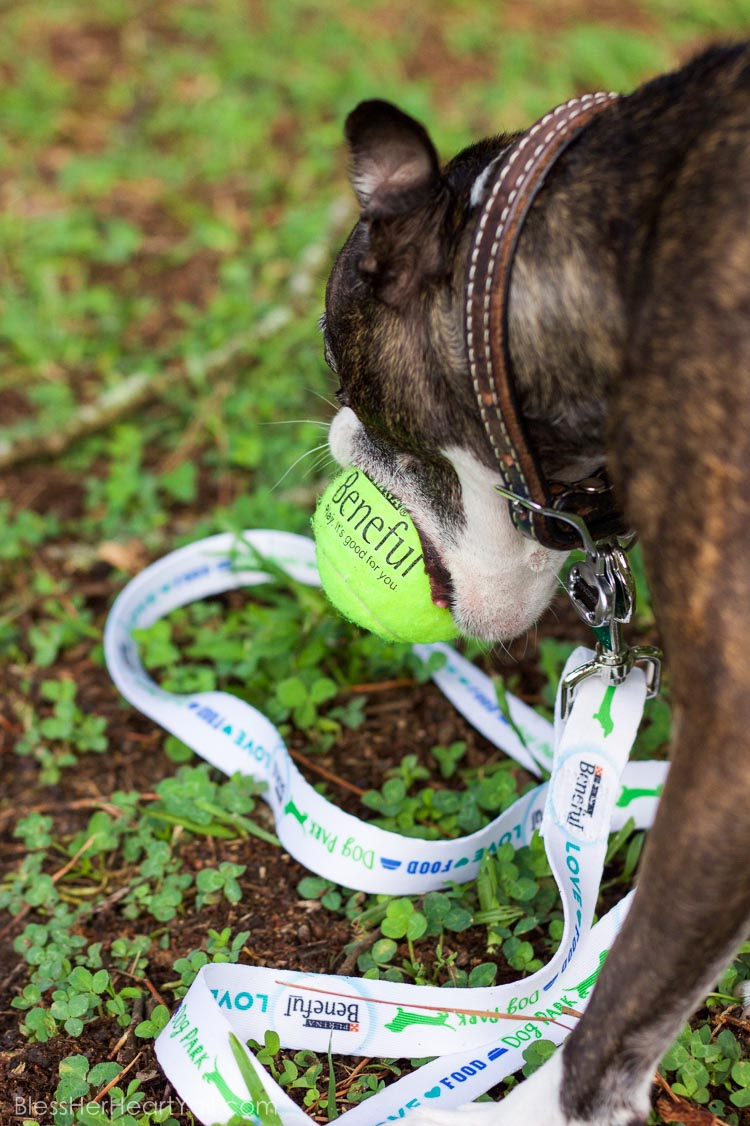 There are a few warm-weathered reminders I try to share with my favorite pet parents when suggesting dog parks and doggie dates to them:
      

Never leave your pet alone in your car for any amount of time while travel to and from the dog park

      

Remember that the walking paths and other flat surfaces in the park may get hot on your pups paws, if it's too hot for you to walk on, it may be too hot for them!

      

Be mindful of the heat over the summer.  Dogs can get overheated quickly so make sure they take playtime breaks and have access to shade and water while playing.
In our area there are quite a few dog parks to choose from which is fantastic.  But I've also lived in areas where there weren't any dog parks.   So if you don't live close to a dog park, bring your pooch with you to the park (as long as it's allowed).
There are also a lot of new dog parks being planned and built and this is where Beneful comes in to major play.  Beneful has been helping build dog parks since 2010 and just launched the 2016 Beneful Dream Dog Park Project which is an annual project to help upgrade and build dog parks for us to enjoy across the country.
 If your area is doesn't have a dog park yet, you can start a GoFundMe campaign and possibly get a new dog park off the ground in your area!  Beneful has great tips and insight on how to start a dog park or the steps to go about improving an existing one. Each month Beneful spotlights a GoFundMe campaign and matches dollar-for-dollar what is donated!  That's huge!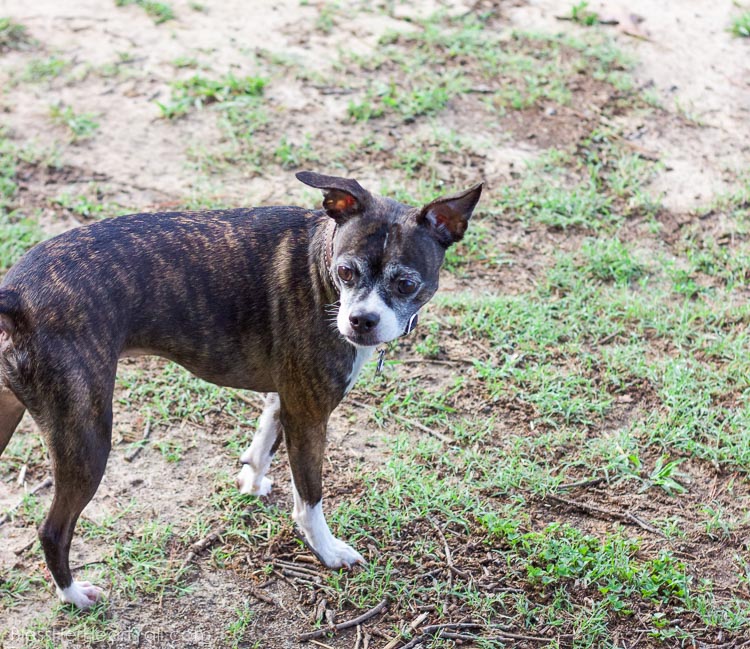 This is going to help make "doggie dates" a real possibility for a ton more families!  Beneful is teaming up with GoFundMe and will be reaching 12 dog parks this year alone and I couldn't be more excited to see these parks come to fruition.  I have personally been to a dog park that Beneful has built and our two pups had the best time ever.  I still can remember those smiles on their faces when we left (and those snores coming from the backseat when we drove home)!
I highly recommend checking out the 2016 Beneful Dream Dog Park Project and GoFundMe to learn more about the project and to see if one of the 12 dog parks is being planned for your area.  I also recommend entering the giveaway to win one Dog Park Pack, with a branded bag, leash, Frisbee, a squeaky tennis ball (a favorite in our house!), and some Beneful coupons!  
Duh!!!  Thirdly, I recommend getting those shoes on and bringing your pup to the park!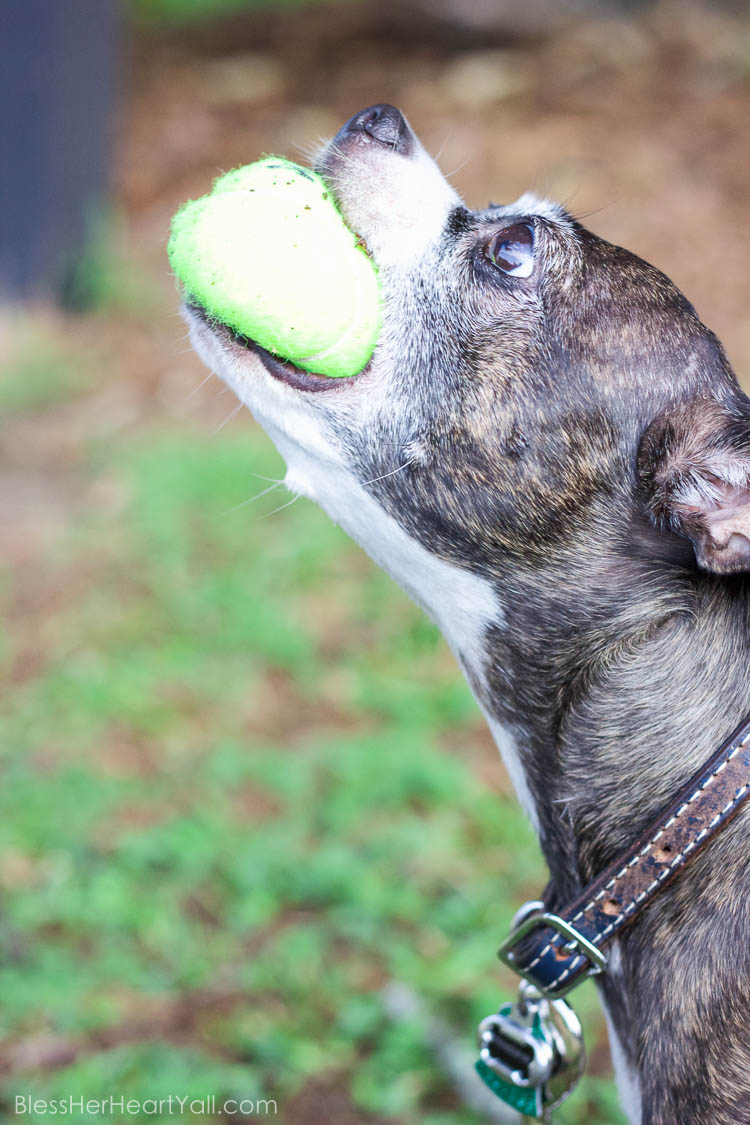 While outside with your fur babe, snap and post a picture of them having fun using the tag @Beneful and the hashtag #DreamDogPark and Beneful will donate $1 toward the Dream Dog Park Project for every share. 
 I am wishing everyone happy doggie dates all summer long!