I am usually the cook that's in the kitchen for most meals, but there are a few exceptions for good reason.  My hubby makes the best stuffed bell peppers (the first meal he ever made for me while we first started dating!), he can mix up a mean cocktail under pressure, and the most delicious decadent creme brûlée a girl could think of.  Sometimes…every-so-often… my hubby's in the kitchen and it's the best when it happens!
Some would say that I am a connoisseur of sorts when it comes to creme brûlée, and those individuals would be right.  It's basically the only dessert on restaurant menus that I can (usually) eat with my food allergies, plus I just love cream and sugar together … who doesn't?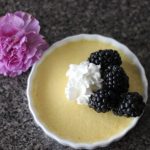 Hubby's In The Kitchen: Creme Brûlée
This is an intermediate level dish, but the Hubby swears that this creme brûlée is as "easy as pie!" and "a piece of cake!" to make. See what I did there? 🙂
Total Time
1
hour
15
minutes
Ingredients
1

quart

heavy cream

1

cup

sugar

1 1/2

teaspoon

vanilla extract

6

large egg yolks

2

quarts

hot water

6

ounce

ramekins

7 or 8 . size
Instructions
Preheat oven to 325 degrees.

Place the cream and the vanilla extract into a pan and boil over medium-high heat. Remove from the heat, cover the pan, and allow to cool for 10-15 minutes.

In a bowl, whisk together 1/2 cup of the sugar and and the egg yolks. Blend well.

Add in the cream mixture a little bit at a time, stirring continuously.

Place the ramekins into a baking pan and then pour the liquid mixture into the 6 ramekins that are now in the baking pan.

Pour hot water into the baking pan to allow the water to reach 1/2 up the sides of the ramekins.

Bake for 40-45 minutes, until the mixture is just starting to set (it's still jiggly in the center).

Refrigerate the mixture for 3 hours-2 days.

Remove the creme brûlée 30 minutes before browning the tops.

Divide the remaining 1/2 cup sugar on top of the 6 ramekins and smooth along the surface of each.

Using a torch, crystalize the sugar on top of each creme brûlée (will turn an amber-golden brown).

Allow a few minutes to pass before you dive in to the most amazing creme brûlée you will ever eat!
Recipe Notes
Using a torch can be dangerous. Please allow someone who is comfortable around these devices to use this while cooking this dish!
 I am linking up with these lovelies!