Now that summertime grilling season is in full swing, Hubby and I are all about grilling whenever we can.  When we were grilling up some tasty steaks the other night, I felt the urge for a chimichurri-type sauce, but also wanted something spicy and smokey.  So I gathered up some ingredients from my kitchen and concocted (in less than 2 minutes!) this wonderful spicy and smokey chimichurri hot sauce.
We drizzled this hot sauce over our steaks and savored the flavors that came out in the meat from it.  We discussed what else we should grill up soon to drizzle this sauce over.  We concluded that maybe we should try it on pork chops next, being a tasty combo with that smokey flavor.  But in the meantime, here's the recipe for this smokey sauce for your grilling pleasure…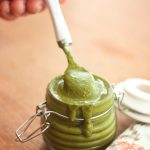 Smokey Chimichurri Hot Sauce
Ingredients
3-4

cups

spinach

depending on how thick of consistency you like

6

cloves

garlic

1 - 1 1/2

tsp

crushed red pepper

depends on your spice preference

1/3

cup

olive oil

1/4

cup

balsamic vinegar

1/4

tsp

cumin

2

TBSP

fresh cilantro leaves

1/4

tsp

coarse salt

1

TBSP

fresh grated parmesan cheese
Instructions
Combine all ingredients in a food processor and pulse for 1-2 minutes or until your preferred consistency is met. Enjoy it messy and spicy!