Well, I think I have uncovered a hit.  Last night was our last small group bible study of the semester, which meant that the group would be getting together over food and games and just have fun together one last time.  I felt gutsy and brought a new recipe without ever trying it before.  I decided to bring a skinny gluten-free summer corn dip with sesame chips and veggie slices.
To say that it was a hit would be an understatement.  I got to have one bite to taste (and by bite, I mean, I scraped off the bottom of the dish) and poor Hubby didn't even get to try it; it was gone in a hot minute.  My one bite was really really good though.  I received lots of compliments and a bunch of questions as to what the recipe consisted of, so I felt like that was validation enough for it to make it's way on to the blog for today's post.
It's skinny because I used greek yogurt instead of sour cream and greek yogurt spread instead of cream cheese.  It is a great summer corn dip because it isn't heavy nor does it give you a stick-to-your-ribs feeling, which isn't the best feeling in the middle of a smoldering summer.  Blah!
Have I mentioned how easy and fast this recipe is to make?  Y'all, I had 20 minutes to come up with a recipe before I had to battle rush hour traffic to make it to bible study on time, and I accomplished it!  This recipe rocks my socks dolls!
—
Gluten-Free Skinny Summer Corn Dip: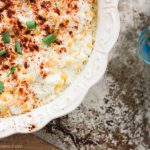 Skinny Summer Corn Dip
Ingredients
3

cups

ears worth of corn kernels

about 3

1

cup

grated cotija cheese

1/2

vidalia onion

chopped

2

green onions chopped

2

cloves

garlic

minced

3/4

cup

plain greek yogurt

4

ounces

greek yogurt/ cream cheese combination spread

1

TBSP

olive oil

salt and pepper to taste

paprika for garnish
Instructions
Preheat the oven to 375*F.

Heat a large skillet over medium heat with the olive oil. Sauté the garlic and vidalia onion in the skillet for 1 minute. Then add in the corn and sauté for an additional 5 minutes.

While the skillet is doing it's THANG, in a large bowl, mix together the greek yogurt, greek yogurt spread, and the cheese.

Combine the cooked corn to the cheese spread once it is done sautéing. Grease a circular baking dish and place the mixture evenly throughout.

Bake for 13-15 minutes, or until the edges turn golden brown. Sprinkle the top with the green onion and paprika, and finish with the salt and pepper to taste. Enjoy it messy!
***AND let's not forget about The Soiree Link Up down below!  Share your favorite food, DIY, home, and entertainment posts with two southern besties y'all!
Don't forget to link up with The Soiree linky party and then join me in partying with these lovelies!