Well here's a sauce that looks more like baby food than a spectacular accompaniment.  Give it a chance y'all!  Spread this delicious and smooth mango habanero hot sauce over your favorite protein (or even veggies!) and you have one smokin' hot meal (pun intended).
This hot sauce is not for the weak-hearted.  A little bit goes a long way.  It will clear out your sinuses and wake you up.  But, I promise you, it is not one of those hot sauces that is hella hot and nothing else (man do I hate hot sauces that do nothing more than tear your mouth and insides up).  This hot sauce is spicy (and gluten-free!), but it's smooth sweet flavors from the mango and the sweet punch from the fresh habaneros give it a light and addicting flavor.
This recipe's hotness (yup… gettin' all technical!) can be altered depending on how many habanero peppers you put in the recipe (I may have put an extra pepper in my recipe to ramp up that PIZAZZ!) and if you leave the seeds in or not.  The mango habanero hot sauce will be much spicier if you leave the seeds in.  I left a few seeds here and there in my recipe.  Sizzle.
Mango Habanero Hot Sauce: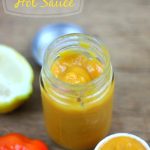 Ingredients
2

Ataulfo mangoes

2

habanero peppers

seeds taken out (unless you are feeling adventurous!)

1/2

cup

shredded carrots

2

green onions

chopped

3

cloves

garlic

minced

1/8

cup

lemon juice

2

TBSP

rice vinegar
Instructions
Peel the mangoes and discard the peels. De-seed the habaneros. Combine the mango flesh, habanero peppers, green onion, carrot, and garlic in a food processor until smooth (approximately 30 seconds).

Transfer the mixture into a medium saucepan and add the vinegar and lemon juice. Heat on medium heat until the mixture starts to boil. Once boiling, reduce the heat to low and let simmer for 10 minutes.

Press the heated mixture through a sieve and discard any seeds or fruit pulp still present. Allow to cool and serve it messy!

This hot sauce will keep for weeks in the fridge and I am testing it out to see if it does well frozen in the freezer. Only time will tell!
Don't forget to link up with The Soiree linky party and then join me in partying with these lovelies!
***AND let's not forget about The Soiree Link Up down below!  Share your favorite food, DIY, home, and entertainment posts with two southern besties and another delicious co-hostess y'all!
And by delicious, I mean, Brita's recipe posts look so good I feel that I can taste the food on her blog pages.  She has made me drool more than once (and I wish I was kidding on the drooling front- problems) and for good reason!  Suz and I are excited to have Brita over at B. Britnell join us for some link up fun this week!