I just recently started playing around with the green smoothie phenomenon that's been a buzz these past few years.  Yeah, I'm slow to the game, for sure.  Then something happened.  I 'stumbled' (a kitchen experiment that ended in a huge mess, which happens to also be the average weekday afternoon) upon this delicious smoothie that is now on repeat in my house around lunchtime.  Insert this blackberry smoothie.
The only misfortunate thing is….well, the color.  I tried coming up with a fancy name for the color to make it sound more appealing, but a driftwood smoothie sounds disturbing.  So instead, I am just naming it the spinach and blackberry smoothie and calling it a day.  It's delicious, it's nutritious, it looks awkward.  But trust me y'all, they are great lunches or snacks on-the-go!
Spinach And Blackberry Smoothie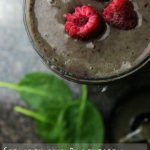 Ingredients
1/2

cup

Plain Greek Yogurt**

1

small ripe banana

1

cup

strawberries and raspberries

1

cup

blackberries

1/2

cup

ice

or more depending on preference

1/2

cup

coconut milk

1

cup

baby spinach

blender
Instructions
Combine all ingredients into a blender and blend until desired consistency. I usually blend for around 30 seconds. Add more or less ice depending on desired consistency.
*I like to add a bit more baby spinach to my smoothies (about 1/2 cup more).  Pack in the nutrition y'all!
**My favorite greek yogurt for this recipe is this yogurt.